Morocco desert experience
Morocco desert experience
-
5.0

out of

5

based on

1

vote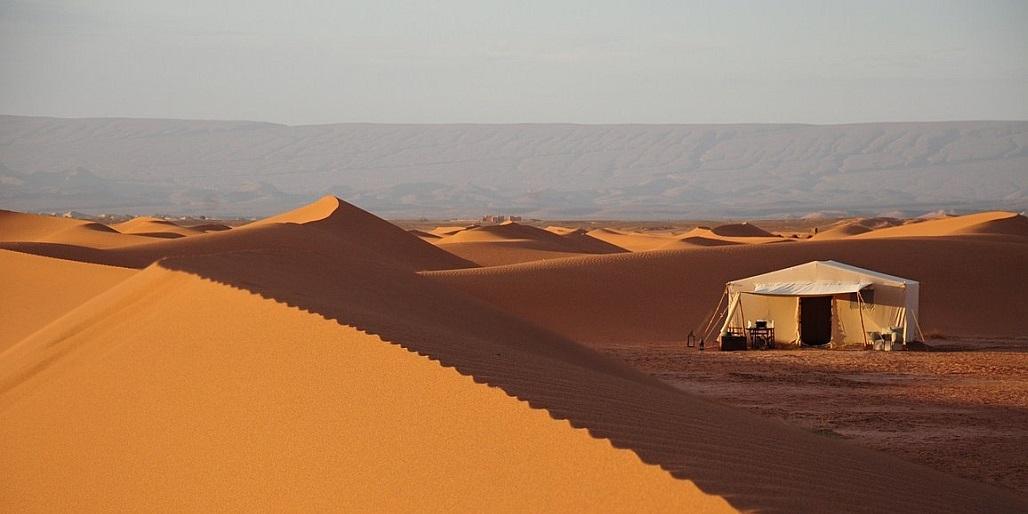 What is it that draws us to the immensity of the dunes ? The oceans of sand. Where does it spark from, this longing to gaze at wave after wave of sand disappearing on the horizon?...  All else irrelevant. There, on top of the highest dune. Minutes ago, you were cresting the dunes on the back of a camel. Presently, you are sitting down and conjuring all the majesty of saffron dunes, changing color as the sun gradually sinks. Nothing compares to waking up at night with the Milky Way above you and falling back asleep. And perhaps, the desert, because of its solitude, is what makes the locals more welcoming. 
Here, by the dunes of Erg Chigaga, despite of all the apparent scarcity, water runs just below the surface, a secret well kept under layers of sand. The desert also makes grown- ups children again. The most reserved of persons can't resist the urge to climb up the highest dune and jump in the sand, the face lit with a wide childish grin. 
                                              Camels ready for the ride in the dunes
In the collective imaginary, there is hardly anything more exotic, than those tougher- than- life Bedouin men crossing the desert, carrying precious loads of gold, ivory, slaves, textiles, spices or salt on the back of their sturdy camels. Or the bandits constantly threatening to attack the caravan, unless the due tax was paid at different custom points. It used to take the caravans 7 to 8 weeks to cross from one side to the other and some were losing half their personnel on the way. What has become of these men nowadays, when,  not so long ago, camels were replaced by trucks ? Whilst some camel trading still takes place in some parts of Niger where the Azalai sees thousands of camels travel across the vast teritorry, camels in Morocco are not used for caravan trading anymore. In the modern age, the nomads are mostly employed by the on site numerous desert camps that have cropped up on the fringes of the Sahara. Some also went to university, learnt English and became drivers and guides for the numerous foreign visitors taking a private tour of Morocco. We are lucky enough to have some of them work for Sun Trails. And every time they return to the desert, they feel at home, still very much nomads at heart.
                                                   Dinner by candle light in the dunes at Azalai Camp
For some of those travelling to Morocco, spending a night in the Sahara is ticking off a box on a travel notebook. For others, it is a lifelong dream. Naturally then, you don't want to ruin that experience and so you should carefully choose the right Morocco travel planner. Your agent should make sure you won't have to put up with a party at the camp next to you, the racket of a noisy generator or quad bikers blazing past your tent when you least expect it.
ERG CHEBBI DUNES VERSUS ERG CHIGAGA DUNES
Any forum on Trip Advisor or Fodor will tell you that there are two places in Morocco where you can actually spend a night in the desert: the dunes of Erg Chebbi and the dunes of Erg Chigaga. The route from Marrakech over the High Atlas mountains is one of the most dramatic in Moroco and reaches Ouarzazate on the other side. From here, there are two options: Erg Chebbi dunes– east through Skoura, Dades Gorge, Tinerir, Rissani and finally Merzouga; and Erg Chigaga dunes- west, following the Draa Valley through Agdz, Zagora, Tamegroute and finally Mhamid. From my own experience and feedback over the years, indeed, the dunes of Erg Chigaga get a fair amount less of visitors. The distance and driving time to both these dune locations is more or less similar, about 5- 6 hours drive. 
                                                       Azalai Camp luxury tent interior
The dunes of Erg Chebbi owe their popularity partly to their being easily accessible : a bus will take you to literally the foot of the dunes from Marrakech in a 10 hour drive. When you opt for the classical imperial cities tour, the Erg Chebbi dunes are easier to include in the itinerary, given their location. If you are ready to give Fes a miss, then the dunes of Erg Chigaga are the ones to go for. Especially since they are two hours drive away from the closest bit of tarmac and you would be a fool not to loop your way back to Marrakech on a different route, thus experiencing all different formations of the desert:  sand dunes, stone plateaus, gravel plains, dry valleys and salt flats. To not mention the legendary Draa Valley, a caravan highway for centuries, where the river is flanked by one of the largest palm groves in the world along with Biblical villages and century old kasbahs. Then, is it impossible to experience the desert in a camp at Erg Chebbi ? Not at all. Your travel planner can suggest a more distant camp, deep in the dunes.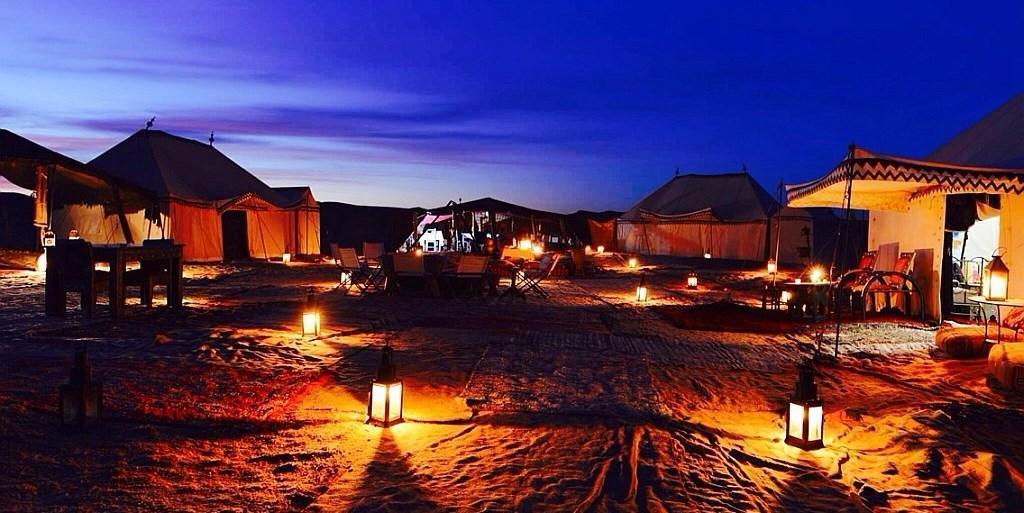 Erg Chebbi luxury camp by dawn
SAFETY
Although the border with Algeria is not far, until this day there has been no registered case of kidnapping or activity of a terrorist organization in these areas. Security at the border is very tough. In the very hot season ( July – August), there may be very rare cases of scorpions or snakes, but they never enter areas where they feel human presence. If you want to be 100 % sure, make sure you spend the night inside your tent and that your mattress is not laid straight on the ground. 
                                                       VIP tent with private butler
BASIC DESERT TENT VERSUS LUXURY DESERT TENT
Nowadays, there are more and more luxurious desert camps to complement the regular ones. Most regular camps offer spartan but clean double beds with mattress and frame and plenty of blankets to keep you warm in the night, if chilly. Toilets and showers are shared and running water is scarce. Luxury camps offer wider tents with en suite showers and toilets, extensive furniture and fittings, and king size beds. The dinner menu is also more comprehensive. In the past 2- 3 years, the luxury camps also offer a higher level of standard, the VIP desert tents. These tents tend to be further away from the main camp, more accommodating and complete with a private butler. A normal basic camp accommodates 10- 12 double tents with a larger tent for restaurant. The typical luxury camp accommodates 4- 5 en- suite tents with a restaurant tent.
Although the typical nomad tents are wool tents secured with wood hooks and ropes, set up in a cone- like pattern, the camp tents nowadays tend to be box- shaped units set up on a solid (usually metal ) frame. Less traditional, they are much more resistant this way to strong winds and provide a better insulation from sand grains or any eventual insects ( mostly flies). However, if your only reason for booking a luxury camp tent is having private showers and toilet, you should know that you can still have a shower both in the afternoon arriving at and the morning departing from the desert lodge. Normally you have that choice, when arriving in the afternoon, before leaving the asphalt. After a 30 – 45 minute camel ride ( optional), you arrive at the desert camp as the sun sets, where you will have your dinner and spend the night. Naturally, the camp is fully staffed. Next morning, you should try and not miss the sunrise. Then, you will be taken back to the same lodge where you had arrived the previous afternoon and have a proper breakfast, before proceeding with your Morocco itinerary.
                                                Basic camp in the dunes of Erg Chebbi
ONE NIGHT OR TWO NIGHTS ?
In winter ( mid November to mid March) days are short and the sun sets around 5- 6 PM. If you're on a tour of Morocco, it is likely you will arrive at the camp just before sunset and will leave after breakfast. Which doesn't leave you with much time to enjoy the dunes. Ideally, forecast two nights in the desert in winter then. If you are worried about not having much to do, you may be wrong: tea with the nomads, rock engravings, prying out fossils, lunch in the oasis, the Black People village, dinosaur sites, quad biking, sand boarding are plenty of choice. The downside is that if a sand storm is blowing in ( very rare but possible), you will have no choice but to spend the morning or afternoon inside your tent. 
ALCOHOL
Given the alcohol regulations in Morocco, very few camps ( even among luxury ones) sell alcohol on site. Therefore the best way to go about it is to get yourself your supplies in Marrakch or Ouarzazate ( cca. half way between Marrakech and the dunes and the largest town in the south). Otherwise, you may end up paying 3 or 4 times the price if you want to acquire it in a hotel by the dunes. All you need to do is ask for your driver to stop you at a special store. He will then stock it for you in the 4x4's freezer box, if need be.
                                                            Basic tent interior
CLOTHING AND TEMPERATURES
Cotton/ linen clothes and sneakers/ sandals are best for travelling around Morocco including the desert. A fleece or rain jacket is always a good addition for late nights/ early mornings. Outside the summer season, nights in the desert tend to be fresh/ chilly and in December/ January temperatures can get down to 35°F/ 2°C. Even with the basic tent accommodation, you will get as many blankets as necessary to keep you warm. That being said, it's not a bad idea to bring over your sleeping bag, if space is available in your luggage. Day time, when the sun is out, temperatures can vary from 70°F/20°C in the winter months to the 113°F/ 45°C and more in July and August. In general we will not recommend taking a Morocco tour to the desert in summer but for some, it is the only time of the year they can come. Have you booked to spend the night in the desert in the summer and you find it too hot to be there ? Worry not. Sun Trails will accommodate you at no extra charge, back at the lodge by the dunes, where you will have the comfort of an air conditioned room and a fresh pool giving onto the dunes. Early next morning, you can still enjoy your camel ride over the Sahara dunes while the sun is rising.
Sun Trails offers both basic and luxury camp options in the desert for those booking bespoke tours of Morocco. For more details, please send your enquiry here .
                                                    Luxury tent Erg Chebbi interior
 © Sun Trails. All rights reserved. No part of this interview may be reproduced, distributed, or transmitted in any form, including photocopying, recording, or other electronic or mechanical methods, without the prior written permission of the publisher.
Last modified onWednesday, 31 July 2019 18:10
With a passion for travel and particularly Morocco, I own and manage Sun Trails.
Website: www.sun-trails.com
Our readers have also enjoyed these posts