Marrakech to Sahara by small plane
You are visiting Marrakech for a few days. You'd love to spend a night in the Sahara but don't wish to spend 9 to 10 hours inside a 4x4 on a private tour from Marrakech to the Sahara ? Or perhaps you just want to offer your loved one a very special surprise and take her/ him to lunch on top of the dunes just for the afternoon ? Sounds too extravagant? Hmmm... What if you could take a private flight from Marrakech to the Sahara desert ? And if you're thinking about ultra luxury private jets with champagne on board, that's not what we had in mind.
We are talking about a 4-seat modern, safe, propeller aircraft. Yes, like the ones you see at airshows. Or the one in The English Patient. Except this one is a Cirrus 22 SR, is from 21st century, boasts state-of-the-art technology on board and has leather seats. The pilot speaks English and will answer all your questions during the flight while also pointing out the most interesting sites as you fly over them: the highest peak in North Africa, the scattered Berber villages, the Eddhabi lake or the Draa Valley, that long green ribbon you see from your window, making its way between barren calcified ridges.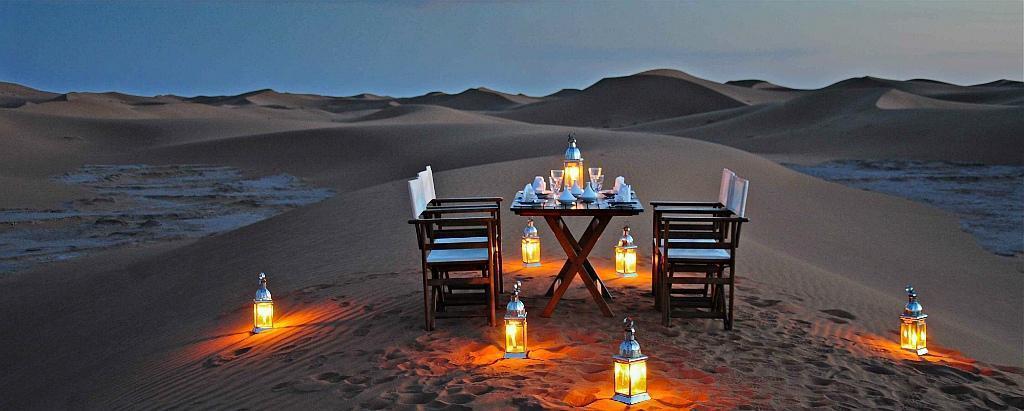 If safety is your worry, not only flying is the safest way of transportation in the world, but the CAP system on the Cirrus 22 SR aircraft is designed to lower the aircraft to the ground after deployment using a whole- airplane parachute, in the unlikely event of an emergency.
This little marvel would fly from Marrakech over the snowy peaks of the High Atlas mountains and land at the airport in Zagora short of one hour. In Zagora, a Moroccan private English fluent driver– guide and a spotless modern air conditioned 4x4 await you. In little more than a couple of hours you will reach your luxury desert camp or your open- air picnic in the middle of the dunes. But perhaps you would like to take your time on this private Morocco tour and first have a guided tour of a palm grove in Zagora with a local. Stop and visit the Jewish old district or the earth ovens in Tamegroute baking that unique green pottery. Then have a wander through a traditional honey- comb ksour and its wells of light. Have a hearty couscous with a local family. Ultimately, reach your luxury Sahara tent after a swift camel ride and have a mint tea on the top of the dunes, taking in the immensity of the saffron dunes.
Private flights in Morocco were mostly the domain of helicopter flights until recently. Well- heeled tourists would fly by helicopter to the Sahara dunes just to have lunch and return to Marrakech later in the day. While the advantage of a helicopter is that is can land almost anywhere, the rates for such a service are such that only a very few ones can afford it, and the ride is not as comfortable as in an aircraft.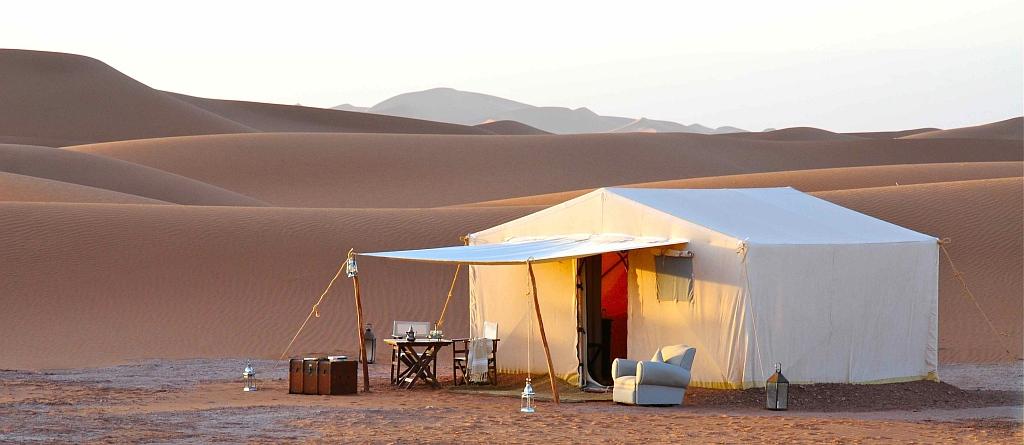 Private flights from Marrakech to Ouarzazate can also be arranged if you want to avoid the dramatic and rather long drive over the High Atlas mountains. Equally, the same aircraft can deliver private flights from Marrakech to Fes in case you wish to visit the two cities and you only have 3- 4 days at hand.
For more details about rates and customized itineraries, contact us at This email address is being protected from spambots. You need JavaScript enabled to view it. or call us at +212 638 636 719/ + 212 666 915 384.
Last modified onSunday, 12 June 2016 18:06
With a passion for travel and particularly Morocco, I co own and manage Sun Trails.
Website: www.sun-trails.com
Latest from Cristian