5 most reliable restaurants in Marrakech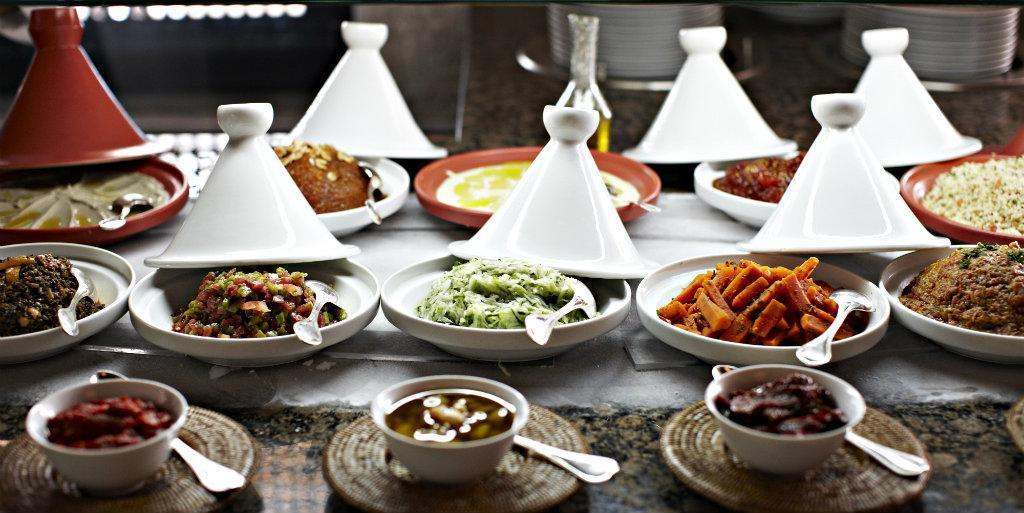 It's a hard one when trying to find a good place to eat in Marrakech. If there is a place where style over substance is the norm, then here it is. Not that there aren't quite a few good restaurants to choose from. But from those that charge London prices, those where a belly dancing show compensates for what there is(n't) in your dish and finally, those who close down two years down the line, it ain't easy to find a good, consistent restaurant. Pandore Maroc is a blog dedicated to restaurants across Morocco and one that we had followed with interest for the last few years – most of its recommendations hitting all the right spots. The person behind it ( Pandore ?!) is rather discreet and prefers to stay anonymous. We know however, that he has been living in Morocco for the last 33 years, doesn't bite his tongue and is French. He kindly accepted to compile a list of his favorite all- time favorites in Marrakech and here they are:
Restaurant Dar Yacout: 79, derb Sidi Ahmed Soussi, Bab Doukkala +212 (0)5 24 38 29 29
The 'institution' of Marrakech, a restaurant opened in the Medina thirty years ago, the evil tongues of the time had prognosticated an imminent closure... In the end, the most consistent Moroccan restaurant over the years. Mohamed Zkhiri is always hands-on to improve the existing, to put in his two cents there where you don't expect it. Significant work has been done in the last year in the kitchens. Its 700 dh fixed price formula offering aperitif, wine at will, digestive and coffee or mint tea and Moroccan pastries and a gargantuan menu consisting of a variety of fine Moroccan salads, the unmistakeable poulet au citron, a tagine of meat or vegetables, homemade couscous and milk pastilla ... A "class and very macho" service by big fellows dressed in white djellabas. To be tried absolutely! Best to attend: dinner.
Restaurant Jardins de Gueliz: Jardins du Harti, Gueliz, +212 (0)5 24 42 21 22
Jean Baptiste a tad grumpy behind the counter together with his smiling wife Ouafa had been welcoming for the last 10 years a bunch of regulars who recommend among themselves this table very soft on the wallet. Who would have thought at the beginning of this adventure that this house would maintain its 100 dh flagship lunch menu (buffet salads for starter, main course changing daily and dessert) ! The icing on the cake is another unlikely 130 dh menu (appetizer, main course, dessert) for dinner... A terrace lined with bougainvillea, parking spaces in front of the door, unfortunately racketeered by one or two car guards (it is time that the municipality does something about it). Very high- pitced service by a battalion of young ladies, another house 'specialty'. All goes well ... Jean Baptiste shows a beautiful smile at the dawn of the year. New Year's Eve dinner saw the house fully booked with a menu for less than 600 dH. Best time to attend: lunch.
Restaurant La Bergerie: Asni ( 60 km outside Marrakech): +212 (0) 5 24 48 57 17
Françoise opened this guest house with her husband 15 years ago. Christian passed away 3 years ago, so it is this energetic woman who now has to hold everything together. No easy feat, mind you, fifteen employees in the hills of Marigha, an hour drive from Marrakech... Some bungalows with earth fireplace and private terrace, a dozen rooms in a bottom-park pavilion, a large, well-kept garden (cacti and fragrant plants), a nice pool, all surrounded by a rocky landscape (currently the surrounding mountains are covered with snow, a nice extra) ... A 150 Dhs menu (starter and main course or main dish and dessert). Everything is made on site, the products are fresh Françoise- does the beldi market and the one in Marrakech, so no freezer in sight. The latest holiday season saw "Bergerie" full house ! More than a good table, a very charming escapade for the weekend, close to Marrakech and away from the noise and pollution. Best time to attend: lunch.
Restaurant Pizzeria Catanzaro: Rue Tarik Ibn Zyad 40000, +212 (0) 524 433 731
When I arrived there 33 years now, it was the first restaurant I frequented accompanied at the time by Marie Louise Galland holding the Bar L'Escale and hotel Gallia. The old society of Marrakech and the new one both swear by this address, still managed to date by the Lamranis (himself former Director of La Mamounia ). A few decades have gone by but the place is always packed ! The menu shows no sign of rust, prices that went up (somewhat) but nothing in comparison to other show- off restaurants in Marrakech. Rest assured! Beef tenderloin is always charged around 120 dh, a beautiful variation of pasta and ravioli, why not try this delicious rabbit and its mustard sauce, pizzas can be ordered "to go", this charming couple holds a tight shop. Mehdi, the son, shows his face regularly to take the temperature and... prepare for the next generation?... So far so good. The life of Catanzaro is a long tranquil river. Best time to attend: dinner/ lunch.
Restaurant Hotel Es Saadi: Rue Ibrahim El Mazini, Hivernage, + 212 (0) 5 24 33 74 00
My personal address 'chic yet no shock'. The beautiful people and other golden boys better avoid the place. Elisabeth Bauchet continues to stand on the barricades, recently distinguished by His Majesty King Mohammed VI with 'Ouissam Alawite' title. Naturally, I am talking of the classic Saadi (good old palace in the Hivernage ) you may read between the lines that Saadi Palace (opened in 2011) does not make me jump with joy... Try this hotel's restaurant where you will be served by " the old guard " and one's face gets recognized from years to years. I suggest the menu "resident" for less than 400 dh ! Entrance, main dish, dessert (served on a trolley…). Some true VIP's and other entrepreneurs still frequent this establishment without hesitating. The "French touch" is still legion here as our English friends would say. A French chef cooking ( still here ) that we would like to see more often in the dining room as some of his predecessors knew how to do. It will come ( again)...  Best time to attend : dinner.
Pandore – food critique: www.pandore-maroc.net & www.pandore-marochotels.net
Last modified onWednesday, 14 January 2015 11:10