A private 10-day tour: imperial cities, the Sahara and Atlantic coast.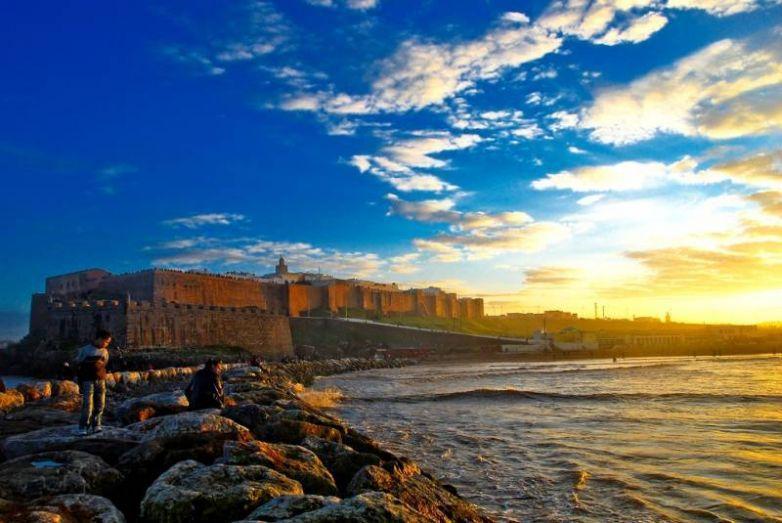 Land Of The Setting Sun ( 10- 12 days)
'Al Maghrib al-Aqsa' - the land of the setting sun, Morocco was once known as a legendary land perched on the corner of Africa, where the known world would end.
This journey through Morocco visits its 4 imperial cities: Marrakech, Fez, Meknes and Rabat along with stunning landscapes and wild nature, the Atlantic and the Sahara's ocean of sand Witness the splendor of Roman epoch at Volubilis.
Visit the world's largest intact medieval city in Fez to then cross the lush country side to reach the Sahara and spend a night under the most beautiful starred sky.
The trip then takes us past valleys, gorges, lakes, palm groves and rivers and explores mysterious ksours and kasbahs. Crossing the Atlas mountains, we reach the exotic and sensual Marrakech.
After a day in the maze of its souks and palaces, what better choice then to shed off the dust in Essaouira, on the Atlantic coast ? The tour can start/ end in Marrakech/ Casablanca/ Rabat and be done in reverse.
A day or two can be added/ subtracted to fit your travel schedule, if needed. If you have a night to spare, we recommend adding the visit of Chefchaouen to the itinerary.
Day 1: Casablanca - Rabat ( 1 hour drive).*driving times don't include the various stops along the way.
Notwithstanding the Art Deco heritage, Casablanca is nowadays, in spite of its myth, mainly a large metropolis devoid of any monuments. King Hassan 2 wanted to change that and decided to erect a landmark to match the city - the second largest mosque in the world . The last few years of its completion, 1400 craftsmen worked by day and 1000 by night. The marble, cedar wood and granite all come from Morocco while the glass chandeliers and white granite columns were brought from Murano, Italy.
Next, our custom Morocco tour takes us to the capital Rabat, recently declared UNESCO world site. With a rich history, Rabat lies suspended somewhere between Europe and the Arab world. The 12th century Kasbah des Oudayas and its Andalusian Gardens are a delight. We can dwell further into the past and visit the Merenid necropolis of Chellah, where Phoenician, Roman and Merinid traces blend. Mohamed 6 museum, opened in 2014 is also worth your attention. On display, the most representative modern Moroccan art along with regular guest exhibitions from Europe.
But perhaps better stories are to be told about Sale, the sister city to Rabat and, centuries ago, a fearsome pirate nest. Canals used to run through its gates and its pirates were famous for rapidly attacking European ships and taking illustrous nobility as prisoners. Once inside the city, the massive doors would close and the European powers had no other choice than to give in to the exorbitant sums asked for their ransom. The shortly lived 'Republic of Sale', a state within a state, refused to pay any tax to the sultan, who decided to build a new port where he could control piracy and its generous revenues: Essaouira was born.
Day 2: Rabat - Meknes - Volubilis - Fez ( 3 hour drive).
After breakfast, our 4x4 Morocco tour is headed towards Meknes, an imperial city that rose to prominence with the sultan Moulay Ismail ( 1672- 1727) who set the capital of Morocco to Meknes and gave it its golden age by building his imperial palace, city walls and kasbahs.
[Undaunted by the scale of his project, the sultan began laying plans for a sprawling diplomatic quarter, where his viziers and officers were to have their residences, and a vast military barracks housing 130,000 of his black troops. Most fabuluous of all was to be the Dar Al Mansur palace, which was to stand over 150 feet high and be surmounted by twenty pavillions decorated with glazed green tiles. Moulay Ismail also ordered the construction of an enormous reservoir and boating lake, while the stables were intended to house up to 12000 horses.] (Giles Milton - White Gold).
Places of interest in Meknes include Bab El Mansour gate, the masoleum of Moulay Ismail, the imperial palace and the royal granaries. Back on the road we are to reach shortly the Roman ruins of Volubilis with its Galem's baths, basilica, capitol and forum and the sacred village of Moulay Idriss . Moulay Idriss was Prophet Mohammed's great grandson and came to live at Volubilis in 8th century, converted the locals to Islam and founded the first Moroccan imperial dynasty. Our journey should reach Fez late afternoon/ evening.
Day 3: Fez - guided tour of the city ( no drive).
With the first light of dawn, you realize you have travelled in time. Four centuries? Five? If it weren't for the satellite dishes adorning every roof, it could be more. Perhaps as much as the Kayraouine University and mosque, now 12 centuries old, the oldest still working university in the world. The heyday of the caravan trade coming from Timbuktu is long resolute. Instead, the migration of wealthy Moors and Jews from the courts of Granada and Cordoba in 15th and 16th century is more present.
There are thousands of derbs, streets so narrow you could whisper in your neighbor's ear. The numerous Islamic schools, among which the most ornate are perhaps Bou Inania and El Attarine, will wow you with their intricate stucco and cedar engravings that have so well resisted the passage of centuries. Out in the streets again, you will most likely smell the tanneries before you see them... Dozens of workers toil over open vats, dipping skins in to treat them before hand-dyeing them in bright yellow, red and white, stomping them under the hot sun to distribute the pigment.
The guided tour of Fez takes us to Nejjarine Square where you can catch your breath enjoying a mint tea on the roof terrace of Nejjarine Foundouk, an 18th-century caravanserai, turned into a woodwork museum after six years of painstakingly renovation. "There is a good deal of frustration involved in the process of enjoying Fez," wrote Paul Bowles about Fez and that still holds true nowadays. Just when the walls seem to cave in on you, a little square comes up and suddenly all menace disappears. The secrets to be found around every corner draw you into the long forgotten world of the travels of Ibn Battuta and Leo Africanus.
Day 4: Fez - Ifrane - Azrou - Mildelt - Errachidia - Merzouga ( 7 hours drive).
With Fez in the background, our Morocco itinerary serpents its way up under the shade of cedar forests. Our trip takes us first through Ifrane, the 'Switzerland of Morocco', a rather quiet town, except during snow season when it becomes Morocco's prime ski resort. Prettier walks are to be had in the foothills of the next town, Azrou. Country lanes wind through pine forest and lush villages. The dense forest is also home to the Barbary macaque, almost domesticated now and the 800- year old Gouraud's cedar. The surrounding countryside is pigmented by apricots, walnuts and plum trees and pictures of rural Berber life as we approach Midelt.
A few hours later, our trip arrives in Erfoud and the change in landscape is sharp - Sahara isn't far now. Stop in Rissani and visit a traditional adobe ksour. Arrive in Merzouga where, after the long drive, you may just want to have atay by the pool and enjoy the view on the nearby majestic desert dunes. Dinner and accommodation in a local Kasbah.
Day 5: Merzouga - Erg Chebbi ( transfer by camel or 4x4).
After the long drive the day before, you may as well have a late breakfast. Later, have tea with a nomad family and pry out fossils. Alternatively, dwell into the ancient prehistory and discover pre- Islamic burial sites, dinosaur bones or rock engravings. If you are looking for some adrenaline rush, take onto quad biking or sand dune boarding. In the afternoon, mount on your camel and reach the dunes of Erg Chebbi, some of the highest in Morocco.
While the staff are busy unloading your luggage, try to find the highest dune and reach the top. Then take it all in. For as far as you can see, there is nothing but sand, an ocean of it as set to conquer everything that stands in its way. All worldly matters loose sense. One of the first things the Sahara does is make you aware of your own insignificance. And while the sun sets, there is nowhere else you would rather be. Dinner and accommodation in a private tent in a camp in the dunes. Here, you have the choice between a basic tent with toilets/ bathroom outside or a comfort/ luxury tent with en suite bathroom and toilets.
Day 6: Erg Chebbi - Tinejdad - Todra Gorges - Tinerir - Skoura ( 5 hour drive).
Try to wake up to catch the sunrise- there is nothing quite like it... After breakfast our custom Morocco tour takes us first to Rissani where gold and slave auctions were taking place as late as 1800's. Centuries before, the caravan trade and the most important city in Morocco was Sijilmassa, the ruins of which lie opposite Rissani. From its gates, Ibn Battuta and Leo Africanus left Morocco to embark on their illustrious journeys across the Sahara into African countries, at a time when Sijilmassa was the trading hub between Europe and Africa.
[Here ( in Timbuktu) are many shops of artificers and merchants, and especially of such as weave linnen and cotton cloth. And hither do the Barbarie merchants bring cloth of Europe... Here are verie few horses bred, and the merchants and courtiers keepe certainn little nags which they use to travel upon: but their best horses are brought out of Barbarie. And the king so soon as he heareth that any merchants are come to town with horses, he commandeth a certain number to be brought before him, and chusing the best horse for himselfe he payeth a most liberal price for him.] ( Leo Africanus - History and description of Africa)
On the way to Tinerir, wander through an adobe ksour and awe at the wells of light. Todra Gorges lie within a short distance from Tinerir, presenting an arresting spectacle with its crystal clear river emerging from it, its huge walls changing colour to magical effect as the day unfolds.
Shortly after we reach Boulmane de Dades at the entrance of Dades Gorges. A drive along the gorges will bring out the carpet of almond trees, best viewed in February and the strange 'monkey fingers'. We will ultimately stop for accommodation in the palm grove of Skoura. If possible, we more than recommend adding an extra day to enjoy the many activities/ sites available around the area.
Day 7: Skoura - Ouarzazate - Ait Benhaddou - Telouet - Marrakech ( 5 hour drive)
This morning, have a guided tour of the palm grove. In the shade of the palm trees, you will walk past pumpkins and figs, grapes and tomatoes, coriander, parsley and rosemary. Olives are pressed into the precious oil – dip your bread into it and try a local's breakfast. Fire, water, earth and dye are what make most of things here. On the right day of the week, visit a village market. Outside winter, go up at 3000 meters high and trek through villages where locals still use water mills to grind the wheat.
Back in the 4x4, we will skirt through Ouarzazate where we can stop and visit the film studios famous for scenes of Gladiator, Prince of Persia or Game of Thrones. Half an hour later, the route turns right to shortly arrive at post-card perfect UNESCO world site of Ait Benhaddou. In spite of the local 'guides', the best is to just lose yourselves in its alleyways. There is always a new way to reach its peak, from where the snowcapped Atlas Mountains framed by the denim blue sky will steal your breath away. If the climb up hadn't already.
Past Tamdaght and the kasbah made famous by the slave scene from 'Gladiator', the beauty of the valley serpenting underneath the route is beyond words. Telouet is next, where the former pasha's palace dominates the village, a fortified citadel that is both a microcosm of an empire and its demise. Shortly after Telouet, the trip joins the main road again and after innumerous twists and over Tizi n Tichka pass, we descend the Atlas Mountains and reach the plain. Ahead in the night, lays dormant and sensual Marrakech, its walls and eighteen gates enveloping hundreds of foundouks once protecting the caravans and their precious cargos.
Day 8: Marrakech - visit of the city ( no drive).
Where Fez is the bashful scholar, the 'red city' is the exuberant dancer. More than its opulent night life and luxurious palaces, the design boutiques or the French restaurants, it's something in the air. The light of the south as some may call it, a certain feeling that nothing can go wrong, a certain je ne sais quoi… A good point to start your private guided tour is perhaps Maison de La Photographie, located in one of the most authentic districts of Marrakech. It accommodates one of the most interesting collection of photos in Morocco, documenting the life in Morocco from late 1800's all the way to the 1950's.
Crossing the souks you may want to spoil yourself with some shopping. Miles of Ali Baba closet- size caves where everything glitters will lure you in. If it is too early in the day for shopping, you can also admire the dyeing of the wool or the looming of a Berber carpet on site. Past Place des Epices and its shops stuffed with turtles, colorful spices and witchcraft accessories, we make our way into the Kasbah. Not before entering the gardens of 19th century Bahia Palace, an epitome of Islamic art of the era and residence of the grand vizier. Uncovered by chance in 1917, the nearby Saadi Tombs hold the remains of the sultans responsible for the last golden age of the city , the 16th and 17th century. The Carrara marble stands witness to the wealth of the dynasty and so does the nearby El Badi palace, albeit only a ruin nowadays. The sultan had sent a powerful army over the Sahara, led by Spanish mercenaries which conquered the gold mines of present Mali and Ghana and made him one of the wealthiest men of his time.
[ Al Mansur's personal extravagance was chiefly concentrated on building a vast and splendid palace in Marrakech on which he employed thousands of Christians. Many ship- loads of the most precious materials of the East were imported from India for its decoration. Italy and Ireland supplied the marble for its thousands of columns. ] ( E.W.Bovill - The Golden Trade of the Moors)
As the sun sets and the shades of its towers lose their contour, the fumes start rising on the nearby Jemaa El Fna square. Musicians, acrobats, snake charmers, witch doctors and food stalls all come alive as if they had never left the place. This is the city at its most essential, a place where people from everywhere mingle, perform and people- watch, half way between a tableau vivant and a circus show. Try to catch one of the story tellers in action, a tradition perpetuated for centuries and likely to disappear soon. A different way to discover Marrakech is by taking a cooking class with spice shopping and an introduction to the food circuit inside the medina.
Day 9: Marrakech - visit of the city/ relaxing day.
The popularity of Marrakech is with foreigners and Moroccans alike. Its gardens are a magnet to people living in traffic jammed Casablanca or conservatory Fez. Ali Ben Youssef, the Spain- educated son of the founder of the city, brought with him the refinement of Spain with its elegant houses built around an inside garden back in the 11th century. The Almohads then built the Kasbah and the vast manicured gardens still in use today. Agdal Gardens and Menara Gardens are examples of the garden culture permeating the 12th and 13th century. Majorelle Gardens were subsequently acquired by Yves Saint Laurent and then made available to the general public ( 2018 has seen the opening of Yves Saint Laurent museum adjacent to the gardens). They are best visited early in the morning before they become too crowded. Our favorite gardens must be those of La Mamounia hotel, where for the price of a coffee at the bar, you are free to roam around the afternoon.
If gardens are not your things, worry not. Cooking classes, babouche making, Arab caligraphy, a tour of the modern art galleries, a tasting tour, hot air balloon, are but some of the activities you can choose from.
Day 10: Marrakech - Essaouira ( 2 hours and a half drive).
After breakfast, our Moroccan itinerary leaves Marrakech behind and, for a couple of hours , there is not much to see, except the occasional argan oil cooperative. Later, the deserted landscape around us softens while the panorama changes from arid beige to vivid green. Goats go up in trees feeding on the argan fruit. In the distance, still some way off, a blue stripe rises above the argan groves on the horizon: the Atlantic.
Essaouira was for centuries a working port and that is what makes for its rugged charm. The Romans came here for the precious purple dye which they used to stain their imperial togas, but it was the Portuguese who put this place on the map, as a market place for gold and ivory, slaves and spices. Sightseeing visitors sip cool drinks in the cobbled square where slaves were sold after their long march across the Sahara. This was their last sight of Africa before the grim voyage to the New World. The black slaves left their music behind and its streets still resonate with the hypnotic rhythms of Gnawa. After the Portuguese left, Essaouira became a free port in the 18th century - Morocco's window on the world. Orson Welles filmed his 'Othello' on these robust walls more than half a century ago and scenes from 'Alexander', 'Kingdom of Heaven' and more recently 'Game of Thrones' ( where Khaleesi purchases her army of Unsullied) were shot here. Tall towers festooned with cannons still define the borders of the old town. Beyond these battlements, the new town, the ville nouvelle, peters out into countryside.
DAY 11: Essaouira - Oualidia - Casablanca ( 5 hour drive).
Thanks to its magnificent fortifications and overall bohemian ambiance, Essaouira is now a UNESCO World Heritage Site. But it is still a market town and in spite of last few years buzz, rural Berbers still come to hawk their wares to the artisans who live and work here and fishermen and boat builders get on with their daily activities as they have done for centuries.
Or, if you are not mad about European military architecture, go on and lose yourself in the art gallery- packed streets, a world away from the hustle in the souks of Marrakech or explore the wild beaches that lie just south of it. Back in the 4x4, stop by the lagoon in Oualidia and enjoy the turquoise waters and the best oysters and sea food in Morocco. Later, arrive in sleepy El Jadida, another UNESCO world site and dwell into its Portuguese past and water cistern. Ultimately, reach Casablanca and get dropped off at the airport.
One or two days can always be added to or subtracted from the trip if your flight schedule requires it.
Remember that this is merely a suggested itinerary and we'll be delighted to create a tailor made itinerary around you. Please note that all our tours of Morocco are private and that stops are accommodated along the way as often as you desire, for you to visit a site, take a stunning photo or stretch your legs.
We believe our guests deserve to be spoiled and stay only at the best properties while on a customized tour of Morocco. We spend a great deal of time and effort to anonymously test and hand- pick the most best boutique and luxury hotels, Riads , eco lodges and Kasbahs across Morocco. These original properties are constantly monitored and updated by our staff. Each one of them is inspired by and reflecting the culture, architecture and cuisine of its location. They do not fit into a rigorous star rating system, so we have named them Dreamers, Privilege and Divine, to best resume their nature. Once we receive an enquiry, we provide a day- to- day customized Moroccan itinerary with the names of the accommodations suggested at each overnight.
Please find below the resumed itinerary ( driving times exclude stops ):
Day 1: Casablanca – Rabat ( 1 hour and a half drive).
Day 2: Rabat – Meknes / Volubilis – Fez ( 2- 3 hour drive).
Day 3: Fez – visit of the city with a local guide ( no driving).
Day 4: Fez – leisure time, visit of the city or the surrounding countryside.
Day 5: Fes – Ifrane – Midelt – Erfoud – Merzouga – Erg Chebbi ( 7 hour drive).
Day 6: Erg Chebbi – Rissani – Todra Gorges – Tinerir – Dades/ Skoura (4- 5 hour drive).
Day 7: Dades/ Skoura – Ouarzazate – Ait Benhaddou – Telouet – Marrakech ( 4- 5 hour drive).
Day 8 : Marrakech – visit of the city with local guide ( no driving).
Day 9 : Marrakech – Essaouira ( 2 and a half hour drive).
Day 10: Essaouira – Casablanca ( 4 hour drive). Drop off at the airport.
Feel free to let us know if you would like to include a site/ activity of your own in the itinerary. If you don't know where to start, some ideas are:
learn about life in the palm grove, the khetarra irrigations, the pottery craft, the olive oil press. Visit a village market;
hot air balloon flight over Marrakech and its surroundings;
wine tasting and lunch at a wine domain in Essaouira;
cooking your own tagine with a local family with visit of the markets and district bakeries;
traditional Moroccan hammam ( steam bath) with eucalyptus soap body scrub;
lunch inside a Berber home or Richard Branson's Atlas Mountains retreat;
discover prehistoric rock engravings, have tea with the nomads. Pry out fossils;
bake bread on almond corks in the village oven;
buggy riding or sand boarding in the dunes;
guided trek/ hike in Dades Gorge/ High Atlas.
Below you will find our rates based on two persons travelling together, with the relevant accommodation option:
Dreamers: 1590 €/ 1705 US $ / 1370 £ per person (double room and basic tent);
Privilege: 2225 €/ 2390 US $ / 1915 £ per person ( junior suite & luxury tent with en suite shower and toilet);
Divine: rates available on request.
Pricing is tentative and can vary slightly at different times of the year. If you book your tour to take place in December, January ( outside end of the year holidays), February, July and August, you will be charged our low season rates. We can only quote an exact rate once we have agreed on the precise itinerary, accommodation option preferred, the extras you would like to include and the duration of the journey. Discounts apply when 3 or more persons share the vehicle(s). You can also choose to mix different accommodation ranges within the same circuit.
Our rates include:
private use of English fluent driver- guide and modern air- conditioned Toyota 4x4;
boutique/ luxury hotel accommodation for 8 nights;
Sahara camel trek and private basic/ luxury tent for 1 night;
6 three- course- meal dinners and 9 breakfasts for 2 persons;
airport or hotel pick- up and drop- off;
private guided visit of Fez with local official guide;
private guided visit of Marrakech;
refreshing drinks inside the vehicle all along the itinerary;
local English speaking guides;
admission fees to all local sites and attractions;
24 hour travel assistance ( available with Privilege and Divine options);
gasoline and highway tolls;
transport insurance, VAT and visitors tax.
This tour can be stretched or 'compressed' by 1 or 2 days, depending on the time you have available to spend in Morocco.