$this->_urlCache['4a503607b8ce8a21848201fffbe6fa5f']='index.php?option=com_k2&Itemid=725&id=36&lang=en&task=category&view=itemlist#morocco-travel-blog#0'; $this->_urlCache['b9c47355c7a90a5f94ce9477364b2740']='index.php?option=com_k2&Itemid=725&id=296&lang=en&view=item#private-morocco-tours-blog/kasbah-tamadot-lunch-and-more.html#1'; $this->_urlCache['b1a3f1910d5f7d9a602745054f123c59']='index.php?option=com_k2&Itemid=725&lang=en&tag=lunch+at+kasbah+tamadot&task=tag&view=itemlist#tag/lunch-at-kasbah-tamadot#0'; $this->_urlCache['f5240ec5f0e3583f38c984a2b393732e']='index.php?option=com_k2&Itemid=725&lang=en&tag=atlas+mountains+day+trip&task=tag&view=itemlist#tag/atlas-mountains-day-trip#0'; $this->_urlCache['b98c1a5dfd0288529c73da59cc5e84d3']='index.php?option=com_k2&Itemid=725&id=664&lang=en&task=user&view=itemlist#blog/Cristian#0'; $this->_urlCache['bb03a5630fca3f3ae7ab1ddfaf0af1a7']='index.php?option=com_k2&Itemid=725&id=282&lang=en&view=item#day-morocco-tour-marrakech-to-fez.html#1'; $this->_urlCache['9fad59ee8099ab6199e0d6ef6dcf41cc']='index.php?option=com_k2&Itemid=725&id=319&lang=en&view=item#private-morocco-tours-blog/casablanca-more-than-a-movie#1'; $this->_urlCache['ae2a91044cc8b08f489d688fd000813f']='index.php?option=com_k2&Itemid=725&id=362&lang=en&view=item#cooking-with-the-locals-in-marrakech#1'; $this->_urlCache['587417d269f322318d801f0a0c26325f']='index.php?option=com_k2&Itemid=725&id=287&lang=en&view=item#morocco-travel-blog/a-bitter-love#0'; $this->_urlCache['ad1d393172f2e923096f408a44df6358']='index.php?option=com_sppagebuilder&Itemid=784&id=17&lang=en&view=page#private-morocco-tours#0'; $this->_urlCache['b8a56e357af93536dff12206e121376a']='index.php?option=com_k2&Itemid=821&id=294&lang=en&layout=item&view=item#private-morocco-tours/fez-marrakech-erg-chigaga-essaouira-tour.html#1'; $this->_urlCache['1285f92ceb877e9ed0154495fcd90336']='index.php?option=com_k2&Itemid=763&id=267&lang=en&layout=item&view=item#private-morocco-tours/5-day-morocco-tour.html#1'; $this->_urlCache['e1b68f7b31ef3bf64f46aa061c856edf']='index.php?option=com_k2&Itemid=764&id=268&lang=en&layout=item&view=item#private-morocco-tours/Casablanca-Fez-Erg-Chebbi-Marrakech-tour.html#1'; $this->_urlCache['d611e46faf0844bdf23925df2faec350']='index.php?option=com_k2&Itemid=765&id=269&lang=en&layout=item&view=item#private-morocco-tours/Casablanca-Fez-Erg-Chebbi-Essaouira-tour.html#1'; $this->_urlCache['0e74604bd9e9b1df520b644c9380c1e8']='index.php?option=com_k2&Itemid=923&id=347&lang=en&layout=item&view=item#morocco-tour-9-days#1'; $this->_urlCache['9a7e64e2daef178e8ceef9fa97e40d29']='index.php?option=com_k2&Itemid=958&id=349&lang=en&layout=item&view=item#morocco-travel-blog/casablanca-tangier-chefchaouen-meknes-rabat#0'; $this->_urlCache['b1e362b87cab4f0f827a17fa68b9e1e3']='index.php?option=com_k2&Itemid=959&id=300&lang=en&layout=item&view=item#tours/marrakech-atlas-mountains-essaouira-tour#0'; $this->_urlCache['6910dee933fb969f404c225795ab677c']='index.php?option=com_users&Itemid=1014&lang=en&view=login#Log-in/#0'; $this->_urlCache['f94a19c32605add227b43d587f72f73e']='index.php?option=com_k2&Itemid=725&id=36&lang=en&layout=category&task=category&view=itemlist#private-morocco-tours-blog.html#1'; $this->_urlCache['1a3f3698560f5ebfd810faed0b0b339d']='index.php?option=com_phocagallery&Itemid=838&lang=en&view=categories#morocco-travel-experiences#1'; $this->_urlCache['f383b54e3ed715018e9bc2c910ae76ba']='index.php?option=com_k2&Itemid=956&id=358&lang=en&layout=item&view=item#reviews#1'; $this->_urlCache['86dbee9e9851d09471981785588d3abf']='index.php?option=com_k2&Itemid=614&id=284&lang=en&layout=item&view=item#suntrails/links#0'; $this->_urlCache['7cd5d55585f23062663fcf1947da248c']='index.php?option=com_k2&Itemid=615&id=283&lang=en&layout=item&view=item#suntrails/terms-and-conditions#0'; $this->_urlCache['7f36feef91b09e1dc8b4185a9b3b596d']='index.php?option=com_allvideoshare&Itemid=839&lang=en&orderby=default&slg=0&view=category#videos#0'; $this->_urlCache['a9743b4e5738a43476b71e4b8427395a']='index.php?option=com_xmap&Itemid=985&id=2&lang=en&view=html#other/site-map#0'; $shURLCacheCreationDate=1607110894; $this->_urlCache['81cd64ead34713a67ea4d64d0dc30aee']='index.php?option=com_phocagallery&Itemid=838&catid=124&id=2089&lang=en&view=detail#erg-chigaga-luxury-camp/detail/2089-dpp-292242#1'; $shURLCacheCreationDate=1607110947; $this->_urlCache['f55e66a2c62e29f5cd8dc23edb2d2605']='index.php?option=com_k2&Itemid=725&format=feed&lang=en&tag=conde+nast+traveler&task=tag&view=itemlist#tag/conde-nast-traveler/feed/atom#0'; $this->_urlCache['ad1d393172f2e923096f408a44df6358']='index.php?option=com_sppagebuilder&Itemid=784&id=17&lang=en&view=page#private-morocco-tours#0'; $this->_urlCache['b8a56e357af93536dff12206e121376a']='index.php?option=com_k2&Itemid=821&id=294&lang=en&layout=item&view=item#private-morocco-tours/fez-marrakech-erg-chigaga-essaouira-tour.html#1'; $this->_urlCache['1285f92ceb877e9ed0154495fcd90336']='index.php?option=com_k2&Itemid=763&id=267&lang=en&layout=item&view=item#private-morocco-tours/5-day-morocco-tour.html#1'; $this->_urlCache['e1b68f7b31ef3bf64f46aa061c856edf']='index.php?option=com_k2&Itemid=764&id=268&lang=en&layout=item&view=item#private-morocco-tours/Casablanca-Fez-Erg-Chebbi-Marrakech-tour.html#1'; $this->_urlCache['d611e46faf0844bdf23925df2faec350']='index.php?option=com_k2&Itemid=765&id=269&lang=en&layout=item&view=item#private-morocco-tours/Casablanca-Fez-Erg-Chebbi-Essaouira-tour.html#1'; $this->_urlCache['0e74604bd9e9b1df520b644c9380c1e8']='index.php?option=com_k2&Itemid=923&id=347&lang=en&layout=item&view=item#morocco-tour-9-days#1'; $this->_urlCache['9a7e64e2daef178e8ceef9fa97e40d29']='index.php?option=com_k2&Itemid=958&id=349&lang=en&layout=item&view=item#morocco-travel-blog/casablanca-tangier-chefchaouen-meknes-rabat#0'; $this->_urlCache['b1e362b87cab4f0f827a17fa68b9e1e3']='index.php?option=com_k2&Itemid=959&id=300&lang=en&layout=item&view=item#tours/marrakech-atlas-mountains-essaouira-tour#0'; $this->_urlCache['6910dee933fb969f404c225795ab677c']='index.php?option=com_users&Itemid=1014&lang=en&view=login#Log-in/#0'; $this->_urlCache['f94a19c32605add227b43d587f72f73e']='index.php?option=com_k2&Itemid=725&id=36&lang=en&layout=category&task=category&view=itemlist#private-morocco-tours-blog.html#1'; $this->_urlCache['1a3f3698560f5ebfd810faed0b0b339d']='index.php?option=com_phocagallery&Itemid=838&lang=en&view=categories#morocco-travel-experiences#1'; $this->_urlCache['f383b54e3ed715018e9bc2c910ae76ba']='index.php?option=com_k2&Itemid=956&id=358&lang=en&layout=item&view=item#reviews#1'; $this->_urlCache['86dbee9e9851d09471981785588d3abf']='index.php?option=com_k2&Itemid=614&id=284&lang=en&layout=item&view=item#suntrails/links#0'; $this->_urlCache['7cd5d55585f23062663fcf1947da248c']='index.php?option=com_k2&Itemid=615&id=283&lang=en&layout=item&view=item#suntrails/terms-and-conditions#0'; $this->_urlCache['7f36feef91b09e1dc8b4185a9b3b596d']='index.php?option=com_allvideoshare&Itemid=839&lang=en&orderby=default&slg=0&view=category#videos#0'; $this->_urlCache['a9743b4e5738a43476b71e4b8427395a']='index.php?option=com_xmap&Itemid=985&id=2&lang=en&view=html#other/site-map#0'; $this->_urlCache['f1cb1a9fa183c28cd71dff3b453523cb']='index.php?option=com_k2&Itemid=725&lang=en&tag=conde+nast+traveler&task=tag&view=itemlist#tag/conde-nast-traveler#0'; $shURLCacheCreationDate=1607111023; $this->_urlCache['f89b0e21d4a8f19b629817a49467a101']='index.php?option=com_phocagallery&Itemid=838&catid=246&id=4832&lang=en&view=detail#246-villa-diyafa-rabat/detail/4832-suite-bedroom#0'; $shURLCacheCreationDate=1607111228; $this->_urlCache['8045f276a16d787c47328123fc2a0318']='index.php?option=com_k2&Itemid=725&id=330&lang=en&view=item#private-morocco-tours-blog/medieval-morocco-an-essential-exhibition#1'; $shURLCacheCreationDate=1607111342; $this->_urlCache['0c5f69344cde19f12c043f330c51c6df']='index.php?option=com_phocagallery&Itemid=838&catid=135&id=2956&lang=en&view=detail#135-villa-des-orangers/detail/2956-restaurant-iv#0'; $shURLCacheCreationDate=1607111350; $this->_urlCache['4a503607b8ce8a21848201fffbe6fa5f']='index.php?option=com_k2&Itemid=725&id=36&lang=en&task=category&view=itemlist#morocco-travel-blog#0'; $this->_urlCache['e14d13b039a442c9c053916ce8e44348']='index.php?option=com_k2&Itemid=725&id=299&lang=en&view=item#morocco-travel-blog/luxury-morocco-tour-5-things-to-do#0'; $this->_urlCache['b98d6c51636d1ae54495d1ab004824f8']='index.php?option=com_k2&Itemid=725&lang=en&tag=dar+ahlam&task=tag&view=itemlist#tag/dar-ahlam#0'; $this->_urlCache['730d9d603a3eea6223c3fd8d10027cbb']='index.php?option=com_k2&Itemid=725&lang=en&tag=azalai+desert+lodge&task=tag&view=itemlist#tag/azalai-desert-lodge#0'; $this->_urlCache['6fa9c22dc91f5c8aeb256d95341d1861']='index.php?option=com_k2&Itemid=725&lang=en&tag=erg+chigaga+luxury+camp&task=tag&view=itemlist#tag/erg-chigaga-luxury-camp#0'; $this->_urlCache['edc529c763881312caffa68c4597f660']='index.php?option=com_k2&Itemid=725&lang=en&tag=hot+air+balloon+flight&task=tag&view=itemlist#tag/hot-air-balloon-flight#0'; $this->_urlCache['651a47cdf50893e901723fb41be89ea4']='index.php?option=com_k2&Itemid=725&lang=en&tag=fes+music+festival&task=tag&view=itemlist#tag/fes-music-festival#0'; $this->_urlCache['369f3329fcfce6762e18c24f0ac0938e']='index.php?option=com_k2&Itemid=725&lang=en&tag=palais+selman&task=tag&view=itemlist#tag/palais-selman#0'; $this->_urlCache['27d1ae234b14c2f0a3f66ab5ac353ebe']='index.php?option=com_k2&Itemid=725&lang=en&tag=marrakech+spa&task=tag&view=itemlist#tag/marrakech-spa#0'; $this->_urlCache['f1cb1a9fa183c28cd71dff3b453523cb']='index.php?option=com_k2&Itemid=725&lang=en&tag=conde+nast+traveler&task=tag&view=itemlist#tag/conde-nast-traveler#0'; $this->_urlCache['c9bd2a746d1984e518c70a10afb34c95']='index.php?option=com_k2&Itemid=725&lang=en&tag=sufi+nights&task=tag&view=itemlist#tag/sufi-nights#0'; $this->_urlCache['c5283fbe43064c08d710f577f0128719']='index.php?option=com_k2&Itemid=725&lang=en&tag=camel+ride&task=tag&view=itemlist#tag/camel-ride#0'; $this->_urlCache['b98c1a5dfd0288529c73da59cc5e84d3']='index.php?option=com_k2&Itemid=725&id=664&lang=en&task=user&view=itemlist#blog/Cristian#0'; $this->_urlCache['2cf2da33ce209a17e1bb807ace4dd440']='index.php?option=com_k2&Itemid=725&id=373&lang=en&view=item#373-holding-the-fort#0'; $this->_urlCache['68c5a93ae806df6dc3122943659bc23f']='index.php?option=com_k2&Itemid=725&id=364&lang=en&view=item#honeymoon-in-morocco#1'; $this->_urlCache['ae2a91044cc8b08f489d688fd000813f']='index.php?option=com_k2&Itemid=725&id=362&lang=en&view=item#cooking-with-the-locals-in-marrakech#1'; $this->_urlCache['429bb4cb63b9b7489d34ce09d153aa19']='index.php?option=com_k2&Itemid=725&id=361&lang=en&view=item#slipper-making-marrakech#1'; $this->_urlCache['5565228d42a86703b26ef0ba107797ed']='index.php?option=com_k2&Itemid=725&id=360&lang=en&view=item#riad-laaroussa-fes/boutique-hotel-of-the-month#1'; $this->_urlCache['ea5d53be1043a9aa6001b335356260ef']='index.php?option=com_k2&Itemid=725&id=323&lang=en&view=item#private-morocco-tours-blog/morocco-luxury-desert-camp-experience#1'; $this->_urlCache['088ef81b0399dadf33825370614a0fea']='index.php?option=com_k2&Itemid=725&id=293&lang=en&view=item#private-morocco-tours-blog/mamounia-day-pass#1'; $this->_urlCache['c4f667a4918b7e23cca86b68ad098c28']='index.php?option=com_k2&Itemid=725&id=35&lang=en&task=category&view=itemlist#suntrails#0'; $this->_urlCache['ddbf7ad557471b1d4beab5bdb03a7851']='index.php?option=com_k2&Itemid=725&id=275&lang=en&view=item#suntrails/morocco-boutique-hotels#0'; $this->_urlCache['d02bea70332e47472a457ecf68249955']='index.php?option=com_k2&Itemid=724&id=31&lang=en&task=category&view=itemlist#private-tours-suntrails#0'; $this->_urlCache['8debb4f1f5bc46ca39fe6e1a1574e323']='index.php?option=com_k2&Itemid=724&id=271&lang=en&view=item#271-desert-and-roses#0'; $this->_urlCache['9fad59ee8099ab6199e0d6ef6dcf41cc']='index.php?option=com_k2&Itemid=725&id=319&lang=en&view=item#private-morocco-tours-blog/casablanca-more-than-a-movie#1'; $this->_urlCache['f61f2348ae10ffec7e79381a2ba420b9']='index.php?option=com_k2&Itemid=725&id=297&lang=en&view=item#private-morocco-tours-blog/moroccan-cooking-class.html#1'; $this->_urlCache['ad1d393172f2e923096f408a44df6358']='index.php?option=com_sppagebuilder&Itemid=784&id=17&lang=en&view=page#private-morocco-tours#0'; $this->_urlCache['b8a56e357af93536dff12206e121376a']='index.php?option=com_k2&Itemid=821&id=294&lang=en&layout=item&view=item#private-morocco-tours/fez-marrakech-erg-chigaga-essaouira-tour.html#1'; $this->_urlCache['1285f92ceb877e9ed0154495fcd90336']='index.php?option=com_k2&Itemid=763&id=267&lang=en&layout=item&view=item#private-morocco-tours/5-day-morocco-tour.html#1'; $this->_urlCache['e1b68f7b31ef3bf64f46aa061c856edf']='index.php?option=com_k2&Itemid=764&id=268&lang=en&layout=item&view=item#private-morocco-tours/Casablanca-Fez-Erg-Chebbi-Marrakech-tour.html#1'; $this->_urlCache['d611e46faf0844bdf23925df2faec350']='index.php?option=com_k2&Itemid=765&id=269&lang=en&layout=item&view=item#private-morocco-tours/Casablanca-Fez-Erg-Chebbi-Essaouira-tour.html#1'; $this->_urlCache['0e74604bd9e9b1df520b644c9380c1e8']='index.php?option=com_k2&Itemid=923&id=347&lang=en&layout=item&view=item#morocco-tour-9-days#1'; $this->_urlCache['9a7e64e2daef178e8ceef9fa97e40d29']='index.php?option=com_k2&Itemid=958&id=349&lang=en&layout=item&view=item#morocco-travel-blog/casablanca-tangier-chefchaouen-meknes-rabat#0'; $this->_urlCache['b1e362b87cab4f0f827a17fa68b9e1e3']='index.php?option=com_k2&Itemid=959&id=300&lang=en&layout=item&view=item#tours/marrakech-atlas-mountains-essaouira-tour#0'; $this->_urlCache['6910dee933fb969f404c225795ab677c']='index.php?option=com_users&Itemid=1014&lang=en&view=login#Log-in/#0'; $this->_urlCache['f94a19c32605add227b43d587f72f73e']='index.php?option=com_k2&Itemid=725&id=36&lang=en&layout=category&task=category&view=itemlist#private-morocco-tours-blog.html#1'; $this->_urlCache['1a3f3698560f5ebfd810faed0b0b339d']='index.php?option=com_phocagallery&Itemid=838&lang=en&view=categories#morocco-travel-experiences#1'; $this->_urlCache['f383b54e3ed715018e9bc2c910ae76ba']='index.php?option=com_k2&Itemid=956&id=358&lang=en&layout=item&view=item#reviews#1'; $this->_urlCache['86dbee9e9851d09471981785588d3abf']='index.php?option=com_k2&Itemid=614&id=284&lang=en&layout=item&view=item#suntrails/links#0'; $this->_urlCache['7cd5d55585f23062663fcf1947da248c']='index.php?option=com_k2&Itemid=615&id=283&lang=en&layout=item&view=item#suntrails/terms-and-conditions#0'; $this->_urlCache['7f36feef91b09e1dc8b4185a9b3b596d']='index.php?option=com_allvideoshare&Itemid=839&lang=en&orderby=default&slg=0&view=category#videos#0'; $this->_urlCache['a9743b4e5738a43476b71e4b8427395a']='index.php?option=com_xmap&Itemid=985&id=2&lang=en&view=html#other/site-map#0'; $shURLCacheCreationDate=1607111409; $this->_urlCache['904c256c24a1e88f4c165d0e8e3c8ed6']='index.php?option=com_phocagallery&Itemid=838&catid=254&id=4981&lang=en&view=detail#254-roulidane-waterfalls/detail/4981-ybbbu#0'; $shURLCacheCreationDate=1607111478; $this->_urlCache['6ab752e77fd479d3ba97d45adc81af30']='index.php?option=com_phocagallery&Itemid=838&catid=106&id=1701&lang=en&view=detail#les-deux-tours/detail/1701-salon-indien-2#1'; $shURLCacheCreationDate=1607111490; $this->_urlCache['98bb23419e64ddb10e6bfa0bde607736']='index.php?option=com_phocagallery&Itemid=838&catid=258&id=5224&lang=en&view=detail#258-plateau-taghazart-4000-metres/detail/5224-plateautafhazart2#0'; $shURLCacheCreationDate=1607111617; $this->_urlCache['4a503607b8ce8a21848201fffbe6fa5f']='index.php?option=com_k2&Itemid=725&id=36&lang=en&task=category&view=itemlist#morocco-travel-blog#0'; $this->_urlCache['b218c58da0dc35bbf5aa9b8757b2409d']='index.php?option=com_k2&Itemid=725&id=37&lang=en&task=category&view=itemlist#morocco-travel-blog/tour-of-the-season#0'; $this->_urlCache['5c282448c4f8fab06634c3f6d1fe9c21']='index.php?option=com_k2&Itemid=725&id=40&lang=en&task=category&view=itemlist#morocco-travel-blog/boutique-hotel-of-the-month#0'; $this->_urlCache['6ae96a53284c1d3e49d2c5baddd8bf80']='index.php?option=com_k2&Itemid=725&format=feed&id=36&lang=en&layout=category&limit=10&task=category&view=itemlist#morocco-travel-blog/feed/Page-1#0'; $this->_urlCache['ad1d393172f2e923096f408a44df6358']='index.php?option=com_sppagebuilder&Itemid=784&id=17&lang=en&view=page#private-morocco-tours#0'; $this->_urlCache['b8a56e357af93536dff12206e121376a']='index.php?option=com_k2&Itemid=821&id=294&lang=en&layout=item&view=item#private-morocco-tours/fez-marrakech-erg-chigaga-essaouira-tour.html#1'; $this->_urlCache['1285f92ceb877e9ed0154495fcd90336']='index.php?option=com_k2&Itemid=763&id=267&lang=en&layout=item&view=item#private-morocco-tours/5-day-morocco-tour.html#1'; $this->_urlCache['e1b68f7b31ef3bf64f46aa061c856edf']='index.php?option=com_k2&Itemid=764&id=268&lang=en&layout=item&view=item#private-morocco-tours/Casablanca-Fez-Erg-Chebbi-Marrakech-tour.html#1'; $this->_urlCache['d611e46faf0844bdf23925df2faec350']='index.php?option=com_k2&Itemid=765&id=269&lang=en&layout=item&view=item#private-morocco-tours/Casablanca-Fez-Erg-Chebbi-Essaouira-tour.html#1'; $this->_urlCache['0e74604bd9e9b1df520b644c9380c1e8']='index.php?option=com_k2&Itemid=923&id=347&lang=en&layout=item&view=item#morocco-tour-9-days#1'; $this->_urlCache['9a7e64e2daef178e8ceef9fa97e40d29']='index.php?option=com_k2&Itemid=958&id=349&lang=en&layout=item&view=item#morocco-travel-blog/casablanca-tangier-chefchaouen-meknes-rabat#0'; $this->_urlCache['b1e362b87cab4f0f827a17fa68b9e1e3']='index.php?option=com_k2&Itemid=959&id=300&lang=en&layout=item&view=item#tours/marrakech-atlas-mountains-essaouira-tour#0'; $this->_urlCache['6910dee933fb969f404c225795ab677c']='index.php?option=com_users&Itemid=1014&lang=en&view=login#Log-in/#0'; $this->_urlCache['f94a19c32605add227b43d587f72f73e']='index.php?option=com_k2&Itemid=725&id=36&lang=en&layout=category&task=category&view=itemlist#private-morocco-tours-blog.html#1'; $this->_urlCache['1a3f3698560f5ebfd810faed0b0b339d']='index.php?option=com_phocagallery&Itemid=838&lang=en&view=categories#morocco-travel-experiences#1'; $this->_urlCache['f383b54e3ed715018e9bc2c910ae76ba']='index.php?option=com_k2&Itemid=956&id=358&lang=en&layout=item&view=item#reviews#1'; $this->_urlCache['86dbee9e9851d09471981785588d3abf']='index.php?option=com_k2&Itemid=614&id=284&lang=en&layout=item&view=item#suntrails/links#0'; $this->_urlCache['7cd5d55585f23062663fcf1947da248c']='index.php?option=com_k2&Itemid=615&id=283&lang=en&layout=item&view=item#suntrails/terms-and-conditions#0'; $this->_urlCache['7f36feef91b09e1dc8b4185a9b3b596d']='index.php?option=com_allvideoshare&Itemid=839&lang=en&orderby=default&slg=0&view=category#videos#0'; $this->_urlCache['a9743b4e5738a43476b71e4b8427395a']='index.php?option=com_xmap&Itemid=985&id=2&lang=en&view=html#other/site-map#0'; $this->_urlCache['95dad6b046fc5aa02f1ebd5aa4a23cf3']='index.php?option=com_k2&Itemid=809&id=289&lang=en&layout=item&view=item#suntrails/message-sent#0'; $this->_urlCache['2cf2da33ce209a17e1bb807ace4dd440']='index.php?option=com_k2&Itemid=725&id=373&lang=en&view=item#373-holding-the-fort#0'; $this->_urlCache['b98c1a5dfd0288529c73da59cc5e84d3']='index.php?option=com_k2&Itemid=725&id=664&lang=en&task=user&view=itemlist#blog/Cristian#0'; $this->_urlCache['68c5a93ae806df6dc3122943659bc23f']='index.php?option=com_k2&Itemid=725&id=364&lang=en&view=item#honeymoon-in-morocco#1'; $this->_urlCache['ae2a91044cc8b08f489d688fd000813f']='index.php?option=com_k2&Itemid=725&id=362&lang=en&view=item#cooking-with-the-locals-in-marrakech#1'; $this->_urlCache['1b21d36a0b54da7bfed30bc9ab385790']='index.php?option=com_k2&Itemid=725&format=feed&lang=en&moduleID=765&view=itemlist#feed/Recent-Posts/feed#0'; $this->_urlCache['2fffedd0579549fbcbb93b82a473ca1a']='index.php?option=com_k2&Itemid=725&id=290&lang=en&view=item#morocco-best-time-to-visit.html#1'; $this->_urlCache['223be574151996c46d1fc84a319ee408']='index.php?option=com_k2&Itemid=725&lang=en&tag=morocco+holidays&task=tag&view=itemlist#tag/morocco-holidays#0'; $this->_urlCache['799619bf85256757c76123dd1331735b']='index.php?option=com_k2&Itemid=725&lang=en&tag=weather+in+morocco&task=tag&view=itemlist#tag/weather-in-morocco#0'; $this->_urlCache['28478d83349cf5e523e75f7e5e723d6e']='index.php?option=com_k2&Itemid=725&lang=en&tag=ramadan+in+morocco&task=tag&view=itemlist#tag/ramadan-in-morocco#0'; $this->_urlCache['cb11c2b1aa1871068f0bb0a1e953983a']='index.php?option=com_k2&Itemid=725&id=292&lang=en&view=item#private-morocco-tours-blog/boutique-hotel-of-the-month/azalai-desert-lodge-zagora.html#1'; $this->_urlCache['80946b65ee90c4667ba3c800652f8401']='index.php?option=com_k2&Itemid=725&lang=en&tag=sahara+desert&task=tag&view=itemlist#tag/sahara-desert#0'; $this->_urlCache['b46a918e22c6826f566073c4ffa4388a']='index.php?option=com_k2&Itemid=725&lang=en&tag=luxury+desert+camp&task=tag&view=itemlist#tag/luxury-desert-camp#0'; $this->_urlCache['838dfb36656957f9c333da103f18dbec']='index.php?option=com_k2&Itemid=725&lang=en&tag=zagora+boutique+hotel&task=tag&view=itemlist#tag/zagora-boutique-hotel#0'; $this->_urlCache['b569993b56698c1e36339912985a9c55']='index.php?option=com_k2&Itemid=725&lang=en&tag=erg+chigaga&task=tag&view=itemlist#tag/erg-chigaga#0'; $this->_urlCache['088ef81b0399dadf33825370614a0fea']='index.php?option=com_k2&Itemid=725&id=293&lang=en&view=item#private-morocco-tours-blog/mamounia-day-pass#1'; $this->_urlCache['5f3537cc6bce4c08ae5cc6509a72d062']='index.php?option=com_k2&Itemid=725&lang=en&tag=mamounia+day+pass&task=tag&view=itemlist#tag/mamounia-day-pass#0'; $this->_urlCache['27d1ae234b14c2f0a3f66ab5ac353ebe']='index.php?option=com_k2&Itemid=725&lang=en&tag=marrakech+spa&task=tag&view=itemlist#tag/marrakech-spa#0'; $this->_urlCache['c2b26072adc3e41ff0c9eac81a48fdba']='index.php?option=com_k2&Itemid=725&format=feed&lang=en&moduleID=766&view=itemlist#feed/Most-read-posts/feed#0'; $shURLCacheCreationDate=1607111657; $this->_urlCache['e80334ae8a8ec986161fd5842a2f33ba']='index.php?option=com_phocagallery&Itemid=838&catid=116&id=1978&lang=en&view=detail#riad-la-parenthese/detail/1978-riad-la-parenthese23#1'; $this->_urlCache['ad1d393172f2e923096f408a44df6358']='index.php?option=com_sppagebuilder&Itemid=784&id=17&lang=en&view=page#private-morocco-tours#0'; $this->_urlCache['b8a56e357af93536dff12206e121376a']='index.php?option=com_k2&Itemid=821&id=294&lang=en&layout=item&view=item#private-morocco-tours/fez-marrakech-erg-chigaga-essaouira-tour.html#1'; $this->_urlCache['1285f92ceb877e9ed0154495fcd90336']='index.php?option=com_k2&Itemid=763&id=267&lang=en&layout=item&view=item#private-morocco-tours/5-day-morocco-tour.html#1'; $this->_urlCache['e1b68f7b31ef3bf64f46aa061c856edf']='index.php?option=com_k2&Itemid=764&id=268&lang=en&layout=item&view=item#private-morocco-tours/Casablanca-Fez-Erg-Chebbi-Marrakech-tour.html#1'; $this->_urlCache['d611e46faf0844bdf23925df2faec350']='index.php?option=com_k2&Itemid=765&id=269&lang=en&layout=item&view=item#private-morocco-tours/Casablanca-Fez-Erg-Chebbi-Essaouira-tour.html#1'; $this->_urlCache['0e74604bd9e9b1df520b644c9380c1e8']='index.php?option=com_k2&Itemid=923&id=347&lang=en&layout=item&view=item#morocco-tour-9-days#1'; $this->_urlCache['9a7e64e2daef178e8ceef9fa97e40d29']='index.php?option=com_k2&Itemid=958&id=349&lang=en&layout=item&view=item#morocco-travel-blog/casablanca-tangier-chefchaouen-meknes-rabat#0'; $this->_urlCache['b1e362b87cab4f0f827a17fa68b9e1e3']='index.php?option=com_k2&Itemid=959&id=300&lang=en&layout=item&view=item#tours/marrakech-atlas-mountains-essaouira-tour#0'; $this->_urlCache['6910dee933fb969f404c225795ab677c']='index.php?option=com_users&Itemid=1014&lang=en&view=login#Log-in/#0'; $this->_urlCache['f94a19c32605add227b43d587f72f73e']='index.php?option=com_k2&Itemid=725&id=36&lang=en&layout=category&task=category&view=itemlist#private-morocco-tours-blog.html#1'; $this->_urlCache['1a3f3698560f5ebfd810faed0b0b339d']='index.php?option=com_phocagallery&Itemid=838&lang=en&view=categories#morocco-travel-experiences#1'; $this->_urlCache['f383b54e3ed715018e9bc2c910ae76ba']='index.php?option=com_k2&Itemid=956&id=358&lang=en&layout=item&view=item#reviews#1'; $this->_urlCache['86dbee9e9851d09471981785588d3abf']='index.php?option=com_k2&Itemid=614&id=284&lang=en&layout=item&view=item#suntrails/links#0'; $this->_urlCache['7cd5d55585f23062663fcf1947da248c']='index.php?option=com_k2&Itemid=615&id=283&lang=en&layout=item&view=item#suntrails/terms-and-conditions#0'; $this->_urlCache['7f36feef91b09e1dc8b4185a9b3b596d']='index.php?option=com_allvideoshare&Itemid=839&lang=en&orderby=default&slg=0&view=category#videos#0'; $this->_urlCache['a9743b4e5738a43476b71e4b8427395a']='index.php?option=com_xmap&Itemid=985&id=2&lang=en&view=html#other/site-map#0'; $shURLCacheCreationDate=1607111741; $this->_urlCache['eb7f5fd35634292eb7a6b5cc2bb81170']='index.php?option=com_k2&Itemid=725&format=feed&lang=en&tag=CASABLANCA&task=tag&view=itemlist#tag/CASABLANCA/feed/atom#0'; $this->_urlCache['ad1d393172f2e923096f408a44df6358']='index.php?option=com_sppagebuilder&Itemid=784&id=17&lang=en&view=page#private-morocco-tours#0'; $this->_urlCache['b8a56e357af93536dff12206e121376a']='index.php?option=com_k2&Itemid=821&id=294&lang=en&layout=item&view=item#private-morocco-tours/fez-marrakech-erg-chigaga-essaouira-tour.html#1'; $this->_urlCache['1285f92ceb877e9ed0154495fcd90336']='index.php?option=com_k2&Itemid=763&id=267&lang=en&layout=item&view=item#private-morocco-tours/5-day-morocco-tour.html#1'; $this->_urlCache['e1b68f7b31ef3bf64f46aa061c856edf']='index.php?option=com_k2&Itemid=764&id=268&lang=en&layout=item&view=item#private-morocco-tours/Casablanca-Fez-Erg-Chebbi-Marrakech-tour.html#1'; $this->_urlCache['d611e46faf0844bdf23925df2faec350']='index.php?option=com_k2&Itemid=765&id=269&lang=en&layout=item&view=item#private-morocco-tours/Casablanca-Fez-Erg-Chebbi-Essaouira-tour.html#1'; $this->_urlCache['0e74604bd9e9b1df520b644c9380c1e8']='index.php?option=com_k2&Itemid=923&id=347&lang=en&layout=item&view=item#morocco-tour-9-days#1'; $this->_urlCache['9a7e64e2daef178e8ceef9fa97e40d29']='index.php?option=com_k2&Itemid=958&id=349&lang=en&layout=item&view=item#morocco-travel-blog/casablanca-tangier-chefchaouen-meknes-rabat#0'; $this->_urlCache['b1e362b87cab4f0f827a17fa68b9e1e3']='index.php?option=com_k2&Itemid=959&id=300&lang=en&layout=item&view=item#tours/marrakech-atlas-mountains-essaouira-tour#0'; $this->_urlCache['6910dee933fb969f404c225795ab677c']='index.php?option=com_users&Itemid=1014&lang=en&view=login#Log-in/#0'; $this->_urlCache['f94a19c32605add227b43d587f72f73e']='index.php?option=com_k2&Itemid=725&id=36&lang=en&layout=category&task=category&view=itemlist#private-morocco-tours-blog.html#1'; $this->_urlCache['1a3f3698560f5ebfd810faed0b0b339d']='index.php?option=com_phocagallery&Itemid=838&lang=en&view=categories#morocco-travel-experiences#1'; $this->_urlCache['f383b54e3ed715018e9bc2c910ae76ba']='index.php?option=com_k2&Itemid=956&id=358&lang=en&layout=item&view=item#reviews#1'; $this->_urlCache['86dbee9e9851d09471981785588d3abf']='index.php?option=com_k2&Itemid=614&id=284&lang=en&layout=item&view=item#suntrails/links#0'; $this->_urlCache['7cd5d55585f23062663fcf1947da248c']='index.php?option=com_k2&Itemid=615&id=283&lang=en&layout=item&view=item#suntrails/terms-and-conditions#0'; $this->_urlCache['7f36feef91b09e1dc8b4185a9b3b596d']='index.php?option=com_allvideoshare&Itemid=839&lang=en&orderby=default&slg=0&view=category#videos#0'; $this->_urlCache['a9743b4e5738a43476b71e4b8427395a']='index.php?option=com_xmap&Itemid=985&id=2&lang=en&view=html#other/site-map#0'; $this->_urlCache['37ddc897094b3883c4d658ac2d888f5f']='index.php?option=com_k2&Itemid=725&lang=en&tag=CASABLANCA&task=tag&view=itemlist#tag/CASABLANCA#0'; $shURLCacheCreationDate=1607111762; $this->_urlCache['ad1d393172f2e923096f408a44df6358']='index.php?option=com_sppagebuilder&Itemid=784&id=17&lang=en&view=page#private-morocco-tours#0'; $this->_urlCache['b8a56e357af93536dff12206e121376a']='index.php?option=com_k2&Itemid=821&id=294&lang=en&layout=item&view=item#private-morocco-tours/fez-marrakech-erg-chigaga-essaouira-tour.html#1'; $this->_urlCache['1285f92ceb877e9ed0154495fcd90336']='index.php?option=com_k2&Itemid=763&id=267&lang=en&layout=item&view=item#private-morocco-tours/5-day-morocco-tour.html#1'; $this->_urlCache['e1b68f7b31ef3bf64f46aa061c856edf']='index.php?option=com_k2&Itemid=764&id=268&lang=en&layout=item&view=item#private-morocco-tours/Casablanca-Fez-Erg-Chebbi-Marrakech-tour.html#1'; $this->_urlCache['d611e46faf0844bdf23925df2faec350']='index.php?option=com_k2&Itemid=765&id=269&lang=en&layout=item&view=item#private-morocco-tours/Casablanca-Fez-Erg-Chebbi-Essaouira-tour.html#1'; $this->_urlCache['0e74604bd9e9b1df520b644c9380c1e8']='index.php?option=com_k2&Itemid=923&id=347&lang=en&layout=item&view=item#morocco-tour-9-days#1'; $this->_urlCache['9a7e64e2daef178e8ceef9fa97e40d29']='index.php?option=com_k2&Itemid=958&id=349&lang=en&layout=item&view=item#morocco-travel-blog/casablanca-tangier-chefchaouen-meknes-rabat#0'; $this->_urlCache['b1e362b87cab4f0f827a17fa68b9e1e3']='index.php?option=com_k2&Itemid=959&id=300&lang=en&layout=item&view=item#tours/marrakech-atlas-mountains-essaouira-tour#0'; $this->_urlCache['6910dee933fb969f404c225795ab677c']='index.php?option=com_users&Itemid=1014&lang=en&view=login#Log-in/#0'; $this->_urlCache['f94a19c32605add227b43d587f72f73e']='index.php?option=com_k2&Itemid=725&id=36&lang=en&layout=category&task=category&view=itemlist#private-morocco-tours-blog.html#1'; $this->_urlCache['1a3f3698560f5ebfd810faed0b0b339d']='index.php?option=com_phocagallery&Itemid=838&lang=en&view=categories#morocco-travel-experiences#1'; $this->_urlCache['f383b54e3ed715018e9bc2c910ae76ba']='index.php?option=com_k2&Itemid=956&id=358&lang=en&layout=item&view=item#reviews#1'; $this->_urlCache['86dbee9e9851d09471981785588d3abf']='index.php?option=com_k2&Itemid=614&id=284&lang=en&layout=item&view=item#suntrails/links#0'; $this->_urlCache['7cd5d55585f23062663fcf1947da248c']='index.php?option=com_k2&Itemid=615&id=283&lang=en&layout=item&view=item#suntrails/terms-and-conditions#0'; $this->_urlCache['7f36feef91b09e1dc8b4185a9b3b596d']='index.php?option=com_allvideoshare&Itemid=839&lang=en&orderby=default&slg=0&view=category#videos#0'; $this->_urlCache['a9743b4e5738a43476b71e4b8427395a']='index.php?option=com_xmap&Itemid=985&id=2&lang=en&view=html#other/site-map#0'; $shURLCacheCreationDate=1607112003; $this->_urlCache['075cfc116f1ccb1cf08c774abb17b915']='index.php?option=com_phocagallery&Itemid=838&catid=246&id=4833&lang=en&view=detail#246-villa-diyafa-rabat/detail/4833-suite-dining-corner#0'; $shURLCacheCreationDate=1607112009; $this->_urlCache['4a503607b8ce8a21848201fffbe6fa5f']='index.php?option=com_k2&Itemid=725&id=36&lang=en&task=category&view=itemlist#morocco-travel-blog#0'; $this->_urlCache['b9c47355c7a90a5f94ce9477364b2740']='index.php?option=com_k2&Itemid=725&id=296&lang=en&view=item#private-morocco-tours-blog/kasbah-tamadot-lunch-and-more.html#1'; $this->_urlCache['b1a3f1910d5f7d9a602745054f123c59']='index.php?option=com_k2&Itemid=725&lang=en&tag=lunch+at+kasbah+tamadot&task=tag&view=itemlist#tag/lunch-at-kasbah-tamadot#0'; $this->_urlCache['f5240ec5f0e3583f38c984a2b393732e']='index.php?option=com_k2&Itemid=725&lang=en&tag=atlas+mountains+day+trip&task=tag&view=itemlist#tag/atlas-mountains-day-trip#0'; $this->_urlCache['b98c1a5dfd0288529c73da59cc5e84d3']='index.php?option=com_k2&Itemid=725&id=664&lang=en&task=user&view=itemlist#blog/Cristian#0'; $this->_urlCache['bb03a5630fca3f3ae7ab1ddfaf0af1a7']='index.php?option=com_k2&Itemid=725&id=282&lang=en&view=item#day-morocco-tour-marrakech-to-fez.html#1'; $this->_urlCache['9fad59ee8099ab6199e0d6ef6dcf41cc']='index.php?option=com_k2&Itemid=725&id=319&lang=en&view=item#private-morocco-tours-blog/casablanca-more-than-a-movie#1'; $this->_urlCache['ae2a91044cc8b08f489d688fd000813f']='index.php?option=com_k2&Itemid=725&id=362&lang=en&view=item#cooking-with-the-locals-in-marrakech#1'; $this->_urlCache['587417d269f322318d801f0a0c26325f']='index.php?option=com_k2&Itemid=725&id=287&lang=en&view=item#morocco-travel-blog/a-bitter-love#0'; $this->_urlCache['ad1d393172f2e923096f408a44df6358']='index.php?option=com_sppagebuilder&Itemid=784&id=17&lang=en&view=page#private-morocco-tours#0'; $this->_urlCache['b8a56e357af93536dff12206e121376a']='index.php?option=com_k2&Itemid=821&id=294&lang=en&layout=item&view=item#private-morocco-tours/fez-marrakech-erg-chigaga-essaouira-tour.html#1'; $this->_urlCache['1285f92ceb877e9ed0154495fcd90336']='index.php?option=com_k2&Itemid=763&id=267&lang=en&layout=item&view=item#private-morocco-tours/5-day-morocco-tour.html#1'; $this->_urlCache['e1b68f7b31ef3bf64f46aa061c856edf']='index.php?option=com_k2&Itemid=764&id=268&lang=en&layout=item&view=item#private-morocco-tours/Casablanca-Fez-Erg-Chebbi-Marrakech-tour.html#1'; $this->_urlCache['d611e46faf0844bdf23925df2faec350']='index.php?option=com_k2&Itemid=765&id=269&lang=en&layout=item&view=item#private-morocco-tours/Casablanca-Fez-Erg-Chebbi-Essaouira-tour.html#1'; $this->_urlCache['0e74604bd9e9b1df520b644c9380c1e8']='index.php?option=com_k2&Itemid=923&id=347&lang=en&layout=item&view=item#morocco-tour-9-days#1'; $this->_urlCache['9a7e64e2daef178e8ceef9fa97e40d29']='index.php?option=com_k2&Itemid=958&id=349&lang=en&layout=item&view=item#morocco-travel-blog/casablanca-tangier-chefchaouen-meknes-rabat#0'; $this->_urlCache['b1e362b87cab4f0f827a17fa68b9e1e3']='index.php?option=com_k2&Itemid=959&id=300&lang=en&layout=item&view=item#tours/marrakech-atlas-mountains-essaouira-tour#0'; $this->_urlCache['6910dee933fb969f404c225795ab677c']='index.php?option=com_users&Itemid=1014&lang=en&view=login#Log-in/#0'; $this->_urlCache['f94a19c32605add227b43d587f72f73e']='index.php?option=com_k2&Itemid=725&id=36&lang=en&layout=category&task=category&view=itemlist#private-morocco-tours-blog.html#1'; $this->_urlCache['1a3f3698560f5ebfd810faed0b0b339d']='index.php?option=com_phocagallery&Itemid=838&lang=en&view=categories#morocco-travel-experiences#1'; $this->_urlCache['f383b54e3ed715018e9bc2c910ae76ba']='index.php?option=com_k2&Itemid=956&id=358&lang=en&layout=item&view=item#reviews#1'; $this->_urlCache['86dbee9e9851d09471981785588d3abf']='index.php?option=com_k2&Itemid=614&id=284&lang=en&layout=item&view=item#suntrails/links#0'; $this->_urlCache['7cd5d55585f23062663fcf1947da248c']='index.php?option=com_k2&Itemid=615&id=283&lang=en&layout=item&view=item#suntrails/terms-and-conditions#0'; $this->_urlCache['7f36feef91b09e1dc8b4185a9b3b596d']='index.php?option=com_allvideoshare&Itemid=839&lang=en&orderby=default&slg=0&view=category#videos#0'; $this->_urlCache['a9743b4e5738a43476b71e4b8427395a']='index.php?option=com_xmap&Itemid=985&id=2&lang=en&view=html#other/site-map#0'; $shURLCacheCreationDate=1607110894; $this->_urlCache['81cd64ead34713a67ea4d64d0dc30aee']='index.php?option=com_phocagallery&Itemid=838&catid=124&id=2089&lang=en&view=detail#erg-chigaga-luxury-camp/detail/2089-dpp-292242#1'; $shURLCacheCreationDate=1607110947; $this->_urlCache['f55e66a2c62e29f5cd8dc23edb2d2605']='index.php?option=com_k2&Itemid=725&format=feed&lang=en&tag=conde+nast+traveler&task=tag&view=itemlist#tag/conde-nast-traveler/feed/atom#0'; $this->_urlCache['ad1d393172f2e923096f408a44df6358']='index.php?option=com_sppagebuilder&Itemid=784&id=17&lang=en&view=page#private-morocco-tours#0'; $this->_urlCache['b8a56e357af93536dff12206e121376a']='index.php?option=com_k2&Itemid=821&id=294&lang=en&layout=item&view=item#private-morocco-tours/fez-marrakech-erg-chigaga-essaouira-tour.html#1'; $this->_urlCache['1285f92ceb877e9ed0154495fcd90336']='index.php?option=com_k2&Itemid=763&id=267&lang=en&layout=item&view=item#private-morocco-tours/5-day-morocco-tour.html#1'; $this->_urlCache['e1b68f7b31ef3bf64f46aa061c856edf']='index.php?option=com_k2&Itemid=764&id=268&lang=en&layout=item&view=item#private-morocco-tours/Casablanca-Fez-Erg-Chebbi-Marrakech-tour.html#1'; $this->_urlCache['d611e46faf0844bdf23925df2faec350']='index.php?option=com_k2&Itemid=765&id=269&lang=en&layout=item&view=item#private-morocco-tours/Casablanca-Fez-Erg-Chebbi-Essaouira-tour.html#1'; $this->_urlCache['0e74604bd9e9b1df520b644c9380c1e8']='index.php?option=com_k2&Itemid=923&id=347&lang=en&layout=item&view=item#morocco-tour-9-days#1'; $this->_urlCache['9a7e64e2daef178e8ceef9fa97e40d29']='index.php?option=com_k2&Itemid=958&id=349&lang=en&layout=item&view=item#morocco-travel-blog/casablanca-tangier-chefchaouen-meknes-rabat#0'; $this->_urlCache['b1e362b87cab4f0f827a17fa68b9e1e3']='index.php?option=com_k2&Itemid=959&id=300&lang=en&layout=item&view=item#tours/marrakech-atlas-mountains-essaouira-tour#0'; $this->_urlCache['6910dee933fb969f404c225795ab677c']='index.php?option=com_users&Itemid=1014&lang=en&view=login#Log-in/#0'; $this->_urlCache['f94a19c32605add227b43d587f72f73e']='index.php?option=com_k2&Itemid=725&id=36&lang=en&layout=category&task=category&view=itemlist#private-morocco-tours-blog.html#1'; $this->_urlCache['1a3f3698560f5ebfd810faed0b0b339d']='index.php?option=com_phocagallery&Itemid=838&lang=en&view=categories#morocco-travel-experiences#1'; $this->_urlCache['f383b54e3ed715018e9bc2c910ae76ba']='index.php?option=com_k2&Itemid=956&id=358&lang=en&layout=item&view=item#reviews#1'; $this->_urlCache['86dbee9e9851d09471981785588d3abf']='index.php?option=com_k2&Itemid=614&id=284&lang=en&layout=item&view=item#suntrails/links#0'; $this->_urlCache['7cd5d55585f23062663fcf1947da248c']='index.php?option=com_k2&Itemid=615&id=283&lang=en&layout=item&view=item#suntrails/terms-and-conditions#0'; $this->_urlCache['7f36feef91b09e1dc8b4185a9b3b596d']='index.php?option=com_allvideoshare&Itemid=839&lang=en&orderby=default&slg=0&view=category#videos#0'; $this->_urlCache['a9743b4e5738a43476b71e4b8427395a']='index.php?option=com_xmap&Itemid=985&id=2&lang=en&view=html#other/site-map#0'; $this->_urlCache['f1cb1a9fa183c28cd71dff3b453523cb']='index.php?option=com_k2&Itemid=725&lang=en&tag=conde+nast+traveler&task=tag&view=itemlist#tag/conde-nast-traveler#0'; $shURLCacheCreationDate=1607111023; $this->_urlCache['f89b0e21d4a8f19b629817a49467a101']='index.php?option=com_phocagallery&Itemid=838&catid=246&id=4832&lang=en&view=detail#246-villa-diyafa-rabat/detail/4832-suite-bedroom#0'; $shURLCacheCreationDate=1607111228; $this->_urlCache['8045f276a16d787c47328123fc2a0318']='index.php?option=com_k2&Itemid=725&id=330&lang=en&view=item#private-morocco-tours-blog/medieval-morocco-an-essential-exhibition#1'; $shURLCacheCreationDate=1607111342; $this->_urlCache['0c5f69344cde19f12c043f330c51c6df']='index.php?option=com_phocagallery&Itemid=838&catid=135&id=2956&lang=en&view=detail#135-villa-des-orangers/detail/2956-restaurant-iv#0'; $shURLCacheCreationDate=1607111350; $this->_urlCache['4a503607b8ce8a21848201fffbe6fa5f']='index.php?option=com_k2&Itemid=725&id=36&lang=en&task=category&view=itemlist#morocco-travel-blog#0'; $this->_urlCache['e14d13b039a442c9c053916ce8e44348']='index.php?option=com_k2&Itemid=725&id=299&lang=en&view=item#morocco-travel-blog/luxury-morocco-tour-5-things-to-do#0'; $this->_urlCache['b98d6c51636d1ae54495d1ab004824f8']='index.php?option=com_k2&Itemid=725&lang=en&tag=dar+ahlam&task=tag&view=itemlist#tag/dar-ahlam#0'; $this->_urlCache['730d9d603a3eea6223c3fd8d10027cbb']='index.php?option=com_k2&Itemid=725&lang=en&tag=azalai+desert+lodge&task=tag&view=itemlist#tag/azalai-desert-lodge#0'; $this->_urlCache['6fa9c22dc91f5c8aeb256d95341d1861']='index.php?option=com_k2&Itemid=725&lang=en&tag=erg+chigaga+luxury+camp&task=tag&view=itemlist#tag/erg-chigaga-luxury-camp#0'; $this->_urlCache['edc529c763881312caffa68c4597f660']='index.php?option=com_k2&Itemid=725&lang=en&tag=hot+air+balloon+flight&task=tag&view=itemlist#tag/hot-air-balloon-flight#0'; $this->_urlCache['651a47cdf50893e901723fb41be89ea4']='index.php?option=com_k2&Itemid=725&lang=en&tag=fes+music+festival&task=tag&view=itemlist#tag/fes-music-festival#0'; $this->_urlCache['369f3329fcfce6762e18c24f0ac0938e']='index.php?option=com_k2&Itemid=725&lang=en&tag=palais+selman&task=tag&view=itemlist#tag/palais-selman#0'; $this->_urlCache['27d1ae234b14c2f0a3f66ab5ac353ebe']='index.php?option=com_k2&Itemid=725&lang=en&tag=marrakech+spa&task=tag&view=itemlist#tag/marrakech-spa#0'; $this->_urlCache['f1cb1a9fa183c28cd71dff3b453523cb']='index.php?option=com_k2&Itemid=725&lang=en&tag=conde+nast+traveler&task=tag&view=itemlist#tag/conde-nast-traveler#0'; $this->_urlCache['c9bd2a746d1984e518c70a10afb34c95']='index.php?option=com_k2&Itemid=725&lang=en&tag=sufi+nights&task=tag&view=itemlist#tag/sufi-nights#0'; $this->_urlCache['c5283fbe43064c08d710f577f0128719']='index.php?option=com_k2&Itemid=725&lang=en&tag=camel+ride&task=tag&view=itemlist#tag/camel-ride#0'; $this->_urlCache['b98c1a5dfd0288529c73da59cc5e84d3']='index.php?option=com_k2&Itemid=725&id=664&lang=en&task=user&view=itemlist#blog/Cristian#0'; $this->_urlCache['2cf2da33ce209a17e1bb807ace4dd440']='index.php?option=com_k2&Itemid=725&id=373&lang=en&view=item#373-holding-the-fort#0'; $this->_urlCache['68c5a93ae806df6dc3122943659bc23f']='index.php?option=com_k2&Itemid=725&id=364&lang=en&view=item#honeymoon-in-morocco#1'; $this->_urlCache['ae2a91044cc8b08f489d688fd000813f']='index.php?option=com_k2&Itemid=725&id=362&lang=en&view=item#cooking-with-the-locals-in-marrakech#1'; $this->_urlCache['429bb4cb63b9b7489d34ce09d153aa19']='index.php?option=com_k2&Itemid=725&id=361&lang=en&view=item#slipper-making-marrakech#1'; $this->_urlCache['5565228d42a86703b26ef0ba107797ed']='index.php?option=com_k2&Itemid=725&id=360&lang=en&view=item#riad-laaroussa-fes/boutique-hotel-of-the-month#1'; $this->_urlCache['ea5d53be1043a9aa6001b335356260ef']='index.php?option=com_k2&Itemid=725&id=323&lang=en&view=item#private-morocco-tours-blog/morocco-luxury-desert-camp-experience#1'; $this->_urlCache['088ef81b0399dadf33825370614a0fea']='index.php?option=com_k2&Itemid=725&id=293&lang=en&view=item#private-morocco-tours-blog/mamounia-day-pass#1'; $this->_urlCache['c4f667a4918b7e23cca86b68ad098c28']='index.php?option=com_k2&Itemid=725&id=35&lang=en&task=category&view=itemlist#suntrails#0'; $this->_urlCache['ddbf7ad557471b1d4beab5bdb03a7851']='index.php?option=com_k2&Itemid=725&id=275&lang=en&view=item#suntrails/morocco-boutique-hotels#0'; $this->_urlCache['d02bea70332e47472a457ecf68249955']='index.php?option=com_k2&Itemid=724&id=31&lang=en&task=category&view=itemlist#private-tours-suntrails#0'; $this->_urlCache['8debb4f1f5bc46ca39fe6e1a1574e323']='index.php?option=com_k2&Itemid=724&id=271&lang=en&view=item#271-desert-and-roses#0'; $this->_urlCache['9fad59ee8099ab6199e0d6ef6dcf41cc']='index.php?option=com_k2&Itemid=725&id=319&lang=en&view=item#private-morocco-tours-blog/casablanca-more-than-a-movie#1'; $this->_urlCache['f61f2348ae10ffec7e79381a2ba420b9']='index.php?option=com_k2&Itemid=725&id=297&lang=en&view=item#private-morocco-tours-blog/moroccan-cooking-class.html#1'; $this->_urlCache['ad1d393172f2e923096f408a44df6358']='index.php?option=com_sppagebuilder&Itemid=784&id=17&lang=en&view=page#private-morocco-tours#0'; $this->_urlCache['b8a56e357af93536dff12206e121376a']='index.php?option=com_k2&Itemid=821&id=294&lang=en&layout=item&view=item#private-morocco-tours/fez-marrakech-erg-chigaga-essaouira-tour.html#1'; $this->_urlCache['1285f92ceb877e9ed0154495fcd90336']='index.php?option=com_k2&Itemid=763&id=267&lang=en&layout=item&view=item#private-morocco-tours/5-day-morocco-tour.html#1'; $this->_urlCache['e1b68f7b31ef3bf64f46aa061c856edf']='index.php?option=com_k2&Itemid=764&id=268&lang=en&layout=item&view=item#private-morocco-tours/Casablanca-Fez-Erg-Chebbi-Marrakech-tour.html#1'; $this->_urlCache['d611e46faf0844bdf23925df2faec350']='index.php?option=com_k2&Itemid=765&id=269&lang=en&layout=item&view=item#private-morocco-tours/Casablanca-Fez-Erg-Chebbi-Essaouira-tour.html#1'; $this->_urlCache['0e74604bd9e9b1df520b644c9380c1e8']='index.php?option=com_k2&Itemid=923&id=347&lang=en&layout=item&view=item#morocco-tour-9-days#1'; $this->_urlCache['9a7e64e2daef178e8ceef9fa97e40d29']='index.php?option=com_k2&Itemid=958&id=349&lang=en&layout=item&view=item#morocco-travel-blog/casablanca-tangier-chefchaouen-meknes-rabat#0'; $this->_urlCache['b1e362b87cab4f0f827a17fa68b9e1e3']='index.php?option=com_k2&Itemid=959&id=300&lang=en&layout=item&view=item#tours/marrakech-atlas-mountains-essaouira-tour#0'; $this->_urlCache['6910dee933fb969f404c225795ab677c']='index.php?option=com_users&Itemid=1014&lang=en&view=login#Log-in/#0'; $this->_urlCache['f94a19c32605add227b43d587f72f73e']='index.php?option=com_k2&Itemid=725&id=36&lang=en&layout=category&task=category&view=itemlist#private-morocco-tours-blog.html#1'; $this->_urlCache['1a3f3698560f5ebfd810faed0b0b339d']='index.php?option=com_phocagallery&Itemid=838&lang=en&view=categories#morocco-travel-experiences#1'; $this->_urlCache['f383b54e3ed715018e9bc2c910ae76ba']='index.php?option=com_k2&Itemid=956&id=358&lang=en&layout=item&view=item#reviews#1'; $this->_urlCache['86dbee9e9851d09471981785588d3abf']='index.php?option=com_k2&Itemid=614&id=284&lang=en&layout=item&view=item#suntrails/links#0'; $this->_urlCache['7cd5d55585f23062663fcf1947da248c']='index.php?option=com_k2&Itemid=615&id=283&lang=en&layout=item&view=item#suntrails/terms-and-conditions#0'; $this->_urlCache['7f36feef91b09e1dc8b4185a9b3b596d']='index.php?option=com_allvideoshare&Itemid=839&lang=en&orderby=default&slg=0&view=category#videos#0'; $this->_urlCache['a9743b4e5738a43476b71e4b8427395a']='index.php?option=com_xmap&Itemid=985&id=2&lang=en&view=html#other/site-map#0'; $shURLCacheCreationDate=1607111409; $this->_urlCache['904c256c24a1e88f4c165d0e8e3c8ed6']='index.php?option=com_phocagallery&Itemid=838&catid=254&id=4981&lang=en&view=detail#254-roulidane-waterfalls/detail/4981-ybbbu#0'; $shURLCacheCreationDate=1607111478; $this->_urlCache['6ab752e77fd479d3ba97d45adc81af30']='index.php?option=com_phocagallery&Itemid=838&catid=106&id=1701&lang=en&view=detail#les-deux-tours/detail/1701-salon-indien-2#1'; $shURLCacheCreationDate=1607111490; $this->_urlCache['98bb23419e64ddb10e6bfa0bde607736']='index.php?option=com_phocagallery&Itemid=838&catid=258&id=5224&lang=en&view=detail#258-plateau-taghazart-4000-metres/detail/5224-plateautafhazart2#0'; $shURLCacheCreationDate=1607111617; $this->_urlCache['4a503607b8ce8a21848201fffbe6fa5f']='index.php?option=com_k2&Itemid=725&id=36&lang=en&task=category&view=itemlist#morocco-travel-blog#0'; $this->_urlCache['b218c58da0dc35bbf5aa9b8757b2409d']='index.php?option=com_k2&Itemid=725&id=37&lang=en&task=category&view=itemlist#morocco-travel-blog/tour-of-the-season#0'; $this->_urlCache['5c282448c4f8fab06634c3f6d1fe9c21']='index.php?option=com_k2&Itemid=725&id=40&lang=en&task=category&view=itemlist#morocco-travel-blog/boutique-hotel-of-the-month#0'; $this->_urlCache['6ae96a53284c1d3e49d2c5baddd8bf80']='index.php?option=com_k2&Itemid=725&format=feed&id=36&lang=en&layout=category&limit=10&task=category&view=itemlist#morocco-travel-blog/feed/Page-1#0'; $this->_urlCache['ad1d393172f2e923096f408a44df6358']='index.php?option=com_sppagebuilder&Itemid=784&id=17&lang=en&view=page#private-morocco-tours#0'; $this->_urlCache['b8a56e357af93536dff12206e121376a']='index.php?option=com_k2&Itemid=821&id=294&lang=en&layout=item&view=item#private-morocco-tours/fez-marrakech-erg-chigaga-essaouira-tour.html#1'; $this->_urlCache['1285f92ceb877e9ed0154495fcd90336']='index.php?option=com_k2&Itemid=763&id=267&lang=en&layout=item&view=item#private-morocco-tours/5-day-morocco-tour.html#1'; $this->_urlCache['e1b68f7b31ef3bf64f46aa061c856edf']='index.php?option=com_k2&Itemid=764&id=268&lang=en&layout=item&view=item#private-morocco-tours/Casablanca-Fez-Erg-Chebbi-Marrakech-tour.html#1'; $this->_urlCache['d611e46faf0844bdf23925df2faec350']='index.php?option=com_k2&Itemid=765&id=269&lang=en&layout=item&view=item#private-morocco-tours/Casablanca-Fez-Erg-Chebbi-Essaouira-tour.html#1'; $this->_urlCache['0e74604bd9e9b1df520b644c9380c1e8']='index.php?option=com_k2&Itemid=923&id=347&lang=en&layout=item&view=item#morocco-tour-9-days#1'; $this->_urlCache['9a7e64e2daef178e8ceef9fa97e40d29']='index.php?option=com_k2&Itemid=958&id=349&lang=en&layout=item&view=item#morocco-travel-blog/casablanca-tangier-chefchaouen-meknes-rabat#0'; $this->_urlCache['b1e362b87cab4f0f827a17fa68b9e1e3']='index.php?option=com_k2&Itemid=959&id=300&lang=en&layout=item&view=item#tours/marrakech-atlas-mountains-essaouira-tour#0'; $this->_urlCache['6910dee933fb969f404c225795ab677c']='index.php?option=com_users&Itemid=1014&lang=en&view=login#Log-in/#0'; $this->_urlCache['f94a19c32605add227b43d587f72f73e']='index.php?option=com_k2&Itemid=725&id=36&lang=en&layout=category&task=category&view=itemlist#private-morocco-tours-blog.html#1'; $this->_urlCache['1a3f3698560f5ebfd810faed0b0b339d']='index.php?option=com_phocagallery&Itemid=838&lang=en&view=categories#morocco-travel-experiences#1'; $this->_urlCache['f383b54e3ed715018e9bc2c910ae76ba']='index.php?option=com_k2&Itemid=956&id=358&lang=en&layout=item&view=item#reviews#1'; $this->_urlCache['86dbee9e9851d09471981785588d3abf']='index.php?option=com_k2&Itemid=614&id=284&lang=en&layout=item&view=item#suntrails/links#0'; $this->_urlCache['7cd5d55585f23062663fcf1947da248c']='index.php?option=com_k2&Itemid=615&id=283&lang=en&layout=item&view=item#suntrails/terms-and-conditions#0'; $this->_urlCache['7f36feef91b09e1dc8b4185a9b3b596d']='index.php?option=com_allvideoshare&Itemid=839&lang=en&orderby=default&slg=0&view=category#videos#0'; $this->_urlCache['a9743b4e5738a43476b71e4b8427395a']='index.php?option=com_xmap&Itemid=985&id=2&lang=en&view=html#other/site-map#0'; $this->_urlCache['95dad6b046fc5aa02f1ebd5aa4a23cf3']='index.php?option=com_k2&Itemid=809&id=289&lang=en&layout=item&view=item#suntrails/message-sent#0'; $this->_urlCache['2cf2da33ce209a17e1bb807ace4dd440']='index.php?option=com_k2&Itemid=725&id=373&lang=en&view=item#373-holding-the-fort#0'; $this->_urlCache['b98c1a5dfd0288529c73da59cc5e84d3']='index.php?option=com_k2&Itemid=725&id=664&lang=en&task=user&view=itemlist#blog/Cristian#0'; $this->_urlCache['68c5a93ae806df6dc3122943659bc23f']='index.php?option=com_k2&Itemid=725&id=364&lang=en&view=item#honeymoon-in-morocco#1'; $this->_urlCache['ae2a91044cc8b08f489d688fd000813f']='index.php?option=com_k2&Itemid=725&id=362&lang=en&view=item#cooking-with-the-locals-in-marrakech#1'; $this->_urlCache['1b21d36a0b54da7bfed30bc9ab385790']='index.php?option=com_k2&Itemid=725&format=feed&lang=en&moduleID=765&view=itemlist#feed/Recent-Posts/feed#0'; $this->_urlCache['2fffedd0579549fbcbb93b82a473ca1a']='index.php?option=com_k2&Itemid=725&id=290&lang=en&view=item#morocco-best-time-to-visit.html#1'; $this->_urlCache['223be574151996c46d1fc84a319ee408']='index.php?option=com_k2&Itemid=725&lang=en&tag=morocco+holidays&task=tag&view=itemlist#tag/morocco-holidays#0'; $this->_urlCache['799619bf85256757c76123dd1331735b']='index.php?option=com_k2&Itemid=725&lang=en&tag=weather+in+morocco&task=tag&view=itemlist#tag/weather-in-morocco#0'; $this->_urlCache['28478d83349cf5e523e75f7e5e723d6e']='index.php?option=com_k2&Itemid=725&lang=en&tag=ramadan+in+morocco&task=tag&view=itemlist#tag/ramadan-in-morocco#0'; $this->_urlCache['cb11c2b1aa1871068f0bb0a1e953983a']='index.php?option=com_k2&Itemid=725&id=292&lang=en&view=item#private-morocco-tours-blog/boutique-hotel-of-the-month/azalai-desert-lodge-zagora.html#1'; $this->_urlCache['80946b65ee90c4667ba3c800652f8401']='index.php?option=com_k2&Itemid=725&lang=en&tag=sahara+desert&task=tag&view=itemlist#tag/sahara-desert#0'; $this->_urlCache['b46a918e22c6826f566073c4ffa4388a']='index.php?option=com_k2&Itemid=725&lang=en&tag=luxury+desert+camp&task=tag&view=itemlist#tag/luxury-desert-camp#0'; $this->_urlCache['838dfb36656957f9c333da103f18dbec']='index.php?option=com_k2&Itemid=725&lang=en&tag=zagora+boutique+hotel&task=tag&view=itemlist#tag/zagora-boutique-hotel#0'; $this->_urlCache['b569993b56698c1e36339912985a9c55']='index.php?option=com_k2&Itemid=725&lang=en&tag=erg+chigaga&task=tag&view=itemlist#tag/erg-chigaga#0'; $this->_urlCache['088ef81b0399dadf33825370614a0fea']='index.php?option=com_k2&Itemid=725&id=293&lang=en&view=item#private-morocco-tours-blog/mamounia-day-pass#1'; $this->_urlCache['5f3537cc6bce4c08ae5cc6509a72d062']='index.php?option=com_k2&Itemid=725&lang=en&tag=mamounia+day+pass&task=tag&view=itemlist#tag/mamounia-day-pass#0'; $this->_urlCache['27d1ae234b14c2f0a3f66ab5ac353ebe']='index.php?option=com_k2&Itemid=725&lang=en&tag=marrakech+spa&task=tag&view=itemlist#tag/marrakech-spa#0'; $this->_urlCache['c2b26072adc3e41ff0c9eac81a48fdba']='index.php?option=com_k2&Itemid=725&format=feed&lang=en&moduleID=766&view=itemlist#feed/Most-read-posts/feed#0'; $shURLCacheCreationDate=1607111657; $this->_urlCache['e80334ae8a8ec986161fd5842a2f33ba']='index.php?option=com_phocagallery&Itemid=838&catid=116&id=1978&lang=en&view=detail#riad-la-parenthese/detail/1978-riad-la-parenthese23#1'; $this->_urlCache['ad1d393172f2e923096f408a44df6358']='index.php?option=com_sppagebuilder&Itemid=784&id=17&lang=en&view=page#private-morocco-tours#0'; $this->_urlCache['b8a56e357af93536dff12206e121376a']='index.php?option=com_k2&Itemid=821&id=294&lang=en&layout=item&view=item#private-morocco-tours/fez-marrakech-erg-chigaga-essaouira-tour.html#1'; $this->_urlCache['1285f92ceb877e9ed0154495fcd90336']='index.php?option=com_k2&Itemid=763&id=267&lang=en&layout=item&view=item#private-morocco-tours/5-day-morocco-tour.html#1'; $this->_urlCache['e1b68f7b31ef3bf64f46aa061c856edf']='index.php?option=com_k2&Itemid=764&id=268&lang=en&layout=item&view=item#private-morocco-tours/Casablanca-Fez-Erg-Chebbi-Marrakech-tour.html#1'; $this->_urlCache['d611e46faf0844bdf23925df2faec350']='index.php?option=com_k2&Itemid=765&id=269&lang=en&layout=item&view=item#private-morocco-tours/Casablanca-Fez-Erg-Chebbi-Essaouira-tour.html#1'; $this->_urlCache['0e74604bd9e9b1df520b644c9380c1e8']='index.php?option=com_k2&Itemid=923&id=347&lang=en&layout=item&view=item#morocco-tour-9-days#1'; $this->_urlCache['9a7e64e2daef178e8ceef9fa97e40d29']='index.php?option=com_k2&Itemid=958&id=349&lang=en&layout=item&view=item#morocco-travel-blog/casablanca-tangier-chefchaouen-meknes-rabat#0'; $this->_urlCache['b1e362b87cab4f0f827a17fa68b9e1e3']='index.php?option=com_k2&Itemid=959&id=300&lang=en&layout=item&view=item#tours/marrakech-atlas-mountains-essaouira-tour#0'; $this->_urlCache['6910dee933fb969f404c225795ab677c']='index.php?option=com_users&Itemid=1014&lang=en&view=login#Log-in/#0'; $this->_urlCache['f94a19c32605add227b43d587f72f73e']='index.php?option=com_k2&Itemid=725&id=36&lang=en&layout=category&task=category&view=itemlist#private-morocco-tours-blog.html#1'; $this->_urlCache['1a3f3698560f5ebfd810faed0b0b339d']='index.php?option=com_phocagallery&Itemid=838&lang=en&view=categories#morocco-travel-experiences#1'; $this->_urlCache['f383b54e3ed715018e9bc2c910ae76ba']='index.php?option=com_k2&Itemid=956&id=358&lang=en&layout=item&view=item#reviews#1'; $this->_urlCache['86dbee9e9851d09471981785588d3abf']='index.php?option=com_k2&Itemid=614&id=284&lang=en&layout=item&view=item#suntrails/links#0'; $this->_urlCache['7cd5d55585f23062663fcf1947da248c']='index.php?option=com_k2&Itemid=615&id=283&lang=en&layout=item&view=item#suntrails/terms-and-conditions#0'; $this->_urlCache['7f36feef91b09e1dc8b4185a9b3b596d']='index.php?option=com_allvideoshare&Itemid=839&lang=en&orderby=default&slg=0&view=category#videos#0'; $this->_urlCache['a9743b4e5738a43476b71e4b8427395a']='index.php?option=com_xmap&Itemid=985&id=2&lang=en&view=html#other/site-map#0'; $shURLCacheCreationDate=1607111741; $this->_urlCache['eb7f5fd35634292eb7a6b5cc2bb81170']='index.php?option=com_k2&Itemid=725&format=feed&lang=en&tag=CASABLANCA&task=tag&view=itemlist#tag/CASABLANCA/feed/atom#0'; $this->_urlCache['ad1d393172f2e923096f408a44df6358']='index.php?option=com_sppagebuilder&Itemid=784&id=17&lang=en&view=page#private-morocco-tours#0'; $this->_urlCache['b8a56e357af93536dff12206e121376a']='index.php?option=com_k2&Itemid=821&id=294&lang=en&layout=item&view=item#private-morocco-tours/fez-marrakech-erg-chigaga-essaouira-tour.html#1'; $this->_urlCache['1285f92ceb877e9ed0154495fcd90336']='index.php?option=com_k2&Itemid=763&id=267&lang=en&layout=item&view=item#private-morocco-tours/5-day-morocco-tour.html#1'; $this->_urlCache['e1b68f7b31ef3bf64f46aa061c856edf']='index.php?option=com_k2&Itemid=764&id=268&lang=en&layout=item&view=item#private-morocco-tours/Casablanca-Fez-Erg-Chebbi-Marrakech-tour.html#1'; $this->_urlCache['d611e46faf0844bdf23925df2faec350']='index.php?option=com_k2&Itemid=765&id=269&lang=en&layout=item&view=item#private-morocco-tours/Casablanca-Fez-Erg-Chebbi-Essaouira-tour.html#1'; $this->_urlCache['0e74604bd9e9b1df520b644c9380c1e8']='index.php?option=com_k2&Itemid=923&id=347&lang=en&layout=item&view=item#morocco-tour-9-days#1'; $this->_urlCache['9a7e64e2daef178e8ceef9fa97e40d29']='index.php?option=com_k2&Itemid=958&id=349&lang=en&layout=item&view=item#morocco-travel-blog/casablanca-tangier-chefchaouen-meknes-rabat#0'; $this->_urlCache['b1e362b87cab4f0f827a17fa68b9e1e3']='index.php?option=com_k2&Itemid=959&id=300&lang=en&layout=item&view=item#tours/marrakech-atlas-mountains-essaouira-tour#0'; $this->_urlCache['6910dee933fb969f404c225795ab677c']='index.php?option=com_users&Itemid=1014&lang=en&view=login#Log-in/#0'; $this->_urlCache['f94a19c32605add227b43d587f72f73e']='index.php?option=com_k2&Itemid=725&id=36&lang=en&layout=category&task=category&view=itemlist#private-morocco-tours-blog.html#1'; $this->_urlCache['1a3f3698560f5ebfd810faed0b0b339d']='index.php?option=com_phocagallery&Itemid=838&lang=en&view=categories#morocco-travel-experiences#1'; $this->_urlCache['f383b54e3ed715018e9bc2c910ae76ba']='index.php?option=com_k2&Itemid=956&id=358&lang=en&layout=item&view=item#reviews#1'; $this->_urlCache['86dbee9e9851d09471981785588d3abf']='index.php?option=com_k2&Itemid=614&id=284&lang=en&layout=item&view=item#suntrails/links#0'; $this->_urlCache['7cd5d55585f23062663fcf1947da248c']='index.php?option=com_k2&Itemid=615&id=283&lang=en&layout=item&view=item#suntrails/terms-and-conditions#0'; $this->_urlCache['7f36feef91b09e1dc8b4185a9b3b596d']='index.php?option=com_allvideoshare&Itemid=839&lang=en&orderby=default&slg=0&view=category#videos#0'; $this->_urlCache['a9743b4e5738a43476b71e4b8427395a']='index.php?option=com_xmap&Itemid=985&id=2&lang=en&view=html#other/site-map#0'; $this->_urlCache['37ddc897094b3883c4d658ac2d888f5f']='index.php?option=com_k2&Itemid=725&lang=en&tag=CASABLANCA&task=tag&view=itemlist#tag/CASABLANCA#0'; $shURLCacheCreationDate=1607111762; $this->_urlCache['ad1d393172f2e923096f408a44df6358']='index.php?option=com_sppagebuilder&Itemid=784&id=17&lang=en&view=page#private-morocco-tours#0'; $this->_urlCache['b8a56e357af93536dff12206e121376a']='index.php?option=com_k2&Itemid=821&id=294&lang=en&layout=item&view=item#private-morocco-tours/fez-marrakech-erg-chigaga-essaouira-tour.html#1'; $this->_urlCache['1285f92ceb877e9ed0154495fcd90336']='index.php?option=com_k2&Itemid=763&id=267&lang=en&layout=item&view=item#private-morocco-tours/5-day-morocco-tour.html#1'; $this->_urlCache['e1b68f7b31ef3bf64f46aa061c856edf']='index.php?option=com_k2&Itemid=764&id=268&lang=en&layout=item&view=item#private-morocco-tours/Casablanca-Fez-Erg-Chebbi-Marrakech-tour.html#1'; $this->_urlCache['d611e46faf0844bdf23925df2faec350']='index.php?option=com_k2&Itemid=765&id=269&lang=en&layout=item&view=item#private-morocco-tours/Casablanca-Fez-Erg-Chebbi-Essaouira-tour.html#1'; $this->_urlCache['0e74604bd9e9b1df520b644c9380c1e8']='index.php?option=com_k2&Itemid=923&id=347&lang=en&layout=item&view=item#morocco-tour-9-days#1'; $this->_urlCache['9a7e64e2daef178e8ceef9fa97e40d29']='index.php?option=com_k2&Itemid=958&id=349&lang=en&layout=item&view=item#morocco-travel-blog/casablanca-tangier-chefchaouen-meknes-rabat#0'; $this->_urlCache['b1e362b87cab4f0f827a17fa68b9e1e3']='index.php?option=com_k2&Itemid=959&id=300&lang=en&layout=item&view=item#tours/marrakech-atlas-mountains-essaouira-tour#0'; $this->_urlCache['6910dee933fb969f404c225795ab677c']='index.php?option=com_users&Itemid=1014&lang=en&view=login#Log-in/#0'; $this->_urlCache['f94a19c32605add227b43d587f72f73e']='index.php?option=com_k2&Itemid=725&id=36&lang=en&layout=category&task=category&view=itemlist#private-morocco-tours-blog.html#1'; $this->_urlCache['1a3f3698560f5ebfd810faed0b0b339d']='index.php?option=com_phocagallery&Itemid=838&lang=en&view=categories#morocco-travel-experiences#1'; $this->_urlCache['f383b54e3ed715018e9bc2c910ae76ba']='index.php?option=com_k2&Itemid=956&id=358&lang=en&layout=item&view=item#reviews#1'; $this->_urlCache['86dbee9e9851d09471981785588d3abf']='index.php?option=com_k2&Itemid=614&id=284&lang=en&layout=item&view=item#suntrails/links#0'; $this->_urlCache['7cd5d55585f23062663fcf1947da248c']='index.php?option=com_k2&Itemid=615&id=283&lang=en&layout=item&view=item#suntrails/terms-and-conditions#0'; $this->_urlCache['7f36feef91b09e1dc8b4185a9b3b596d']='index.php?option=com_allvideoshare&Itemid=839&lang=en&orderby=default&slg=0&view=category#videos#0'; $this->_urlCache['a9743b4e5738a43476b71e4b8427395a']='index.php?option=com_xmap&Itemid=985&id=2&lang=en&view=html#other/site-map#0'; $shURLCacheCreationDate=1607112003; $this->_urlCache['075cfc116f1ccb1cf08c774abb17b915']='index.php?option=com_phocagallery&Itemid=838&catid=246&id=4833&lang=en&view=detail#246-villa-diyafa-rabat/detail/4833-suite-dining-corner#0'; $shURLCacheCreationDate=1607112009; $this->_urlCache['4a503607b8ce8a21848201fffbe6fa5f']='index.php?option=com_k2&Itemid=725&id=36&lang=en&task=category&view=itemlist#morocco-travel-blog#0'; $this->_urlCache['b9c47355c7a90a5f94ce9477364b2740']='index.php?option=com_k2&Itemid=725&id=296&lang=en&view=item#private-morocco-tours-blog/kasbah-tamadot-lunch-and-more.html#1'; $this->_urlCache['b1a3f1910d5f7d9a602745054f123c59']='index.php?option=com_k2&Itemid=725&lang=en&tag=lunch+at+kasbah+tamadot&task=tag&view=itemlist#tag/lunch-at-kasbah-tamadot#0'; $this->_urlCache['f5240ec5f0e3583f38c984a2b393732e']='index.php?option=com_k2&Itemid=725&lang=en&tag=atlas+mountains+day+trip&task=tag&view=itemlist#tag/atlas-mountains-day-trip#0'; $this->_urlCache['b98c1a5dfd0288529c73da59cc5e84d3']='index.php?option=com_k2&Itemid=725&id=664&lang=en&task=user&view=itemlist#blog/Cristian#0'; $this->_urlCache['bb03a5630fca3f3ae7ab1ddfaf0af1a7']='index.php?option=com_k2&Itemid=725&id=282&lang=en&view=item#day-morocco-tour-marrakech-to-fez.html#1'; $this->_urlCache['9fad59ee8099ab6199e0d6ef6dcf41cc']='index.php?option=com_k2&Itemid=725&id=319&lang=en&view=item#private-morocco-tours-blog/casablanca-more-than-a-movie#1'; $this->_urlCache['ae2a91044cc8b08f489d688fd000813f']='index.php?option=com_k2&Itemid=725&id=362&lang=en&view=item#cooking-with-the-locals-in-marrakech#1'; $this->_urlCache['587417d269f322318d801f0a0c26325f']='index.php?option=com_k2&Itemid=725&id=287&lang=en&view=item#morocco-travel-blog/a-bitter-love#0'; $this->_urlCache['ad1d393172f2e923096f408a44df6358']='index.php?option=com_sppagebuilder&Itemid=784&id=17&lang=en&view=page#private-morocco-tours#0'; $this->_urlCache['b8a56e357af93536dff12206e121376a']='index.php?option=com_k2&Itemid=821&id=294&lang=en&layout=item&view=item#private-morocco-tours/fez-marrakech-erg-chigaga-essaouira-tour.html#1'; $this->_urlCache['1285f92ceb877e9ed0154495fcd90336']='index.php?option=com_k2&Itemid=763&id=267&lang=en&layout=item&view=item#private-morocco-tours/5-day-morocco-tour.html#1'; $this->_urlCache['e1b68f7b31ef3bf64f46aa061c856edf']='index.php?option=com_k2&Itemid=764&id=268&lang=en&layout=item&view=item#private-morocco-tours/Casablanca-Fez-Erg-Chebbi-Marrakech-tour.html#1'; $this->_urlCache['d611e46faf0844bdf23925df2faec350']='index.php?option=com_k2&Itemid=765&id=269&lang=en&layout=item&view=item#private-morocco-tours/Casablanca-Fez-Erg-Chebbi-Essaouira-tour.html#1'; $this->_urlCache['0e74604bd9e9b1df520b644c9380c1e8']='index.php?option=com_k2&Itemid=923&id=347&lang=en&layout=item&view=item#morocco-tour-9-days#1'; $this->_urlCache['9a7e64e2daef178e8ceef9fa97e40d29']='index.php?option=com_k2&Itemid=958&id=349&lang=en&layout=item&view=item#morocco-travel-blog/casablanca-tangier-chefchaouen-meknes-rabat#0'; $this->_urlCache['b1e362b87cab4f0f827a17fa68b9e1e3']='index.php?option=com_k2&Itemid=959&id=300&lang=en&layout=item&view=item#tours/marrakech-atlas-mountains-essaouira-tour#0'; $this->_urlCache['6910dee933fb969f404c225795ab677c']='index.php?option=com_users&Itemid=1014&lang=en&view=login#Log-in/#0'; $this->_urlCache['f94a19c32605add227b43d587f72f73e']='index.php?option=com_k2&Itemid=725&id=36&lang=en&layout=category&task=category&view=itemlist#private-morocco-tours-blog.html#1'; $this->_urlCache['1a3f3698560f5ebfd810faed0b0b339d']='index.php?option=com_phocagallery&Itemid=838&lang=en&view=categories#morocco-travel-experiences#1'; $this->_urlCache['f383b54e3ed715018e9bc2c910ae76ba']='index.php?option=com_k2&Itemid=956&id=358&lang=en&layout=item&view=item#reviews#1'; $this->_urlCache['86dbee9e9851d09471981785588d3abf']='index.php?option=com_k2&Itemid=614&id=284&lang=en&layout=item&view=item#suntrails/links#0'; $this->_urlCache['7cd5d55585f23062663fcf1947da248c']='index.php?option=com_k2&Itemid=615&id=283&lang=en&layout=item&view=item#suntrails/terms-and-conditions#0'; $this->_urlCache['7f36feef91b09e1dc8b4185a9b3b596d']='index.php?option=com_allvideoshare&Itemid=839&lang=en&orderby=default&slg=0&view=category#videos#0'; $this->_urlCache['a9743b4e5738a43476b71e4b8427395a']='index.php?option=com_xmap&Itemid=985&id=2&lang=en&view=html#other/site-map#0'; $shURLCacheCreationDate=1607110894; $this->_urlCache['81cd64ead34713a67ea4d64d0dc30aee']='index.php?option=com_phocagallery&Itemid=838&catid=124&id=2089&lang=en&view=detail#erg-chigaga-luxury-camp/detail/2089-dpp-292242#1'; $shURLCacheCreationDate=1607110947; $this->_urlCache['f55e66a2c62e29f5cd8dc23edb2d2605']='index.php?option=com_k2&Itemid=725&format=feed&lang=en&tag=conde+nast+traveler&task=tag&view=itemlist#tag/conde-nast-traveler/feed/atom#0'; $this->_urlCache['ad1d393172f2e923096f408a44df6358']='index.php?option=com_sppagebuilder&Itemid=784&id=17&lang=en&view=page#private-morocco-tours#0'; $this->_urlCache['b8a56e357af93536dff12206e121376a']='index.php?option=com_k2&Itemid=821&id=294&lang=en&layout=item&view=item#private-morocco-tours/fez-marrakech-erg-chigaga-essaouira-tour.html#1'; $this->_urlCache['1285f92ceb877e9ed0154495fcd90336']='index.php?option=com_k2&Itemid=763&id=267&lang=en&layout=item&view=item#private-morocco-tours/5-day-morocco-tour.html#1'; $this->_urlCache['e1b68f7b31ef3bf64f46aa061c856edf']='index.php?option=com_k2&Itemid=764&id=268&lang=en&layout=item&view=item#private-morocco-tours/Casablanca-Fez-Erg-Chebbi-Marrakech-tour.html#1'; $this->_urlCache['d611e46faf0844bdf23925df2faec350']='index.php?option=com_k2&Itemid=765&id=269&lang=en&layout=item&view=item#private-morocco-tours/Casablanca-Fez-Erg-Chebbi-Essaouira-tour.html#1'; $this->_urlCache['0e74604bd9e9b1df520b644c9380c1e8']='index.php?option=com_k2&Itemid=923&id=347&lang=en&layout=item&view=item#morocco-tour-9-days#1'; $this->_urlCache['9a7e64e2daef178e8ceef9fa97e40d29']='index.php?option=com_k2&Itemid=958&id=349&lang=en&layout=item&view=item#morocco-travel-blog/casablanca-tangier-chefchaouen-meknes-rabat#0'; $this->_urlCache['b1e362b87cab4f0f827a17fa68b9e1e3']='index.php?option=com_k2&Itemid=959&id=300&lang=en&layout=item&view=item#tours/marrakech-atlas-mountains-essaouira-tour#0'; $this->_urlCache['6910dee933fb969f404c225795ab677c']='index.php?option=com_users&Itemid=1014&lang=en&view=login#Log-in/#0'; $this->_urlCache['f94a19c32605add227b43d587f72f73e']='index.php?option=com_k2&Itemid=725&id=36&lang=en&layout=category&task=category&view=itemlist#private-morocco-tours-blog.html#1'; $this->_urlCache['1a3f3698560f5ebfd810faed0b0b339d']='index.php?option=com_phocagallery&Itemid=838&lang=en&view=categories#morocco-travel-experiences#1'; $this->_urlCache['f383b54e3ed715018e9bc2c910ae76ba']='index.php?option=com_k2&Itemid=956&id=358&lang=en&layout=item&view=item#reviews#1'; $this->_urlCache['86dbee9e9851d09471981785588d3abf']='index.php?option=com_k2&Itemid=614&id=284&lang=en&layout=item&view=item#suntrails/links#0'; $this->_urlCache['7cd5d55585f23062663fcf1947da248c']='index.php?option=com_k2&Itemid=615&id=283&lang=en&layout=item&view=item#suntrails/terms-and-conditions#0'; $this->_urlCache['7f36feef91b09e1dc8b4185a9b3b596d']='index.php?option=com_allvideoshare&Itemid=839&lang=en&orderby=default&slg=0&view=category#videos#0'; $this->_urlCache['a9743b4e5738a43476b71e4b8427395a']='index.php?option=com_xmap&Itemid=985&id=2&lang=en&view=html#other/site-map#0'; $this->_urlCache['f1cb1a9fa183c28cd71dff3b453523cb']='index.php?option=com_k2&Itemid=725&lang=en&tag=conde+nast+traveler&task=tag&view=itemlist#tag/conde-nast-traveler#0'; $shURLCacheCreationDate=1607111023; $this->_urlCache['f89b0e21d4a8f19b629817a49467a101']='index.php?option=com_phocagallery&Itemid=838&catid=246&id=4832&lang=en&view=detail#246-villa-diyafa-rabat/detail/4832-suite-bedroom#0'; $shURLCacheCreationDate=1607111228; $this->_urlCache['8045f276a16d787c47328123fc2a0318']='index.php?option=com_k2&Itemid=725&id=330&lang=en&view=item#private-morocco-tours-blog/medieval-morocco-an-essential-exhibition#1'; $shURLCacheCreationDate=1607111342; $this->_urlCache['0c5f69344cde19f12c043f330c51c6df']='index.php?option=com_phocagallery&Itemid=838&catid=135&id=2956&lang=en&view=detail#135-villa-des-orangers/detail/2956-restaurant-iv#0'; $shURLCacheCreationDate=1607111350; $this->_urlCache['4a503607b8ce8a21848201fffbe6fa5f']='index.php?option=com_k2&Itemid=725&id=36&lang=en&task=category&view=itemlist#morocco-travel-blog#0'; $this->_urlCache['e14d13b039a442c9c053916ce8e44348']='index.php?option=com_k2&Itemid=725&id=299&lang=en&view=item#morocco-travel-blog/luxury-morocco-tour-5-things-to-do#0'; $this->_urlCache['b98d6c51636d1ae54495d1ab004824f8']='index.php?option=com_k2&Itemid=725&lang=en&tag=dar+ahlam&task=tag&view=itemlist#tag/dar-ahlam#0'; $this->_urlCache['730d9d603a3eea6223c3fd8d10027cbb']='index.php?option=com_k2&Itemid=725&lang=en&tag=azalai+desert+lodge&task=tag&view=itemlist#tag/azalai-desert-lodge#0'; $this->_urlCache['6fa9c22dc91f5c8aeb256d95341d1861']='index.php?option=com_k2&Itemid=725&lang=en&tag=erg+chigaga+luxury+camp&task=tag&view=itemlist#tag/erg-chigaga-luxury-camp#0'; $this->_urlCache['edc529c763881312caffa68c4597f660']='index.php?option=com_k2&Itemid=725&lang=en&tag=hot+air+balloon+flight&task=tag&view=itemlist#tag/hot-air-balloon-flight#0'; $this->_urlCache['651a47cdf50893e901723fb41be89ea4']='index.php?option=com_k2&Itemid=725&lang=en&tag=fes+music+festival&task=tag&view=itemlist#tag/fes-music-festival#0'; $this->_urlCache['369f3329fcfce6762e18c24f0ac0938e']='index.php?option=com_k2&Itemid=725&lang=en&tag=palais+selman&task=tag&view=itemlist#tag/palais-selman#0'; $this->_urlCache['27d1ae234b14c2f0a3f66ab5ac353ebe']='index.php?option=com_k2&Itemid=725&lang=en&tag=marrakech+spa&task=tag&view=itemlist#tag/marrakech-spa#0'; $this->_urlCache['f1cb1a9fa183c28cd71dff3b453523cb']='index.php?option=com_k2&Itemid=725&lang=en&tag=conde+nast+traveler&task=tag&view=itemlist#tag/conde-nast-traveler#0'; $this->_urlCache['c9bd2a746d1984e518c70a10afb34c95']='index.php?option=com_k2&Itemid=725&lang=en&tag=sufi+nights&task=tag&view=itemlist#tag/sufi-nights#0'; $this->_urlCache['c5283fbe43064c08d710f577f0128719']='index.php?option=com_k2&Itemid=725&lang=en&tag=camel+ride&task=tag&view=itemlist#tag/camel-ride#0'; $this->_urlCache['b98c1a5dfd0288529c73da59cc5e84d3']='index.php?option=com_k2&Itemid=725&id=664&lang=en&task=user&view=itemlist#blog/Cristian#0'; $this->_urlCache['2cf2da33ce209a17e1bb807ace4dd440']='index.php?option=com_k2&Itemid=725&id=373&lang=en&view=item#373-holding-the-fort#0'; $this->_urlCache['68c5a93ae806df6dc3122943659bc23f']='index.php?option=com_k2&Itemid=725&id=364&lang=en&view=item#honeymoon-in-morocco#1'; $this->_urlCache['ae2a91044cc8b08f489d688fd000813f']='index.php?option=com_k2&Itemid=725&id=362&lang=en&view=item#cooking-with-the-locals-in-marrakech#1'; $this->_urlCache['429bb4cb63b9b7489d34ce09d153aa19']='index.php?option=com_k2&Itemid=725&id=361&lang=en&view=item#slipper-making-marrakech#1'; $this->_urlCache['5565228d42a86703b26ef0ba107797ed']='index.php?option=com_k2&Itemid=725&id=360&lang=en&view=item#riad-laaroussa-fes/boutique-hotel-of-the-month#1'; $this->_urlCache['ea5d53be1043a9aa6001b335356260ef']='index.php?option=com_k2&Itemid=725&id=323&lang=en&view=item#private-morocco-tours-blog/morocco-luxury-desert-camp-experience#1'; $this->_urlCache['088ef81b0399dadf33825370614a0fea']='index.php?option=com_k2&Itemid=725&id=293&lang=en&view=item#private-morocco-tours-blog/mamounia-day-pass#1'; $this->_urlCache['c4f667a4918b7e23cca86b68ad098c28']='index.php?option=com_k2&Itemid=725&id=35&lang=en&task=category&view=itemlist#suntrails#0'; $this->_urlCache['ddbf7ad557471b1d4beab5bdb03a7851']='index.php?option=com_k2&Itemid=725&id=275&lang=en&view=item#suntrails/morocco-boutique-hotels#0'; $this->_urlCache['d02bea70332e47472a457ecf68249955']='index.php?option=com_k2&Itemid=724&id=31&lang=en&task=category&view=itemlist#private-tours-suntrails#0'; $this->_urlCache['8debb4f1f5bc46ca39fe6e1a1574e323']='index.php?option=com_k2&Itemid=724&id=271&lang=en&view=item#271-desert-and-roses#0'; $this->_urlCache['9fad59ee8099ab6199e0d6ef6dcf41cc']='index.php?option=com_k2&Itemid=725&id=319&lang=en&view=item#private-morocco-tours-blog/casablanca-more-than-a-movie#1'; $this->_urlCache['f61f2348ae10ffec7e79381a2ba420b9']='index.php?option=com_k2&Itemid=725&id=297&lang=en&view=item#private-morocco-tours-blog/moroccan-cooking-class.html#1'; $this->_urlCache['ad1d393172f2e923096f408a44df6358']='index.php?option=com_sppagebuilder&Itemid=784&id=17&lang=en&view=page#private-morocco-tours#0'; $this->_urlCache['b8a56e357af93536dff12206e121376a']='index.php?option=com_k2&Itemid=821&id=294&lang=en&layout=item&view=item#private-morocco-tours/fez-marrakech-erg-chigaga-essaouira-tour.html#1'; $this->_urlCache['1285f92ceb877e9ed0154495fcd90336']='index.php?option=com_k2&Itemid=763&id=267&lang=en&layout=item&view=item#private-morocco-tours/5-day-morocco-tour.html#1'; $this->_urlCache['e1b68f7b31ef3bf64f46aa061c856edf']='index.php?option=com_k2&Itemid=764&id=268&lang=en&layout=item&view=item#private-morocco-tours/Casablanca-Fez-Erg-Chebbi-Marrakech-tour.html#1'; $this->_urlCache['d611e46faf0844bdf23925df2faec350']='index.php?option=com_k2&Itemid=765&id=269&lang=en&layout=item&view=item#private-morocco-tours/Casablanca-Fez-Erg-Chebbi-Essaouira-tour.html#1'; $this->_urlCache['0e74604bd9e9b1df520b644c9380c1e8']='index.php?option=com_k2&Itemid=923&id=347&lang=en&layout=item&view=item#morocco-tour-9-days#1'; $this->_urlCache['9a7e64e2daef178e8ceef9fa97e40d29']='index.php?option=com_k2&Itemid=958&id=349&lang=en&layout=item&view=item#morocco-travel-blog/casablanca-tangier-chefchaouen-meknes-rabat#0'; $this->_urlCache['b1e362b87cab4f0f827a17fa68b9e1e3']='index.php?option=com_k2&Itemid=959&id=300&lang=en&layout=item&view=item#tours/marrakech-atlas-mountains-essaouira-tour#0'; $this->_urlCache['6910dee933fb969f404c225795ab677c']='index.php?option=com_users&Itemid=1014&lang=en&view=login#Log-in/#0'; $this->_urlCache['f94a19c32605add227b43d587f72f73e']='index.php?option=com_k2&Itemid=725&id=36&lang=en&layout=category&task=category&view=itemlist#private-morocco-tours-blog.html#1'; $this->_urlCache['1a3f3698560f5ebfd810faed0b0b339d']='index.php?option=com_phocagallery&Itemid=838&lang=en&view=categories#morocco-travel-experiences#1'; $this->_urlCache['f383b54e3ed715018e9bc2c910ae76ba']='index.php?option=com_k2&Itemid=956&id=358&lang=en&layout=item&view=item#reviews#1'; $this->_urlCache['86dbee9e9851d09471981785588d3abf']='index.php?option=com_k2&Itemid=614&id=284&lang=en&layout=item&view=item#suntrails/links#0'; $this->_urlCache['7cd5d55585f23062663fcf1947da248c']='index.php?option=com_k2&Itemid=615&id=283&lang=en&layout=item&view=item#suntrails/terms-and-conditions#0'; $this->_urlCache['7f36feef91b09e1dc8b4185a9b3b596d']='index.php?option=com_allvideoshare&Itemid=839&lang=en&orderby=default&slg=0&view=category#videos#0'; $this->_urlCache['a9743b4e5738a43476b71e4b8427395a']='index.php?option=com_xmap&Itemid=985&id=2&lang=en&view=html#other/site-map#0'; $shURLCacheCreationDate=1607111409; $this->_urlCache['904c256c24a1e88f4c165d0e8e3c8ed6']='index.php?option=com_phocagallery&Itemid=838&catid=254&id=4981&lang=en&view=detail#254-roulidane-waterfalls/detail/4981-ybbbu#0'; $shURLCacheCreationDate=1607111478; $this->_urlCache['6ab752e77fd479d3ba97d45adc81af30']='index.php?option=com_phocagallery&Itemid=838&catid=106&id=1701&lang=en&view=detail#les-deux-tours/detail/1701-salon-indien-2#1'; $shURLCacheCreationDate=1607111490; $this->_urlCache['98bb23419e64ddb10e6bfa0bde607736']='index.php?option=com_phocagallery&Itemid=838&catid=258&id=5224&lang=en&view=detail#258-plateau-taghazart-4000-metres/detail/5224-plateautafhazart2#0'; $shURLCacheCreationDate=1607111617; $this->_urlCache['4a503607b8ce8a21848201fffbe6fa5f']='index.php?option=com_k2&Itemid=725&id=36&lang=en&task=category&view=itemlist#morocco-travel-blog#0'; $this->_urlCache['b218c58da0dc35bbf5aa9b8757b2409d']='index.php?option=com_k2&Itemid=725&id=37&lang=en&task=category&view=itemlist#morocco-travel-blog/tour-of-the-season#0'; $this->_urlCache['5c282448c4f8fab06634c3f6d1fe9c21']='index.php?option=com_k2&Itemid=725&id=40&lang=en&task=category&view=itemlist#morocco-travel-blog/boutique-hotel-of-the-month#0'; $this->_urlCache['6ae96a53284c1d3e49d2c5baddd8bf80']='index.php?option=com_k2&Itemid=725&format=feed&id=36&lang=en&layout=category&limit=10&task=category&view=itemlist#morocco-travel-blog/feed/Page-1#0'; $this->_urlCache['ad1d393172f2e923096f408a44df6358']='index.php?option=com_sppagebuilder&Itemid=784&id=17&lang=en&view=page#private-morocco-tours#0'; $this->_urlCache['b8a56e357af93536dff12206e121376a']='index.php?option=com_k2&Itemid=821&id=294&lang=en&layout=item&view=item#private-morocco-tours/fez-marrakech-erg-chigaga-essaouira-tour.html#1'; $this->_urlCache['1285f92ceb877e9ed0154495fcd90336']='index.php?option=com_k2&Itemid=763&id=267&lang=en&layout=item&view=item#private-morocco-tours/5-day-morocco-tour.html#1'; $this->_urlCache['e1b68f7b31ef3bf64f46aa061c856edf']='index.php?option=com_k2&Itemid=764&id=268&lang=en&layout=item&view=item#private-morocco-tours/Casablanca-Fez-Erg-Chebbi-Marrakech-tour.html#1'; $this->_urlCache['d611e46faf0844bdf23925df2faec350']='index.php?option=com_k2&Itemid=765&id=269&lang=en&layout=item&view=item#private-morocco-tours/Casablanca-Fez-Erg-Chebbi-Essaouira-tour.html#1'; $this->_urlCache['0e74604bd9e9b1df520b644c9380c1e8']='index.php?option=com_k2&Itemid=923&id=347&lang=en&layout=item&view=item#morocco-tour-9-days#1'; $this->_urlCache['9a7e64e2daef178e8ceef9fa97e40d29']='index.php?option=com_k2&Itemid=958&id=349&lang=en&layout=item&view=item#morocco-travel-blog/casablanca-tangier-chefchaouen-meknes-rabat#0'; $this->_urlCache['b1e362b87cab4f0f827a17fa68b9e1e3']='index.php?option=com_k2&Itemid=959&id=300&lang=en&layout=item&view=item#tours/marrakech-atlas-mountains-essaouira-tour#0'; $this->_urlCache['6910dee933fb969f404c225795ab677c']='index.php?option=com_users&Itemid=1014&lang=en&view=login#Log-in/#0'; $this->_urlCache['f94a19c32605add227b43d587f72f73e']='index.php?option=com_k2&Itemid=725&id=36&lang=en&layout=category&task=category&view=itemlist#private-morocco-tours-blog.html#1'; $this->_urlCache['1a3f3698560f5ebfd810faed0b0b339d']='index.php?option=com_phocagallery&Itemid=838&lang=en&view=categories#morocco-travel-experiences#1'; $this->_urlCache['f383b54e3ed715018e9bc2c910ae76ba']='index.php?option=com_k2&Itemid=956&id=358&lang=en&layout=item&view=item#reviews#1'; $this->_urlCache['86dbee9e9851d09471981785588d3abf']='index.php?option=com_k2&Itemid=614&id=284&lang=en&layout=item&view=item#suntrails/links#0'; $this->_urlCache['7cd5d55585f23062663fcf1947da248c']='index.php?option=com_k2&Itemid=615&id=283&lang=en&layout=item&view=item#suntrails/terms-and-conditions#0'; $this->_urlCache['7f36feef91b09e1dc8b4185a9b3b596d']='index.php?option=com_allvideoshare&Itemid=839&lang=en&orderby=default&slg=0&view=category#videos#0'; $this->_urlCache['a9743b4e5738a43476b71e4b8427395a']='index.php?option=com_xmap&Itemid=985&id=2&lang=en&view=html#other/site-map#0'; $this->_urlCache['95dad6b046fc5aa02f1ebd5aa4a23cf3']='index.php?option=com_k2&Itemid=809&id=289&lang=en&layout=item&view=item#suntrails/message-sent#0'; $this->_urlCache['2cf2da33ce209a17e1bb807ace4dd440']='index.php?option=com_k2&Itemid=725&id=373&lang=en&view=item#373-holding-the-fort#0'; $this->_urlCache['b98c1a5dfd0288529c73da59cc5e84d3']='index.php?option=com_k2&Itemid=725&id=664&lang=en&task=user&view=itemlist#blog/Cristian#0'; $this->_urlCache['68c5a93ae806df6dc3122943659bc23f']='index.php?option=com_k2&Itemid=725&id=364&lang=en&view=item#honeymoon-in-morocco#1'; $this->_urlCache['ae2a91044cc8b08f489d688fd000813f']='index.php?option=com_k2&Itemid=725&id=362&lang=en&view=item#cooking-with-the-locals-in-marrakech#1'; $this->_urlCache['1b21d36a0b54da7bfed30bc9ab385790']='index.php?option=com_k2&Itemid=725&format=feed&lang=en&moduleID=765&view=itemlist#feed/Recent-Posts/feed#0'; $this->_urlCache['2fffedd0579549fbcbb93b82a473ca1a']='index.php?option=com_k2&Itemid=725&id=290&lang=en&view=item#morocco-best-time-to-visit.html#1'; $this->_urlCache['223be574151996c46d1fc84a319ee408']='index.php?option=com_k2&Itemid=725&lang=en&tag=morocco+holidays&task=tag&view=itemlist#tag/morocco-holidays#0'; $this->_urlCache['799619bf85256757c76123dd1331735b']='index.php?option=com_k2&Itemid=725&lang=en&tag=weather+in+morocco&task=tag&view=itemlist#tag/weather-in-morocco#0'; $this->_urlCache['28478d83349cf5e523e75f7e5e723d6e']='index.php?option=com_k2&Itemid=725&lang=en&tag=ramadan+in+morocco&task=tag&view=itemlist#tag/ramadan-in-morocco#0'; $this->_urlCache['cb11c2b1aa1871068f0bb0a1e953983a']='index.php?option=com_k2&Itemid=725&id=292&lang=en&view=item#private-morocco-tours-blog/boutique-hotel-of-the-month/azalai-desert-lodge-zagora.html#1'; $this->_urlCache['80946b65ee90c4667ba3c800652f8401']='index.php?option=com_k2&Itemid=725&lang=en&tag=sahara+desert&task=tag&view=itemlist#tag/sahara-desert#0'; $this->_urlCache['b46a918e22c6826f566073c4ffa4388a']='index.php?option=com_k2&Itemid=725&lang=en&tag=luxury+desert+camp&task=tag&view=itemlist#tag/luxury-desert-camp#0'; $this->_urlCache['838dfb36656957f9c333da103f18dbec']='index.php?option=com_k2&Itemid=725&lang=en&tag=zagora+boutique+hotel&task=tag&view=itemlist#tag/zagora-boutique-hotel#0'; $this->_urlCache['b569993b56698c1e36339912985a9c55']='index.php?option=com_k2&Itemid=725&lang=en&tag=erg+chigaga&task=tag&view=itemlist#tag/erg-chigaga#0'; $this->_urlCache['088ef81b0399dadf33825370614a0fea']='index.php?option=com_k2&Itemid=725&id=293&lang=en&view=item#private-morocco-tours-blog/mamounia-day-pass#1'; $this->_urlCache['5f3537cc6bce4c08ae5cc6509a72d062']='index.php?option=com_k2&Itemid=725&lang=en&tag=mamounia+day+pass&task=tag&view=itemlist#tag/mamounia-day-pass#0'; $this->_urlCache['27d1ae234b14c2f0a3f66ab5ac353ebe']='index.php?option=com_k2&Itemid=725&lang=en&tag=marrakech+spa&task=tag&view=itemlist#tag/marrakech-spa#0'; $this->_urlCache['c2b26072adc3e41ff0c9eac81a48fdba']='index.php?option=com_k2&Itemid=725&format=feed&lang=en&moduleID=766&view=itemlist#feed/Most-read-posts/feed#0'; $shURLCacheCreationDate=1607111657; $this->_urlCache['e80334ae8a8ec986161fd5842a2f33ba']='index.php?option=com_phocagallery&Itemid=838&catid=116&id=1978&lang=en&view=detail#riad-la-parenthese/detail/1978-riad-la-parenthese23#1'; $this->_urlCache['ad1d393172f2e923096f408a44df6358']='index.php?option=com_sppagebuilder&Itemid=784&id=17&lang=en&view=page#private-morocco-tours#0'; $this->_urlCache['b8a56e357af93536dff12206e121376a']='index.php?option=com_k2&Itemid=821&id=294&lang=en&layout=item&view=item#private-morocco-tours/fez-marrakech-erg-chigaga-essaouira-tour.html#1'; $this->_urlCache['1285f92ceb877e9ed0154495fcd90336']='index.php?option=com_k2&Itemid=763&id=267&lang=en&layout=item&view=item#private-morocco-tours/5-day-morocco-tour.html#1'; $this->_urlCache['e1b68f7b31ef3bf64f46aa061c856edf']='index.php?option=com_k2&Itemid=764&id=268&lang=en&layout=item&view=item#private-morocco-tours/Casablanca-Fez-Erg-Chebbi-Marrakech-tour.html#1'; $this->_urlCache['d611e46faf0844bdf23925df2faec350']='index.php?option=com_k2&Itemid=765&id=269&lang=en&layout=item&view=item#private-morocco-tours/Casablanca-Fez-Erg-Chebbi-Essaouira-tour.html#1'; $this->_urlCache['0e74604bd9e9b1df520b644c9380c1e8']='index.php?option=com_k2&Itemid=923&id=347&lang=en&layout=item&view=item#morocco-tour-9-days#1'; $this->_urlCache['9a7e64e2daef178e8ceef9fa97e40d29']='index.php?option=com_k2&Itemid=958&id=349&lang=en&layout=item&view=item#morocco-travel-blog/casablanca-tangier-chefchaouen-meknes-rabat#0'; $this->_urlCache['b1e362b87cab4f0f827a17fa68b9e1e3']='index.php?option=com_k2&Itemid=959&id=300&lang=en&layout=item&view=item#tours/marrakech-atlas-mountains-essaouira-tour#0'; $this->_urlCache['6910dee933fb969f404c225795ab677c']='index.php?option=com_users&Itemid=1014&lang=en&view=login#Log-in/#0'; $this->_urlCache['f94a19c32605add227b43d587f72f73e']='index.php?option=com_k2&Itemid=725&id=36&lang=en&layout=category&task=category&view=itemlist#private-morocco-tours-blog.html#1'; $this->_urlCache['1a3f3698560f5ebfd810faed0b0b339d']='index.php?option=com_phocagallery&Itemid=838&lang=en&view=categories#morocco-travel-experiences#1'; $this->_urlCache['f383b54e3ed715018e9bc2c910ae76ba']='index.php?option=com_k2&Itemid=956&id=358&lang=en&layout=item&view=item#reviews#1'; $this->_urlCache['86dbee9e9851d09471981785588d3abf']='index.php?option=com_k2&Itemid=614&id=284&lang=en&layout=item&view=item#suntrails/links#0'; $this->_urlCache['7cd5d55585f23062663fcf1947da248c']='index.php?option=com_k2&Itemid=615&id=283&lang=en&layout=item&view=item#suntrails/terms-and-conditions#0'; $this->_urlCache['7f36feef91b09e1dc8b4185a9b3b596d']='index.php?option=com_allvideoshare&Itemid=839&lang=en&orderby=default&slg=0&view=category#videos#0'; $this->_urlCache['a9743b4e5738a43476b71e4b8427395a']='index.php?option=com_xmap&Itemid=985&id=2&lang=en&view=html#other/site-map#0'; $shURLCacheCreationDate=1607111741; $this->_urlCache['eb7f5fd35634292eb7a6b5cc2bb81170']='index.php?option=com_k2&Itemid=725&format=feed&lang=en&tag=CASABLANCA&task=tag&view=itemlist#tag/CASABLANCA/feed/atom#0'; $this->_urlCache['ad1d393172f2e923096f408a44df6358']='index.php?option=com_sppagebuilder&Itemid=784&id=17&lang=en&view=page#private-morocco-tours#0'; $this->_urlCache['b8a56e357af93536dff12206e121376a']='index.php?option=com_k2&Itemid=821&id=294&lang=en&layout=item&view=item#private-morocco-tours/fez-marrakech-erg-chigaga-essaouira-tour.html#1'; $this->_urlCache['1285f92ceb877e9ed0154495fcd90336']='index.php?option=com_k2&Itemid=763&id=267&lang=en&layout=item&view=item#private-morocco-tours/5-day-morocco-tour.html#1'; $this->_urlCache['e1b68f7b31ef3bf64f46aa061c856edf']='index.php?option=com_k2&Itemid=764&id=268&lang=en&layout=item&view=item#private-morocco-tours/Casablanca-Fez-Erg-Chebbi-Marrakech-tour.html#1'; $this->_urlCache['d611e46faf0844bdf23925df2faec350']='index.php?option=com_k2&Itemid=765&id=269&lang=en&layout=item&view=item#private-morocco-tours/Casablanca-Fez-Erg-Chebbi-Essaouira-tour.html#1'; $this->_urlCache['0e74604bd9e9b1df520b644c9380c1e8']='index.php?option=com_k2&Itemid=923&id=347&lang=en&layout=item&view=item#morocco-tour-9-days#1'; $this->_urlCache['9a7e64e2daef178e8ceef9fa97e40d29']='index.php?option=com_k2&Itemid=958&id=349&lang=en&layout=item&view=item#morocco-travel-blog/casablanca-tangier-chefchaouen-meknes-rabat#0'; $this->_urlCache['b1e362b87cab4f0f827a17fa68b9e1e3']='index.php?option=com_k2&Itemid=959&id=300&lang=en&layout=item&view=item#tours/marrakech-atlas-mountains-essaouira-tour#0'; $this->_urlCache['6910dee933fb969f404c225795ab677c']='index.php?option=com_users&Itemid=1014&lang=en&view=login#Log-in/#0'; $this->_urlCache['f94a19c32605add227b43d587f72f73e']='index.php?option=com_k2&Itemid=725&id=36&lang=en&layout=category&task=category&view=itemlist#private-morocco-tours-blog.html#1'; $this->_urlCache['1a3f3698560f5ebfd810faed0b0b339d']='index.php?option=com_phocagallery&Itemid=838&lang=en&view=categories#morocco-travel-experiences#1'; $this->_urlCache['f383b54e3ed715018e9bc2c910ae76ba']='index.php?option=com_k2&Itemid=956&id=358&lang=en&layout=item&view=item#reviews#1'; $this->_urlCache['86dbee9e9851d09471981785588d3abf']='index.php?option=com_k2&Itemid=614&id=284&lang=en&layout=item&view=item#suntrails/links#0'; $this->_urlCache['7cd5d55585f23062663fcf1947da248c']='index.php?option=com_k2&Itemid=615&id=283&lang=en&layout=item&view=item#suntrails/terms-and-conditions#0'; $this->_urlCache['7f36feef91b09e1dc8b4185a9b3b596d']='index.php?option=com_allvideoshare&Itemid=839&lang=en&orderby=default&slg=0&view=category#videos#0'; $this->_urlCache['a9743b4e5738a43476b71e4b8427395a']='index.php?option=com_xmap&Itemid=985&id=2&lang=en&view=html#other/site-map#0'; $this->_urlCache['37ddc897094b3883c4d658ac2d888f5f']='index.php?option=com_k2&Itemid=725&lang=en&tag=CASABLANCA&task=tag&view=itemlist#tag/CASABLANCA#0'; $shURLCacheCreationDate=1607111762; $this->_urlCache['ad1d393172f2e923096f408a44df6358']='index.php?option=com_sppagebuilder&Itemid=784&id=17&lang=en&view=page#private-morocco-tours#0'; $this->_urlCache['b8a56e357af93536dff12206e121376a']='index.php?option=com_k2&Itemid=821&id=294&lang=en&layout=item&view=item#private-morocco-tours/fez-marrakech-erg-chigaga-essaouira-tour.html#1'; $this->_urlCache['1285f92ceb877e9ed0154495fcd90336']='index.php?option=com_k2&Itemid=763&id=267&lang=en&layout=item&view=item#private-morocco-tours/5-day-morocco-tour.html#1'; $this->_urlCache['e1b68f7b31ef3bf64f46aa061c856edf']='index.php?option=com_k2&Itemid=764&id=268&lang=en&layout=item&view=item#private-morocco-tours/Casablanca-Fez-Erg-Chebbi-Marrakech-tour.html#1'; $this->_urlCache['d611e46faf0844bdf23925df2faec350']='index.php?option=com_k2&Itemid=765&id=269&lang=en&layout=item&view=item#private-morocco-tours/Casablanca-Fez-Erg-Chebbi-Essaouira-tour.html#1'; $this->_urlCache['0e74604bd9e9b1df520b644c9380c1e8']='index.php?option=com_k2&Itemid=923&id=347&lang=en&layout=item&view=item#morocco-tour-9-days#1'; $this->_urlCache['9a7e64e2daef178e8ceef9fa97e40d29']='index.php?option=com_k2&Itemid=958&id=349&lang=en&layout=item&view=item#morocco-travel-blog/casablanca-tangier-chefchaouen-meknes-rabat#0'; $this->_urlCache['b1e362b87cab4f0f827a17fa68b9e1e3']='index.php?option=com_k2&Itemid=959&id=300&lang=en&layout=item&view=item#tours/marrakech-atlas-mountains-essaouira-tour#0'; $this->_urlCache['6910dee933fb969f404c225795ab677c']='index.php?option=com_users&Itemid=1014&lang=en&view=login#Log-in/#0'; $this->_urlCache['f94a19c32605add227b43d587f72f73e']='index.php?option=com_k2&Itemid=725&id=36&lang=en&layout=category&task=category&view=itemlist#private-morocco-tours-blog.html#1'; $this->_urlCache['1a3f3698560f5ebfd810faed0b0b339d']='index.php?option=com_phocagallery&Itemid=838&lang=en&view=categories#morocco-travel-experiences#1'; $this->_urlCache['f383b54e3ed715018e9bc2c910ae76ba']='index.php?option=com_k2&Itemid=956&id=358&lang=en&layout=item&view=item#reviews#1'; $this->_urlCache['86dbee9e9851d09471981785588d3abf']='index.php?option=com_k2&Itemid=614&id=284&lang=en&layout=item&view=item#suntrails/links#0'; $this->_urlCache['7cd5d55585f23062663fcf1947da248c']='index.php?option=com_k2&Itemid=615&id=283&lang=en&layout=item&view=item#suntrails/terms-and-conditions#0'; $this->_urlCache['7f36feef91b09e1dc8b4185a9b3b596d']='index.php?option=com_allvideoshare&Itemid=839&lang=en&orderby=default&slg=0&view=category#videos#0'; $this->_urlCache['a9743b4e5738a43476b71e4b8427395a']='index.php?option=com_xmap&Itemid=985&id=2&lang=en&view=html#other/site-map#0'; $shURLCacheCreationDate=1607112003; $this->_urlCache['075cfc116f1ccb1cf08c774abb17b915']='index.php?option=com_phocagallery&Itemid=838&catid=246&id=4833&lang=en&view=detail#246-villa-diyafa-rabat/detail/4833-suite-dining-corner#0'; $shURLCacheCreationDate=1607112009; $this->_urlCache['4a503607b8ce8a21848201fffbe6fa5f']='index.php?option=com_k2&Itemid=725&id=36&lang=en&task=category&view=itemlist#morocco-travel-blog#0'; $this->_urlCache['b9c47355c7a90a5f94ce9477364b2740']='index.php?option=com_k2&Itemid=725&id=296&lang=en&view=item#private-morocco-tours-blog/kasbah-tamadot-lunch-and-more.html#1'; $this->_urlCache['b1a3f1910d5f7d9a602745054f123c59']='index.php?option=com_k2&Itemid=725&lang=en&tag=lunch+at+kasbah+tamadot&task=tag&view=itemlist#tag/lunch-at-kasbah-tamadot#0'; $this->_urlCache['f5240ec5f0e3583f38c984a2b393732e']='index.php?option=com_k2&Itemid=725&lang=en&tag=atlas+mountains+day+trip&task=tag&view=itemlist#tag/atlas-mountains-day-trip#0'; $this->_urlCache['b98c1a5dfd0288529c73da59cc5e84d3']='index.php?option=com_k2&Itemid=725&id=664&lang=en&task=user&view=itemlist#blog/Cristian#0'; $this->_urlCache['bb03a5630fca3f3ae7ab1ddfaf0af1a7']='index.php?option=com_k2&Itemid=725&id=282&lang=en&view=item#day-morocco-tour-marrakech-to-fez.html#1'; $this->_urlCache['9fad59ee8099ab6199e0d6ef6dcf41cc']='index.php?option=com_k2&Itemid=725&id=319&lang=en&view=item#private-morocco-tours-blog/casablanca-more-than-a-movie#1'; $this->_urlCache['ae2a91044cc8b08f489d688fd000813f']='index.php?option=com_k2&Itemid=725&id=362&lang=en&view=item#cooking-with-the-locals-in-marrakech#1'; $this->_urlCache['587417d269f322318d801f0a0c26325f']='index.php?option=com_k2&Itemid=725&id=287&lang=en&view=item#morocco-travel-blog/a-bitter-love#0'; $this->_urlCache['ad1d393172f2e923096f408a44df6358']='index.php?option=com_sppagebuilder&Itemid=784&id=17&lang=en&view=page#private-morocco-tours#0'; $this->_urlCache['b8a56e357af93536dff12206e121376a']='index.php?option=com_k2&Itemid=821&id=294&lang=en&layout=item&view=item#private-morocco-tours/fez-marrakech-erg-chigaga-essaouira-tour.html#1'; $this->_urlCache['1285f92ceb877e9ed0154495fcd90336']='index.php?option=com_k2&Itemid=763&id=267&lang=en&layout=item&view=item#private-morocco-tours/5-day-morocco-tour.html#1'; $this->_urlCache['e1b68f7b31ef3bf64f46aa061c856edf']='index.php?option=com_k2&Itemid=764&id=268&lang=en&layout=item&view=item#private-morocco-tours/Casablanca-Fez-Erg-Chebbi-Marrakech-tour.html#1'; $this->_urlCache['d611e46faf0844bdf23925df2faec350']='index.php?option=com_k2&Itemid=765&id=269&lang=en&layout=item&view=item#private-morocco-tours/Casablanca-Fez-Erg-Chebbi-Essaouira-tour.html#1'; $this->_urlCache['0e74604bd9e9b1df520b644c9380c1e8']='index.php?option=com_k2&Itemid=923&id=347&lang=en&layout=item&view=item#morocco-tour-9-days#1'; $this->_urlCache['9a7e64e2daef178e8ceef9fa97e40d29']='index.php?option=com_k2&Itemid=958&id=349&lang=en&layout=item&view=item#morocco-travel-blog/casablanca-tangier-chefchaouen-meknes-rabat#0'; $this->_urlCache['b1e362b87cab4f0f827a17fa68b9e1e3']='index.php?option=com_k2&Itemid=959&id=300&lang=en&layout=item&view=item#tours/marrakech-atlas-mountains-essaouira-tour#0'; $this->_urlCache['6910dee933fb969f404c225795ab677c']='index.php?option=com_users&Itemid=1014&lang=en&view=login#Log-in/#0'; $this->_urlCache['f94a19c32605add227b43d587f72f73e']='index.php?option=com_k2&Itemid=725&id=36&lang=en&layout=category&task=category&view=itemlist#private-morocco-tours-blog.html#1'; $this->_urlCache['1a3f3698560f5ebfd810faed0b0b339d']='index.php?option=com_phocagallery&Itemid=838&lang=en&view=categories#morocco-travel-experiences#1'; $this->_urlCache['f383b54e3ed715018e9bc2c910ae76ba']='index.php?option=com_k2&Itemid=956&id=358&lang=en&layout=item&view=item#reviews#1'; $this->_urlCache['86dbee9e9851d09471981785588d3abf']='index.php?option=com_k2&Itemid=614&id=284&lang=en&layout=item&view=item#suntrails/links#0'; $this->_urlCache['7cd5d55585f23062663fcf1947da248c']='index.php?option=com_k2&Itemid=615&id=283&lang=en&layout=item&view=item#suntrails/terms-and-conditions#0'; $this->_urlCache['7f36feef91b09e1dc8b4185a9b3b596d']='index.php?option=com_allvideoshare&Itemid=839&lang=en&orderby=default&slg=0&view=category#videos#0'; $this->_urlCache['a9743b4e5738a43476b71e4b8427395a']='index.php?option=com_xmap&Itemid=985&id=2&lang=en&view=html#other/site-map#0'; $shURLCacheCreationDate=1607110894; $this->_urlCache['81cd64ead34713a67ea4d64d0dc30aee']='index.php?option=com_phocagallery&Itemid=838&catid=124&id=2089&lang=en&view=detail#erg-chigaga-luxury-camp/detail/2089-dpp-292242#1'; $shURLCacheCreationDate=1607110947; $this->_urlCache['f55e66a2c62e29f5cd8dc23edb2d2605']='index.php?option=com_k2&Itemid=725&format=feed&lang=en&tag=conde+nast+traveler&task=tag&view=itemlist#tag/conde-nast-traveler/feed/atom#0'; $this->_urlCache['ad1d393172f2e923096f408a44df6358']='index.php?option=com_sppagebuilder&Itemid=784&id=17&lang=en&view=page#private-morocco-tours#0'; $this->_urlCache['b8a56e357af93536dff12206e121376a']='index.php?option=com_k2&Itemid=821&id=294&lang=en&layout=item&view=item#private-morocco-tours/fez-marrakech-erg-chigaga-essaouira-tour.html#1'; $this->_urlCache['1285f92ceb877e9ed0154495fcd90336']='index.php?option=com_k2&Itemid=763&id=267&lang=en&layout=item&view=item#private-morocco-tours/5-day-morocco-tour.html#1'; $this->_urlCache['e1b68f7b31ef3bf64f46aa061c856edf']='index.php?option=com_k2&Itemid=764&id=268&lang=en&layout=item&view=item#private-morocco-tours/Casablanca-Fez-Erg-Chebbi-Marrakech-tour.html#1'; $this->_urlCache['d611e46faf0844bdf23925df2faec350']='index.php?option=com_k2&Itemid=765&id=269&lang=en&layout=item&view=item#private-morocco-tours/Casablanca-Fez-Erg-Chebbi-Essaouira-tour.html#1'; $this->_urlCache['0e74604bd9e9b1df520b644c9380c1e8']='index.php?option=com_k2&Itemid=923&id=347&lang=en&layout=item&view=item#morocco-tour-9-days#1'; $this->_urlCache['9a7e64e2daef178e8ceef9fa97e40d29']='index.php?option=com_k2&Itemid=958&id=349&lang=en&layout=item&view=item#morocco-travel-blog/casablanca-tangier-chefchaouen-meknes-rabat#0'; $this->_urlCache['b1e362b87cab4f0f827a17fa68b9e1e3']='index.php?option=com_k2&Itemid=959&id=300&lang=en&layout=item&view=item#tours/marrakech-atlas-mountains-essaouira-tour#0'; $this->_urlCache['6910dee933fb969f404c225795ab677c']='index.php?option=com_users&Itemid=1014&lang=en&view=login#Log-in/#0'; $this->_urlCache['f94a19c32605add227b43d587f72f73e']='index.php?option=com_k2&Itemid=725&id=36&lang=en&layout=category&task=category&view=itemlist#private-morocco-tours-blog.html#1'; $this->_urlCache['1a3f3698560f5ebfd810faed0b0b339d']='index.php?option=com_phocagallery&Itemid=838&lang=en&view=categories#morocco-travel-experiences#1'; $this->_urlCache['f383b54e3ed715018e9bc2c910ae76ba']='index.php?option=com_k2&Itemid=956&id=358&lang=en&layout=item&view=item#reviews#1'; $this->_urlCache['86dbee9e9851d09471981785588d3abf']='index.php?option=com_k2&Itemid=614&id=284&lang=en&layout=item&view=item#suntrails/links#0'; $this->_urlCache['7cd5d55585f23062663fcf1947da248c']='index.php?option=com_k2&Itemid=615&id=283&lang=en&layout=item&view=item#suntrails/terms-and-conditions#0'; $this->_urlCache['7f36feef91b09e1dc8b4185a9b3b596d']='index.php?option=com_allvideoshare&Itemid=839&lang=en&orderby=default&slg=0&view=category#videos#0'; $this->_urlCache['a9743b4e5738a43476b71e4b8427395a']='index.php?option=com_xmap&Itemid=985&id=2&lang=en&view=html#other/site-map#0'; $this->_urlCache['f1cb1a9fa183c28cd71dff3b453523cb']='index.php?option=com_k2&Itemid=725&lang=en&tag=conde+nast+traveler&task=tag&view=itemlist#tag/conde-nast-traveler#0'; $shURLCacheCreationDate=1607111023; $this->_urlCache['f89b0e21d4a8f19b629817a49467a101']='index.php?option=com_phocagallery&Itemid=838&catid=246&id=4832&lang=en&view=detail#246-villa-diyafa-rabat/detail/4832-suite-bedroom#0'; $shURLCacheCreationDate=1607111228; $this->_urlCache['8045f276a16d787c47328123fc2a0318']='index.php?option=com_k2&Itemid=725&id=330&lang=en&view=item#private-morocco-tours-blog/medieval-morocco-an-essential-exhibition#1'; $shURLCacheCreationDate=1607111342; $this->_urlCache['0c5f69344cde19f12c043f330c51c6df']='index.php?option=com_phocagallery&Itemid=838&catid=135&id=2956&lang=en&view=detail#135-villa-des-orangers/detail/2956-restaurant-iv#0'; $shURLCacheCreationDate=1607111350; $this->_urlCache['4a503607b8ce8a21848201fffbe6fa5f']='index.php?option=com_k2&Itemid=725&id=36&lang=en&task=category&view=itemlist#morocco-travel-blog#0'; $this->_urlCache['e14d13b039a442c9c053916ce8e44348']='index.php?option=com_k2&Itemid=725&id=299&lang=en&view=item#morocco-travel-blog/luxury-morocco-tour-5-things-to-do#0'; $this->_urlCache['b98d6c51636d1ae54495d1ab004824f8']='index.php?option=com_k2&Itemid=725&lang=en&tag=dar+ahlam&task=tag&view=itemlist#tag/dar-ahlam#0'; $this->_urlCache['730d9d603a3eea6223c3fd8d10027cbb']='index.php?option=com_k2&Itemid=725&lang=en&tag=azalai+desert+lodge&task=tag&view=itemlist#tag/azalai-desert-lodge#0'; $this->_urlCache['6fa9c22dc91f5c8aeb256d95341d1861']='index.php?option=com_k2&Itemid=725&lang=en&tag=erg+chigaga+luxury+camp&task=tag&view=itemlist#tag/erg-chigaga-luxury-camp#0'; $this->_urlCache['edc529c763881312caffa68c4597f660']='index.php?option=com_k2&Itemid=725&lang=en&tag=hot+air+balloon+flight&task=tag&view=itemlist#tag/hot-air-balloon-flight#0'; $this->_urlCache['651a47cdf50893e901723fb41be89ea4']='index.php?option=com_k2&Itemid=725&lang=en&tag=fes+music+festival&task=tag&view=itemlist#tag/fes-music-festival#0'; $this->_urlCache['369f3329fcfce6762e18c24f0ac0938e']='index.php?option=com_k2&Itemid=725&lang=en&tag=palais+selman&task=tag&view=itemlist#tag/palais-selman#0'; $this->_urlCache['27d1ae234b14c2f0a3f66ab5ac353ebe']='index.php?option=com_k2&Itemid=725&lang=en&tag=marrakech+spa&task=tag&view=itemlist#tag/marrakech-spa#0'; $this->_urlCache['f1cb1a9fa183c28cd71dff3b453523cb']='index.php?option=com_k2&Itemid=725&lang=en&tag=conde+nast+traveler&task=tag&view=itemlist#tag/conde-nast-traveler#0'; $this->_urlCache['c9bd2a746d1984e518c70a10afb34c95']='index.php?option=com_k2&Itemid=725&lang=en&tag=sufi+nights&task=tag&view=itemlist#tag/sufi-nights#0'; $this->_urlCache['c5283fbe43064c08d710f577f0128719']='index.php?option=com_k2&Itemid=725&lang=en&tag=camel+ride&task=tag&view=itemlist#tag/camel-ride#0'; $this->_urlCache['b98c1a5dfd0288529c73da59cc5e84d3']='index.php?option=com_k2&Itemid=725&id=664&lang=en&task=user&view=itemlist#blog/Cristian#0'; $this->_urlCache['2cf2da33ce209a17e1bb807ace4dd440']='index.php?option=com_k2&Itemid=725&id=373&lang=en&view=item#373-holding-the-fort#0'; $this->_urlCache['68c5a93ae806df6dc3122943659bc23f']='index.php?option=com_k2&Itemid=725&id=364&lang=en&view=item#honeymoon-in-morocco#1'; $this->_urlCache['ae2a91044cc8b08f489d688fd000813f']='index.php?option=com_k2&Itemid=725&id=362&lang=en&view=item#cooking-with-the-locals-in-marrakech#1'; $this->_urlCache['429bb4cb63b9b7489d34ce09d153aa19']='index.php?option=com_k2&Itemid=725&id=361&lang=en&view=item#slipper-making-marrakech#1'; $this->_urlCache['5565228d42a86703b26ef0ba107797ed']='index.php?option=com_k2&Itemid=725&id=360&lang=en&view=item#riad-laaroussa-fes/boutique-hotel-of-the-month#1'; $this->_urlCache['ea5d53be1043a9aa6001b335356260ef']='index.php?option=com_k2&Itemid=725&id=323&lang=en&view=item#private-morocco-tours-blog/morocco-luxury-desert-camp-experience#1'; $this->_urlCache['088ef81b0399dadf33825370614a0fea']='index.php?option=com_k2&Itemid=725&id=293&lang=en&view=item#private-morocco-tours-blog/mamounia-day-pass#1'; $this->_urlCache['c4f667a4918b7e23cca86b68ad098c28']='index.php?option=com_k2&Itemid=725&id=35&lang=en&task=category&view=itemlist#suntrails#0'; $this->_urlCache['ddbf7ad557471b1d4beab5bdb03a7851']='index.php?option=com_k2&Itemid=725&id=275&lang=en&view=item#suntrails/morocco-boutique-hotels#0'; $this->_urlCache['d02bea70332e47472a457ecf68249955']='index.php?option=com_k2&Itemid=724&id=31&lang=en&task=category&view=itemlist#private-tours-suntrails#0'; $this->_urlCache['8debb4f1f5bc46ca39fe6e1a1574e323']='index.php?option=com_k2&Itemid=724&id=271&lang=en&view=item#271-desert-and-roses#0'; $this->_urlCache['9fad59ee8099ab6199e0d6ef6dcf41cc']='index.php?option=com_k2&Itemid=725&id=319&lang=en&view=item#private-morocco-tours-blog/casablanca-more-than-a-movie#1'; $this->_urlCache['f61f2348ae10ffec7e79381a2ba420b9']='index.php?option=com_k2&Itemid=725&id=297&lang=en&view=item#private-morocco-tours-blog/moroccan-cooking-class.html#1'; $this->_urlCache['ad1d393172f2e923096f408a44df6358']='index.php?option=com_sppagebuilder&Itemid=784&id=17&lang=en&view=page#private-morocco-tours#0'; $this->_urlCache['b8a56e357af93536dff12206e121376a']='index.php?option=com_k2&Itemid=821&id=294&lang=en&layout=item&view=item#private-morocco-tours/fez-marrakech-erg-chigaga-essaouira-tour.html#1'; $this->_urlCache['1285f92ceb877e9ed0154495fcd90336']='index.php?option=com_k2&Itemid=763&id=267&lang=en&layout=item&view=item#private-morocco-tours/5-day-morocco-tour.html#1'; $this->_urlCache['e1b68f7b31ef3bf64f46aa061c856edf']='index.php?option=com_k2&Itemid=764&id=268&lang=en&layout=item&view=item#private-morocco-tours/Casablanca-Fez-Erg-Chebbi-Marrakech-tour.html#1'; $this->_urlCache['d611e46faf0844bdf23925df2faec350']='index.php?option=com_k2&Itemid=765&id=269&lang=en&layout=item&view=item#private-morocco-tours/Casablanca-Fez-Erg-Chebbi-Essaouira-tour.html#1'; $this->_urlCache['0e74604bd9e9b1df520b644c9380c1e8']='index.php?option=com_k2&Itemid=923&id=347&lang=en&layout=item&view=item#morocco-tour-9-days#1'; $this->_urlCache['9a7e64e2daef178e8ceef9fa97e40d29']='index.php?option=com_k2&Itemid=958&id=349&lang=en&layout=item&view=item#morocco-travel-blog/casablanca-tangier-chefchaouen-meknes-rabat#0'; $this->_urlCache['b1e362b87cab4f0f827a17fa68b9e1e3']='index.php?option=com_k2&Itemid=959&id=300&lang=en&layout=item&view=item#tours/marrakech-atlas-mountains-essaouira-tour#0'; $this->_urlCache['6910dee933fb969f404c225795ab677c']='index.php?option=com_users&Itemid=1014&lang=en&view=login#Log-in/#0'; $this->_urlCache['f94a19c32605add227b43d587f72f73e']='index.php?option=com_k2&Itemid=725&id=36&lang=en&layout=category&task=category&view=itemlist#private-morocco-tours-blog.html#1'; $this->_urlCache['1a3f3698560f5ebfd810faed0b0b339d']='index.php?option=com_phocagallery&Itemid=838&lang=en&view=categories#morocco-travel-experiences#1'; $this->_urlCache['f383b54e3ed715018e9bc2c910ae76ba']='index.php?option=com_k2&Itemid=956&id=358&lang=en&layout=item&view=item#reviews#1'; $this->_urlCache['86dbee9e9851d09471981785588d3abf']='index.php?option=com_k2&Itemid=614&id=284&lang=en&layout=item&view=item#suntrails/links#0'; $this->_urlCache['7cd5d55585f23062663fcf1947da248c']='index.php?option=com_k2&Itemid=615&id=283&lang=en&layout=item&view=item#suntrails/terms-and-conditions#0'; $this->_urlCache['7f36feef91b09e1dc8b4185a9b3b596d']='index.php?option=com_allvideoshare&Itemid=839&lang=en&orderby=default&slg=0&view=category#videos#0'; $this->_urlCache['a9743b4e5738a43476b71e4b8427395a']='index.php?option=com_xmap&Itemid=985&id=2&lang=en&view=html#other/site-map#0'; $shURLCacheCreationDate=1607111409; $this->_urlCache['904c256c24a1e88f4c165d0e8e3c8ed6']='index.php?option=com_phocagallery&Itemid=838&catid=254&id=4981&lang=en&view=detail#254-roulidane-waterfalls/detail/4981-ybbbu#0'; $shURLCacheCreationDate=1607111478; $this->_urlCache['6ab752e77fd479d3ba97d45adc81af30']='index.php?option=com_phocagallery&Itemid=838&catid=106&id=1701&lang=en&view=detail#les-deux-tours/detail/1701-salon-indien-2#1'; $shURLCacheCreationDate=1607111490; $this->_urlCache['98bb23419e64ddb10e6bfa0bde607736']='index.php?option=com_phocagallery&Itemid=838&catid=258&id=5224&lang=en&view=detail#258-plateau-taghazart-4000-metres/detail/5224-plateautafhazart2#0'; $shURLCacheCreationDate=1607111617; $this->_urlCache['4a503607b8ce8a21848201fffbe6fa5f']='index.php?option=com_k2&Itemid=725&id=36&lang=en&task=category&view=itemlist#morocco-travel-blog#0'; $this->_urlCache['b218c58da0dc35bbf5aa9b8757b2409d']='index.php?option=com_k2&Itemid=725&id=37&lang=en&task=category&view=itemlist#morocco-travel-blog/tour-of-the-season#0'; $this->_urlCache['5c282448c4f8fab06634c3f6d1fe9c21']='index.php?option=com_k2&Itemid=725&id=40&lang=en&task=category&view=itemlist#morocco-travel-blog/boutique-hotel-of-the-month#0'; $this->_urlCache['6ae96a53284c1d3e49d2c5baddd8bf80']='index.php?option=com_k2&Itemid=725&format=feed&id=36&lang=en&layout=category&limit=10&task=category&view=itemlist#morocco-travel-blog/feed/Page-1#0'; $this->_urlCache['ad1d393172f2e923096f408a44df6358']='index.php?option=com_sppagebuilder&Itemid=784&id=17&lang=en&view=page#private-morocco-tours#0'; $this->_urlCache['b8a56e357af93536dff12206e121376a']='index.php?option=com_k2&Itemid=821&id=294&lang=en&layout=item&view=item#private-morocco-tours/fez-marrakech-erg-chigaga-essaouira-tour.html#1'; $this->_urlCache['1285f92ceb877e9ed0154495fcd90336']='index.php?option=com_k2&Itemid=763&id=267&lang=en&layout=item&view=item#private-morocco-tours/5-day-morocco-tour.html#1'; $this->_urlCache['e1b68f7b31ef3bf64f46aa061c856edf']='index.php?option=com_k2&Itemid=764&id=268&lang=en&layout=item&view=item#private-morocco-tours/Casablanca-Fez-Erg-Chebbi-Marrakech-tour.html#1'; $this->_urlCache['d611e46faf0844bdf23925df2faec350']='index.php?option=com_k2&Itemid=765&id=269&lang=en&layout=item&view=item#private-morocco-tours/Casablanca-Fez-Erg-Chebbi-Essaouira-tour.html#1'; $this->_urlCache['0e74604bd9e9b1df520b644c9380c1e8']='index.php?option=com_k2&Itemid=923&id=347&lang=en&layout=item&view=item#morocco-tour-9-days#1'; $this->_urlCache['9a7e64e2daef178e8ceef9fa97e40d29']='index.php?option=com_k2&Itemid=958&id=349&lang=en&layout=item&view=item#morocco-travel-blog/casablanca-tangier-chefchaouen-meknes-rabat#0'; $this->_urlCache['b1e362b87cab4f0f827a17fa68b9e1e3']='index.php?option=com_k2&Itemid=959&id=300&lang=en&layout=item&view=item#tours/marrakech-atlas-mountains-essaouira-tour#0'; $this->_urlCache['6910dee933fb969f404c225795ab677c']='index.php?option=com_users&Itemid=1014&lang=en&view=login#Log-in/#0'; $this->_urlCache['f94a19c32605add227b43d587f72f73e']='index.php?option=com_k2&Itemid=725&id=36&lang=en&layout=category&task=category&view=itemlist#private-morocco-tours-blog.html#1'; $this->_urlCache['1a3f3698560f5ebfd810faed0b0b339d']='index.php?option=com_phocagallery&Itemid=838&lang=en&view=categories#morocco-travel-experiences#1'; $this->_urlCache['f383b54e3ed715018e9bc2c910ae76ba']='index.php?option=com_k2&Itemid=956&id=358&lang=en&layout=item&view=item#reviews#1'; $this->_urlCache['86dbee9e9851d09471981785588d3abf']='index.php?option=com_k2&Itemid=614&id=284&lang=en&layout=item&view=item#suntrails/links#0'; $this->_urlCache['7cd5d55585f23062663fcf1947da248c']='index.php?option=com_k2&Itemid=615&id=283&lang=en&layout=item&view=item#suntrails/terms-and-conditions#0'; $this->_urlCache['7f36feef91b09e1dc8b4185a9b3b596d']='index.php?option=com_allvideoshare&Itemid=839&lang=en&orderby=default&slg=0&view=category#videos#0'; $this->_urlCache['a9743b4e5738a43476b71e4b8427395a']='index.php?option=com_xmap&Itemid=985&id=2&lang=en&view=html#other/site-map#0'; $this->_urlCache['95dad6b046fc5aa02f1ebd5aa4a23cf3']='index.php?option=com_k2&Itemid=809&id=289&lang=en&layout=item&view=item#suntrails/message-sent#0'; $this->_urlCache['2cf2da33ce209a17e1bb807ace4dd440']='index.php?option=com_k2&Itemid=725&id=373&lang=en&view=item#373-holding-the-fort#0'; $this->_urlCache['b98c1a5dfd0288529c73da59cc5e84d3']='index.php?option=com_k2&Itemid=725&id=664&lang=en&task=user&view=itemlist#blog/Cristian#0'; $this->_urlCache['68c5a93ae806df6dc3122943659bc23f']='index.php?option=com_k2&Itemid=725&id=364&lang=en&view=item#honeymoon-in-morocco#1'; $this->_urlCache['ae2a91044cc8b08f489d688fd000813f']='index.php?option=com_k2&Itemid=725&id=362&lang=en&view=item#cooking-with-the-locals-in-marrakech#1'; $this->_urlCache['1b21d36a0b54da7bfed30bc9ab385790']='index.php?option=com_k2&Itemid=725&format=feed&lang=en&moduleID=765&view=itemlist#feed/Recent-Posts/feed#0'; $this->_urlCache['2fffedd0579549fbcbb93b82a473ca1a']='index.php?option=com_k2&Itemid=725&id=290&lang=en&view=item#morocco-best-time-to-visit.html#1'; $this->_urlCache['223be574151996c46d1fc84a319ee408']='index.php?option=com_k2&Itemid=725&lang=en&tag=morocco+holidays&task=tag&view=itemlist#tag/morocco-holidays#0'; $this->_urlCache['799619bf85256757c76123dd1331735b']='index.php?option=com_k2&Itemid=725&lang=en&tag=weather+in+morocco&task=tag&view=itemlist#tag/weather-in-morocco#0'; $this->_urlCache['28478d83349cf5e523e75f7e5e723d6e']='index.php?option=com_k2&Itemid=725&lang=en&tag=ramadan+in+morocco&task=tag&view=itemlist#tag/ramadan-in-morocco#0'; $this->_urlCache['cb11c2b1aa1871068f0bb0a1e953983a']='index.php?option=com_k2&Itemid=725&id=292&lang=en&view=item#private-morocco-tours-blog/boutique-hotel-of-the-month/azalai-desert-lodge-zagora.html#1'; $this->_urlCache['80946b65ee90c4667ba3c800652f8401']='index.php?option=com_k2&Itemid=725&lang=en&tag=sahara+desert&task=tag&view=itemlist#tag/sahara-desert#0'; $this->_urlCache['b46a918e22c6826f566073c4ffa4388a']='index.php?option=com_k2&Itemid=725&lang=en&tag=luxury+desert+camp&task=tag&view=itemlist#tag/luxury-desert-camp#0'; $this->_urlCache['838dfb36656957f9c333da103f18dbec']='index.php?option=com_k2&Itemid=725&lang=en&tag=zagora+boutique+hotel&task=tag&view=itemlist#tag/zagora-boutique-hotel#0'; $this->_urlCache['b569993b56698c1e36339912985a9c55']='index.php?option=com_k2&Itemid=725&lang=en&tag=erg+chigaga&task=tag&view=itemlist#tag/erg-chigaga#0'; $this->_urlCache['088ef81b0399dadf33825370614a0fea']='index.php?option=com_k2&Itemid=725&id=293&lang=en&view=item#private-morocco-tours-blog/mamounia-day-pass#1'; $this->_urlCache['5f3537cc6bce4c08ae5cc6509a72d062']='index.php?option=com_k2&Itemid=725&lang=en&tag=mamounia+day+pass&task=tag&view=itemlist#tag/mamounia-day-pass#0'; $this->_urlCache['27d1ae234b14c2f0a3f66ab5ac353ebe']='index.php?option=com_k2&Itemid=725&lang=en&tag=marrakech+spa&task=tag&view=itemlist#tag/marrakech-spa#0'; $this->_urlCache['c2b26072adc3e41ff0c9eac81a48fdba']='index.php?option=com_k2&Itemid=725&format=feed&lang=en&moduleID=766&view=itemlist#feed/Most-read-posts/feed#0'; $shURLCacheCreationDate=1607111657; $this->_urlCache['e80334ae8a8ec986161fd5842a2f33ba']='index.php?option=com_phocagallery&Itemid=838&catid=116&id=1978&lang=en&view=detail#riad-la-parenthese/detail/1978-riad-la-parenthese23#1'; $this->_urlCache['ad1d393172f2e923096f408a44df6358']='index.php?option=com_sppagebuilder&Itemid=784&id=17&lang=en&view=page#private-morocco-tours#0'; $this->_urlCache['b8a56e357af93536dff12206e121376a']='index.php?option=com_k2&Itemid=821&id=294&lang=en&layout=item&view=item#private-morocco-tours/fez-marrakech-erg-chigaga-essaouira-tour.html#1'; $this->_urlCache['1285f92ceb877e9ed0154495fcd90336']='index.php?option=com_k2&Itemid=763&id=267&lang=en&layout=item&view=item#private-morocco-tours/5-day-morocco-tour.html#1'; $this->_urlCache['e1b68f7b31ef3bf64f46aa061c856edf']='index.php?option=com_k2&Itemid=764&id=268&lang=en&layout=item&view=item#private-morocco-tours/Casablanca-Fez-Erg-Chebbi-Marrakech-tour.html#1'; $this->_urlCache['d611e46faf0844bdf23925df2faec350']='index.php?option=com_k2&Itemid=765&id=269&lang=en&layout=item&view=item#private-morocco-tours/Casablanca-Fez-Erg-Chebbi-Essaouira-tour.html#1'; $this->_urlCache['0e74604bd9e9b1df520b644c9380c1e8']='index.php?option=com_k2&Itemid=923&id=347&lang=en&layout=item&view=item#morocco-tour-9-days#1'; $this->_urlCache['9a7e64e2daef178e8ceef9fa97e40d29']='index.php?option=com_k2&Itemid=958&id=349&lang=en&layout=item&view=item#morocco-travel-blog/casablanca-tangier-chefchaouen-meknes-rabat#0'; $this->_urlCache['b1e362b87cab4f0f827a17fa68b9e1e3']='index.php?option=com_k2&Itemid=959&id=300&lang=en&layout=item&view=item#tours/marrakech-atlas-mountains-essaouira-tour#0'; $this->_urlCache['6910dee933fb969f404c225795ab677c']='index.php?option=com_users&Itemid=1014&lang=en&view=login#Log-in/#0'; $this->_urlCache['f94a19c32605add227b43d587f72f73e']='index.php?option=com_k2&Itemid=725&id=36&lang=en&layout=category&task=category&view=itemlist#private-morocco-tours-blog.html#1'; $this->_urlCache['1a3f3698560f5ebfd810faed0b0b339d']='index.php?option=com_phocagallery&Itemid=838&lang=en&view=categories#morocco-travel-experiences#1'; $this->_urlCache['f383b54e3ed715018e9bc2c910ae76ba']='index.php?option=com_k2&Itemid=956&id=358&lang=en&layout=item&view=item#reviews#1'; $this->_urlCache['86dbee9e9851d09471981785588d3abf']='index.php?option=com_k2&Itemid=614&id=284&lang=en&layout=item&view=item#suntrails/links#0'; $this->_urlCache['7cd5d55585f23062663fcf1947da248c']='index.php?option=com_k2&Itemid=615&id=283&lang=en&layout=item&view=item#suntrails/terms-and-conditions#0'; $this->_urlCache['7f36feef91b09e1dc8b4185a9b3b596d']='index.php?option=com_allvideoshare&Itemid=839&lang=en&orderby=default&slg=0&view=category#videos#0'; $this->_urlCache['a9743b4e5738a43476b71e4b8427395a']='index.php?option=com_xmap&Itemid=985&id=2&lang=en&view=html#other/site-map#0'; $shURLCacheCreationDate=1607111741; $this->_urlCache['eb7f5fd35634292eb7a6b5cc2bb81170']='index.php?option=com_k2&Itemid=725&format=feed&lang=en&tag=CASABLANCA&task=tag&view=itemlist#tag/CASABLANCA/feed/atom#0'; $this->_urlCache['ad1d393172f2e923096f408a44df6358']='index.php?option=com_sppagebuilder&Itemid=784&id=17&lang=en&view=page#private-morocco-tours#0'; $this->_urlCache['b8a56e357af93536dff12206e121376a']='index.php?option=com_k2&Itemid=821&id=294&lang=en&layout=item&view=item#private-morocco-tours/fez-marrakech-erg-chigaga-essaouira-tour.html#1'; $this->_urlCache['1285f92ceb877e9ed0154495fcd90336']='index.php?option=com_k2&Itemid=763&id=267&lang=en&layout=item&view=item#private-morocco-tours/5-day-morocco-tour.html#1'; $this->_urlCache['e1b68f7b31ef3bf64f46aa061c856edf']='index.php?option=com_k2&Itemid=764&id=268&lang=en&layout=item&view=item#private-morocco-tours/Casablanca-Fez-Erg-Chebbi-Marrakech-tour.html#1'; $this->_urlCache['d611e46faf0844bdf23925df2faec350']='index.php?option=com_k2&Itemid=765&id=269&lang=en&layout=item&view=item#private-morocco-tours/Casablanca-Fez-Erg-Chebbi-Essaouira-tour.html#1'; $this->_urlCache['0e74604bd9e9b1df520b644c9380c1e8']='index.php?option=com_k2&Itemid=923&id=347&lang=en&layout=item&view=item#morocco-tour-9-days#1'; $this->_urlCache['9a7e64e2daef178e8ceef9fa97e40d29']='index.php?option=com_k2&Itemid=958&id=349&lang=en&layout=item&view=item#morocco-travel-blog/casablanca-tangier-chefchaouen-meknes-rabat#0'; $this->_urlCache['b1e362b87cab4f0f827a17fa68b9e1e3']='index.php?option=com_k2&Itemid=959&id=300&lang=en&layout=item&view=item#tours/marrakech-atlas-mountains-essaouira-tour#0'; $this->_urlCache['6910dee933fb969f404c225795ab677c']='index.php?option=com_users&Itemid=1014&lang=en&view=login#Log-in/#0'; $this->_urlCache['f94a19c32605add227b43d587f72f73e']='index.php?option=com_k2&Itemid=725&id=36&lang=en&layout=category&task=category&view=itemlist#private-morocco-tours-blog.html#1'; $this->_urlCache['1a3f3698560f5ebfd810faed0b0b339d']='index.php?option=com_phocagallery&Itemid=838&lang=en&view=categories#morocco-travel-experiences#1'; $this->_urlCache['f383b54e3ed715018e9bc2c910ae76ba']='index.php?option=com_k2&Itemid=956&id=358&lang=en&layout=item&view=item#reviews#1'; $this->_urlCache['86dbee9e9851d09471981785588d3abf']='index.php?option=com_k2&Itemid=614&id=284&lang=en&layout=item&view=item#suntrails/links#0'; $this->_urlCache['7cd5d55585f23062663fcf1947da248c']='index.php?option=com_k2&Itemid=615&id=283&lang=en&layout=item&view=item#suntrails/terms-and-conditions#0'; $this->_urlCache['7f36feef91b09e1dc8b4185a9b3b596d']='index.php?option=com_allvideoshare&Itemid=839&lang=en&orderby=default&slg=0&view=category#videos#0'; $this->_urlCache['a9743b4e5738a43476b71e4b8427395a']='index.php?option=com_xmap&Itemid=985&id=2&lang=en&view=html#other/site-map#0'; $this->_urlCache['37ddc897094b3883c4d658ac2d888f5f']='index.php?option=com_k2&Itemid=725&lang=en&tag=CASABLANCA&task=tag&view=itemlist#tag/CASABLANCA#0'; $shURLCacheCreationDate=1607111762; $this->_urlCache['ad1d393172f2e923096f408a44df6358']='index.php?option=com_sppagebuilder&Itemid=784&id=17&lang=en&view=page#private-morocco-tours#0'; $this->_urlCache['b8a56e357af93536dff12206e121376a']='index.php?option=com_k2&Itemid=821&id=294&lang=en&layout=item&view=item#private-morocco-tours/fez-marrakech-erg-chigaga-essaouira-tour.html#1'; $this->_urlCache['1285f92ceb877e9ed0154495fcd90336']='index.php?option=com_k2&Itemid=763&id=267&lang=en&layout=item&view=item#private-morocco-tours/5-day-morocco-tour.html#1'; $this->_urlCache['e1b68f7b31ef3bf64f46aa061c856edf']='index.php?option=com_k2&Itemid=764&id=268&lang=en&layout=item&view=item#private-morocco-tours/Casablanca-Fez-Erg-Chebbi-Marrakech-tour.html#1'; $this->_urlCache['d611e46faf0844bdf23925df2faec350']='index.php?option=com_k2&Itemid=765&id=269&lang=en&layout=item&view=item#private-morocco-tours/Casablanca-Fez-Erg-Chebbi-Essaouira-tour.html#1'; $this->_urlCache['0e74604bd9e9b1df520b644c9380c1e8']='index.php?option=com_k2&Itemid=923&id=347&lang=en&layout=item&view=item#morocco-tour-9-days#1'; $this->_urlCache['9a7e64e2daef178e8ceef9fa97e40d29']='index.php?option=com_k2&Itemid=958&id=349&lang=en&layout=item&view=item#morocco-travel-blog/casablanca-tangier-chefchaouen-meknes-rabat#0'; $this->_urlCache['b1e362b87cab4f0f827a17fa68b9e1e3']='index.php?option=com_k2&Itemid=959&id=300&lang=en&layout=item&view=item#tours/marrakech-atlas-mountains-essaouira-tour#0'; $this->_urlCache['6910dee933fb969f404c225795ab677c']='index.php?option=com_users&Itemid=1014&lang=en&view=login#Log-in/#0'; $this->_urlCache['f94a19c32605add227b43d587f72f73e']='index.php?option=com_k2&Itemid=725&id=36&lang=en&layout=category&task=category&view=itemlist#private-morocco-tours-blog.html#1'; $this->_urlCache['1a3f3698560f5ebfd810faed0b0b339d']='index.php?option=com_phocagallery&Itemid=838&lang=en&view=categories#morocco-travel-experiences#1'; $this->_urlCache['f383b54e3ed715018e9bc2c910ae76ba']='index.php?option=com_k2&Itemid=956&id=358&lang=en&layout=item&view=item#reviews#1'; $this->_urlCache['86dbee9e9851d09471981785588d3abf']='index.php?option=com_k2&Itemid=614&id=284&lang=en&layout=item&view=item#suntrails/links#0'; $this->_urlCache['7cd5d55585f23062663fcf1947da248c']='index.php?option=com_k2&Itemid=615&id=283&lang=en&layout=item&view=item#suntrails/terms-and-conditions#0'; $this->_urlCache['7f36feef91b09e1dc8b4185a9b3b596d']='index.php?option=com_allvideoshare&Itemid=839&lang=en&orderby=default&slg=0&view=category#videos#0'; $this->_urlCache['a9743b4e5738a43476b71e4b8427395a']='index.php?option=com_xmap&Itemid=985&id=2&lang=en&view=html#other/site-map#0'; $shURLCacheCreationDate=1607112003; $this->_urlCache['075cfc116f1ccb1cf08c774abb17b915']='index.php?option=com_phocagallery&Itemid=838&catid=246&id=4833&lang=en&view=detail#246-villa-diyafa-rabat/detail/4833-suite-dining-corner#0'; $shURLCacheCreationDate=1607112009; $this->_urlCache['4a503607b8ce8a21848201fffbe6fa5f']='index.php?option=com_k2&Itemid=725&id=36&lang=en&task=category&view=itemlist#morocco-travel-blog#0'; $this->_urlCache['b9c47355c7a90a5f94ce9477364b2740']='index.php?option=com_k2&Itemid=725&id=296&lang=en&view=item#private-morocco-tours-blog/kasbah-tamadot-lunch-and-more.html#1'; $this->_urlCache['b1a3f1910d5f7d9a602745054f123c59']='index.php?option=com_k2&Itemid=725&lang=en&tag=lunch+at+kasbah+tamadot&task=tag&view=itemlist#tag/lunch-at-kasbah-tamadot#0'; $this->_urlCache['f5240ec5f0e3583f38c984a2b393732e']='index.php?option=com_k2&Itemid=725&lang=en&tag=atlas+mountains+day+trip&task=tag&view=itemlist#tag/atlas-mountains-day-trip#0'; $this->_urlCache['b98c1a5dfd0288529c73da59cc5e84d3']='index.php?option=com_k2&Itemid=725&id=664&lang=en&task=user&view=itemlist#blog/Cristian#0'; $this->_urlCache['bb03a5630fca3f3ae7ab1ddfaf0af1a7']='index.php?option=com_k2&Itemid=725&id=282&lang=en&view=item#day-morocco-tour-marrakech-to-fez.html#1'; $this->_urlCache['9fad59ee8099ab6199e0d6ef6dcf41cc']='index.php?option=com_k2&Itemid=725&id=319&lang=en&view=item#private-morocco-tours-blog/casablanca-more-than-a-movie#1'; $this->_urlCache['ae2a91044cc8b08f489d688fd000813f']='index.php?option=com_k2&Itemid=725&id=362&lang=en&view=item#cooking-with-the-locals-in-marrakech#1'; $this->_urlCache['587417d269f322318d801f0a0c26325f']='index.php?option=com_k2&Itemid=725&id=287&lang=en&view=item#morocco-travel-blog/a-bitter-love#0'; $this->_urlCache['ad1d393172f2e923096f408a44df6358']='index.php?option=com_sppagebuilder&Itemid=784&id=17&lang=en&view=page#private-morocco-tours#0'; $this->_urlCache['b8a56e357af93536dff12206e121376a']='index.php?option=com_k2&Itemid=821&id=294&lang=en&layout=item&view=item#private-morocco-tours/fez-marrakech-erg-chigaga-essaouira-tour.html#1'; $this->_urlCache['1285f92ceb877e9ed0154495fcd90336']='index.php?option=com_k2&Itemid=763&id=267&lang=en&layout=item&view=item#private-morocco-tours/5-day-morocco-tour.html#1'; $this->_urlCache['e1b68f7b31ef3bf64f46aa061c856edf']='index.php?option=com_k2&Itemid=764&id=268&lang=en&layout=item&view=item#private-morocco-tours/Casablanca-Fez-Erg-Chebbi-Marrakech-tour.html#1'; $this->_urlCache['d611e46faf0844bdf23925df2faec350']='index.php?option=com_k2&Itemid=765&id=269&lang=en&layout=item&view=item#private-morocco-tours/Casablanca-Fez-Erg-Chebbi-Essaouira-tour.html#1'; $this->_urlCache['0e74604bd9e9b1df520b644c9380c1e8']='index.php?option=com_k2&Itemid=923&id=347&lang=en&layout=item&view=item#morocco-tour-9-days#1'; $this->_urlCache['9a7e64e2daef178e8ceef9fa97e40d29']='index.php?option=com_k2&Itemid=958&id=349&lang=en&layout=item&view=item#morocco-travel-blog/casablanca-tangier-chefchaouen-meknes-rabat#0'; $this->_urlCache['b1e362b87cab4f0f827a17fa68b9e1e3']='index.php?option=com_k2&Itemid=959&id=300&lang=en&layout=item&view=item#tours/marrakech-atlas-mountains-essaouira-tour#0'; $this->_urlCache['6910dee933fb969f404c225795ab677c']='index.php?option=com_users&Itemid=1014&lang=en&view=login#Log-in/#0'; $this->_urlCache['f94a19c32605add227b43d587f72f73e']='index.php?option=com_k2&Itemid=725&id=36&lang=en&layout=category&task=category&view=itemlist#private-morocco-tours-blog.html#1'; $this->_urlCache['1a3f3698560f5ebfd810faed0b0b339d']='index.php?option=com_phocagallery&Itemid=838&lang=en&view=categories#morocco-travel-experiences#1'; $this->_urlCache['f383b54e3ed715018e9bc2c910ae76ba']='index.php?option=com_k2&Itemid=956&id=358&lang=en&layout=item&view=item#reviews#1'; $this->_urlCache['86dbee9e9851d09471981785588d3abf']='index.php?option=com_k2&Itemid=614&id=284&lang=en&layout=item&view=item#suntrails/links#0'; $this->_urlCache['7cd5d55585f23062663fcf1947da248c']='index.php?option=com_k2&Itemid=615&id=283&lang=en&layout=item&view=item#suntrails/terms-and-conditions#0'; $this->_urlCache['7f36feef91b09e1dc8b4185a9b3b596d']='index.php?option=com_allvideoshare&Itemid=839&lang=en&orderby=default&slg=0&view=category#videos#0'; $this->_urlCache['a9743b4e5738a43476b71e4b8427395a']='index.php?option=com_xmap&Itemid=985&id=2&lang=en&view=html#other/site-map#0'; $shURLCacheCreationDate=1607110894; $this->_urlCache['81cd64ead34713a67ea4d64d0dc30aee']='index.php?option=com_phocagallery&Itemid=838&catid=124&id=2089&lang=en&view=detail#erg-chigaga-luxury-camp/detail/2089-dpp-292242#1'; $shURLCacheCreationDate=1607110947; $this->_urlCache['f55e66a2c62e29f5cd8dc23edb2d2605']='index.php?option=com_k2&Itemid=725&format=feed&lang=en&tag=conde+nast+traveler&task=tag&view=itemlist#tag/conde-nast-traveler/feed/atom#0'; $this->_urlCache['ad1d393172f2e923096f408a44df6358']='index.php?option=com_sppagebuilder&Itemid=784&id=17&lang=en&view=page#private-morocco-tours#0'; $this->_urlCache['b8a56e357af93536dff12206e121376a']='index.php?option=com_k2&Itemid=821&id=294&lang=en&layout=item&view=item#private-morocco-tours/fez-marrakech-erg-chigaga-essaouira-tour.html#1'; $this->_urlCache['1285f92ceb877e9ed0154495fcd90336']='index.php?option=com_k2&Itemid=763&id=267&lang=en&layout=item&view=item#private-morocco-tours/5-day-morocco-tour.html#1'; $this->_urlCache['e1b68f7b31ef3bf64f46aa061c856edf']='index.php?option=com_k2&Itemid=764&id=268&lang=en&layout=item&view=item#private-morocco-tours/Casablanca-Fez-Erg-Chebbi-Marrakech-tour.html#1'; $this->_urlCache['d611e46faf0844bdf23925df2faec350']='index.php?option=com_k2&Itemid=765&id=269&lang=en&layout=item&view=item#private-morocco-tours/Casablanca-Fez-Erg-Chebbi-Essaouira-tour.html#1'; $this->_urlCache['0e74604bd9e9b1df520b644c9380c1e8']='index.php?option=com_k2&Itemid=923&id=347&lang=en&layout=item&view=item#morocco-tour-9-days#1'; $this->_urlCache['9a7e64e2daef178e8ceef9fa97e40d29']='index.php?option=com_k2&Itemid=958&id=349&lang=en&layout=item&view=item#morocco-travel-blog/casablanca-tangier-chefchaouen-meknes-rabat#0'; $this->_urlCache['b1e362b87cab4f0f827a17fa68b9e1e3']='index.php?option=com_k2&Itemid=959&id=300&lang=en&layout=item&view=item#tours/marrakech-atlas-mountains-essaouira-tour#0'; $this->_urlCache['6910dee933fb969f404c225795ab677c']='index.php?option=com_users&Itemid=1014&lang=en&view=login#Log-in/#0'; $this->_urlCache['f94a19c32605add227b43d587f72f73e']='index.php?option=com_k2&Itemid=725&id=36&lang=en&layout=category&task=category&view=itemlist#private-morocco-tours-blog.html#1'; $this->_urlCache['1a3f3698560f5ebfd810faed0b0b339d']='index.php?option=com_phocagallery&Itemid=838&lang=en&view=categories#morocco-travel-experiences#1'; $this->_urlCache['f383b54e3ed715018e9bc2c910ae76ba']='index.php?option=com_k2&Itemid=956&id=358&lang=en&layout=item&view=item#reviews#1'; $this->_urlCache['86dbee9e9851d09471981785588d3abf']='index.php?option=com_k2&Itemid=614&id=284&lang=en&layout=item&view=item#suntrails/links#0'; $this->_urlCache['7cd5d55585f23062663fcf1947da248c']='index.php?option=com_k2&Itemid=615&id=283&lang=en&layout=item&view=item#suntrails/terms-and-conditions#0'; $this->_urlCache['7f36feef91b09e1dc8b4185a9b3b596d']='index.php?option=com_allvideoshare&Itemid=839&lang=en&orderby=default&slg=0&view=category#videos#0'; $this->_urlCache['a9743b4e5738a43476b71e4b8427395a']='index.php?option=com_xmap&Itemid=985&id=2&lang=en&view=html#other/site-map#0'; $this->_urlCache['f1cb1a9fa183c28cd71dff3b453523cb']='index.php?option=com_k2&Itemid=725&lang=en&tag=conde+nast+traveler&task=tag&view=itemlist#tag/conde-nast-traveler#0'; $shURLCacheCreationDate=1607111023; $this->_urlCache['f89b0e21d4a8f19b629817a49467a101']='index.php?option=com_phocagallery&Itemid=838&catid=246&id=4832&lang=en&view=detail#246-villa-diyafa-rabat/detail/4832-suite-bedroom#0'; $shURLCacheCreationDate=1607111228; $this->_urlCache['8045f276a16d787c47328123fc2a0318']='index.php?option=com_k2&Itemid=725&id=330&lang=en&view=item#private-morocco-tours-blog/medieval-morocco-an-essential-exhibition#1'; $shURLCacheCreationDate=1607111342; $this->_urlCache['0c5f69344cde19f12c043f330c51c6df']='index.php?option=com_phocagallery&Itemid=838&catid=135&id=2956&lang=en&view=detail#135-villa-des-orangers/detail/2956-restaurant-iv#0'; $shURLCacheCreationDate=1607111350; $this->_urlCache['4a503607b8ce8a21848201fffbe6fa5f']='index.php?option=com_k2&Itemid=725&id=36&lang=en&task=category&view=itemlist#morocco-travel-blog#0'; $this->_urlCache['e14d13b039a442c9c053916ce8e44348']='index.php?option=com_k2&Itemid=725&id=299&lang=en&view=item#morocco-travel-blog/luxury-morocco-tour-5-things-to-do#0'; $this->_urlCache['b98d6c51636d1ae54495d1ab004824f8']='index.php?option=com_k2&Itemid=725&lang=en&tag=dar+ahlam&task=tag&view=itemlist#tag/dar-ahlam#0'; $this->_urlCache['730d9d603a3eea6223c3fd8d10027cbb']='index.php?option=com_k2&Itemid=725&lang=en&tag=azalai+desert+lodge&task=tag&view=itemlist#tag/azalai-desert-lodge#0'; $this->_urlCache['6fa9c22dc91f5c8aeb256d95341d1861']='index.php?option=com_k2&Itemid=725&lang=en&tag=erg+chigaga+luxury+camp&task=tag&view=itemlist#tag/erg-chigaga-luxury-camp#0'; $this->_urlCache['edc529c763881312caffa68c4597f660']='index.php?option=com_k2&Itemid=725&lang=en&tag=hot+air+balloon+flight&task=tag&view=itemlist#tag/hot-air-balloon-flight#0'; $this->_urlCache['651a47cdf50893e901723fb41be89ea4']='index.php?option=com_k2&Itemid=725&lang=en&tag=fes+music+festival&task=tag&view=itemlist#tag/fes-music-festival#0'; $this->_urlCache['369f3329fcfce6762e18c24f0ac0938e']='index.php?option=com_k2&Itemid=725&lang=en&tag=palais+selman&task=tag&view=itemlist#tag/palais-selman#0'; $this->_urlCache['27d1ae234b14c2f0a3f66ab5ac353ebe']='index.php?option=com_k2&Itemid=725&lang=en&tag=marrakech+spa&task=tag&view=itemlist#tag/marrakech-spa#0'; $this->_urlCache['f1cb1a9fa183c28cd71dff3b453523cb']='index.php?option=com_k2&Itemid=725&lang=en&tag=conde+nast+traveler&task=tag&view=itemlist#tag/conde-nast-traveler#0'; $this->_urlCache['c9bd2a746d1984e518c70a10afb34c95']='index.php?option=com_k2&Itemid=725&lang=en&tag=sufi+nights&task=tag&view=itemlist#tag/sufi-nights#0'; $this->_urlCache['c5283fbe43064c08d710f577f0128719']='index.php?option=com_k2&Itemid=725&lang=en&tag=camel+ride&task=tag&view=itemlist#tag/camel-ride#0'; $this->_urlCache['b98c1a5dfd0288529c73da59cc5e84d3']='index.php?option=com_k2&Itemid=725&id=664&lang=en&task=user&view=itemlist#blog/Cristian#0'; $this->_urlCache['2cf2da33ce209a17e1bb807ace4dd440']='index.php?option=com_k2&Itemid=725&id=373&lang=en&view=item#373-holding-the-fort#0'; $this->_urlCache['68c5a93ae806df6dc3122943659bc23f']='index.php?option=com_k2&Itemid=725&id=364&lang=en&view=item#honeymoon-in-morocco#1'; $this->_urlCache['ae2a91044cc8b08f489d688fd000813f']='index.php?option=com_k2&Itemid=725&id=362&lang=en&view=item#cooking-with-the-locals-in-marrakech#1'; $this->_urlCache['429bb4cb63b9b7489d34ce09d153aa19']='index.php?option=com_k2&Itemid=725&id=361&lang=en&view=item#slipper-making-marrakech#1'; $this->_urlCache['5565228d42a86703b26ef0ba107797ed']='index.php?option=com_k2&Itemid=725&id=360&lang=en&view=item#riad-laaroussa-fes/boutique-hotel-of-the-month#1'; $this->_urlCache['ea5d53be1043a9aa6001b335356260ef']='index.php?option=com_k2&Itemid=725&id=323&lang=en&view=item#private-morocco-tours-blog/morocco-luxury-desert-camp-experience#1'; $this->_urlCache['088ef81b0399dadf33825370614a0fea']='index.php?option=com_k2&Itemid=725&id=293&lang=en&view=item#private-morocco-tours-blog/mamounia-day-pass#1'; $this->_urlCache['c4f667a4918b7e23cca86b68ad098c28']='index.php?option=com_k2&Itemid=725&id=35&lang=en&task=category&view=itemlist#suntrails#0'; $this->_urlCache['ddbf7ad557471b1d4beab5bdb03a7851']='index.php?option=com_k2&Itemid=725&id=275&lang=en&view=item#suntrails/morocco-boutique-hotels#0'; $this->_urlCache['d02bea70332e47472a457ecf68249955']='index.php?option=com_k2&Itemid=724&id=31&lang=en&task=category&view=itemlist#private-tours-suntrails#0'; $this->_urlCache['8debb4f1f5bc46ca39fe6e1a1574e323']='index.php?option=com_k2&Itemid=724&id=271&lang=en&view=item#271-desert-and-roses#0'; $this->_urlCache['9fad59ee8099ab6199e0d6ef6dcf41cc']='index.php?option=com_k2&Itemid=725&id=319&lang=en&view=item#private-morocco-tours-blog/casablanca-more-than-a-movie#1'; $this->_urlCache['f61f2348ae10ffec7e79381a2ba420b9']='index.php?option=com_k2&Itemid=725&id=297&lang=en&view=item#private-morocco-tours-blog/moroccan-cooking-class.html#1'; $this->_urlCache['ad1d393172f2e923096f408a44df6358']='index.php?option=com_sppagebuilder&Itemid=784&id=17&lang=en&view=page#private-morocco-tours#0'; $this->_urlCache['b8a56e357af93536dff12206e121376a']='index.php?option=com_k2&Itemid=821&id=294&lang=en&layout=item&view=item#private-morocco-tours/fez-marrakech-erg-chigaga-essaouira-tour.html#1'; $this->_urlCache['1285f92ceb877e9ed0154495fcd90336']='index.php?option=com_k2&Itemid=763&id=267&lang=en&layout=item&view=item#private-morocco-tours/5-day-morocco-tour.html#1'; $this->_urlCache['e1b68f7b31ef3bf64f46aa061c856edf']='index.php?option=com_k2&Itemid=764&id=268&lang=en&layout=item&view=item#private-morocco-tours/Casablanca-Fez-Erg-Chebbi-Marrakech-tour.html#1'; $this->_urlCache['d611e46faf0844bdf23925df2faec350']='index.php?option=com_k2&Itemid=765&id=269&lang=en&layout=item&view=item#private-morocco-tours/Casablanca-Fez-Erg-Chebbi-Essaouira-tour.html#1'; $this->_urlCache['0e74604bd9e9b1df520b644c9380c1e8']='index.php?option=com_k2&Itemid=923&id=347&lang=en&layout=item&view=item#morocco-tour-9-days#1'; $this->_urlCache['9a7e64e2daef178e8ceef9fa97e40d29']='index.php?option=com_k2&Itemid=958&id=349&lang=en&layout=item&view=item#morocco-travel-blog/casablanca-tangier-chefchaouen-meknes-rabat#0'; $this->_urlCache['b1e362b87cab4f0f827a17fa68b9e1e3']='index.php?option=com_k2&Itemid=959&id=300&lang=en&layout=item&view=item#tours/marrakech-atlas-mountains-essaouira-tour#0'; $this->_urlCache['6910dee933fb969f404c225795ab677c']='index.php?option=com_users&Itemid=1014&lang=en&view=login#Log-in/#0'; $this->_urlCache['f94a19c32605add227b43d587f72f73e']='index.php?option=com_k2&Itemid=725&id=36&lang=en&layout=category&task=category&view=itemlist#private-morocco-tours-blog.html#1'; $this->_urlCache['1a3f3698560f5ebfd810faed0b0b339d']='index.php?option=com_phocagallery&Itemid=838&lang=en&view=categories#morocco-travel-experiences#1'; $this->_urlCache['f383b54e3ed715018e9bc2c910ae76ba']='index.php?option=com_k2&Itemid=956&id=358&lang=en&layout=item&view=item#reviews#1'; $this->_urlCache['86dbee9e9851d09471981785588d3abf']='index.php?option=com_k2&Itemid=614&id=284&lang=en&layout=item&view=item#suntrails/links#0'; $this->_urlCache['7cd5d55585f23062663fcf1947da248c']='index.php?option=com_k2&Itemid=615&id=283&lang=en&layout=item&view=item#suntrails/terms-and-conditions#0'; $this->_urlCache['7f36feef91b09e1dc8b4185a9b3b596d']='index.php?option=com_allvideoshare&Itemid=839&lang=en&orderby=default&slg=0&view=category#videos#0'; $this->_urlCache['a9743b4e5738a43476b71e4b8427395a']='index.php?option=com_xmap&Itemid=985&id=2&lang=en&view=html#other/site-map#0'; $shURLCacheCreationDate=1607111409; $this->_urlCache['904c256c24a1e88f4c165d0e8e3c8ed6']='index.php?option=com_phocagallery&Itemid=838&catid=254&id=4981&lang=en&view=detail#254-roulidane-waterfalls/detail/4981-ybbbu#0'; $shURLCacheCreationDate=1607111478; $this->_urlCache['6ab752e77fd479d3ba97d45adc81af30']='index.php?option=com_phocagallery&Itemid=838&catid=106&id=1701&lang=en&view=detail#les-deux-tours/detail/1701-salon-indien-2#1'; $shURLCacheCreationDate=1607111490; $this->_urlCache['98bb23419e64ddb10e6bfa0bde607736']='index.php?option=com_phocagallery&Itemid=838&catid=258&id=5224&lang=en&view=detail#258-plateau-taghazart-4000-metres/detail/5224-plateautafhazart2#0'; $shURLCacheCreationDate=1607111617; $this->_urlCache['4a503607b8ce8a21848201fffbe6fa5f']='index.php?option=com_k2&Itemid=725&id=36&lang=en&task=category&view=itemlist#morocco-travel-blog#0'; $this->_urlCache['b218c58da0dc35bbf5aa9b8757b2409d']='index.php?option=com_k2&Itemid=725&id=37&lang=en&task=category&view=itemlist#morocco-travel-blog/tour-of-the-season#0'; $this->_urlCache['5c282448c4f8fab06634c3f6d1fe9c21']='index.php?option=com_k2&Itemid=725&id=40&lang=en&task=category&view=itemlist#morocco-travel-blog/boutique-hotel-of-the-month#0'; $this->_urlCache['6ae96a53284c1d3e49d2c5baddd8bf80']='index.php?option=com_k2&Itemid=725&format=feed&id=36&lang=en&layout=category&limit=10&task=category&view=itemlist#morocco-travel-blog/feed/Page-1#0'; $this->_urlCache['ad1d393172f2e923096f408a44df6358']='index.php?option=com_sppagebuilder&Itemid=784&id=17&lang=en&view=page#private-morocco-tours#0'; $this->_urlCache['b8a56e357af93536dff12206e121376a']='index.php?option=com_k2&Itemid=821&id=294&lang=en&layout=item&view=item#private-morocco-tours/fez-marrakech-erg-chigaga-essaouira-tour.html#1'; $this->_urlCache['1285f92ceb877e9ed0154495fcd90336']='index.php?option=com_k2&Itemid=763&id=267&lang=en&layout=item&view=item#private-morocco-tours/5-day-morocco-tour.html#1'; $this->_urlCache['e1b68f7b31ef3bf64f46aa061c856edf']='index.php?option=com_k2&Itemid=764&id=268&lang=en&layout=item&view=item#private-morocco-tours/Casablanca-Fez-Erg-Chebbi-Marrakech-tour.html#1'; $this->_urlCache['d611e46faf0844bdf23925df2faec350']='index.php?option=com_k2&Itemid=765&id=269&lang=en&layout=item&view=item#private-morocco-tours/Casablanca-Fez-Erg-Chebbi-Essaouira-tour.html#1'; $this->_urlCache['0e74604bd9e9b1df520b644c9380c1e8']='index.php?option=com_k2&Itemid=923&id=347&lang=en&layout=item&view=item#morocco-tour-9-days#1'; $this->_urlCache['9a7e64e2daef178e8ceef9fa97e40d29']='index.php?option=com_k2&Itemid=958&id=349&lang=en&layout=item&view=item#morocco-travel-blog/casablanca-tangier-chefchaouen-meknes-rabat#0'; $this->_urlCache['b1e362b87cab4f0f827a17fa68b9e1e3']='index.php?option=com_k2&Itemid=959&id=300&lang=en&layout=item&view=item#tours/marrakech-atlas-mountains-essaouira-tour#0'; $this->_urlCache['6910dee933fb969f404c225795ab677c']='index.php?option=com_users&Itemid=1014&lang=en&view=login#Log-in/#0'; $this->_urlCache['f94a19c32605add227b43d587f72f73e']='index.php?option=com_k2&Itemid=725&id=36&lang=en&layout=category&task=category&view=itemlist#private-morocco-tours-blog.html#1'; $this->_urlCache['1a3f3698560f5ebfd810faed0b0b339d']='index.php?option=com_phocagallery&Itemid=838&lang=en&view=categories#morocco-travel-experiences#1'; $this->_urlCache['f383b54e3ed715018e9bc2c910ae76ba']='index.php?option=com_k2&Itemid=956&id=358&lang=en&layout=item&view=item#reviews#1'; $this->_urlCache['86dbee9e9851d09471981785588d3abf']='index.php?option=com_k2&Itemid=614&id=284&lang=en&layout=item&view=item#suntrails/links#0'; $this->_urlCache['7cd5d55585f23062663fcf1947da248c']='index.php?option=com_k2&Itemid=615&id=283&lang=en&layout=item&view=item#suntrails/terms-and-conditions#0'; $this->_urlCache['7f36feef91b09e1dc8b4185a9b3b596d']='index.php?option=com_allvideoshare&Itemid=839&lang=en&orderby=default&slg=0&view=category#videos#0'; $this->_urlCache['a9743b4e5738a43476b71e4b8427395a']='index.php?option=com_xmap&Itemid=985&id=2&lang=en&view=html#other/site-map#0'; $this->_urlCache['95dad6b046fc5aa02f1ebd5aa4a23cf3']='index.php?option=com_k2&Itemid=809&id=289&lang=en&layout=item&view=item#suntrails/message-sent#0'; $this->_urlCache['2cf2da33ce209a17e1bb807ace4dd440']='index.php?option=com_k2&Itemid=725&id=373&lang=en&view=item#373-holding-the-fort#0'; $this->_urlCache['b98c1a5dfd0288529c73da59cc5e84d3']='index.php?option=com_k2&Itemid=725&id=664&lang=en&task=user&view=itemlist#blog/Cristian#0'; $this->_urlCache['68c5a93ae806df6dc3122943659bc23f']='index.php?option=com_k2&Itemid=725&id=364&lang=en&view=item#honeymoon-in-morocco#1'; $this->_urlCache['ae2a91044cc8b08f489d688fd000813f']='index.php?option=com_k2&Itemid=725&id=362&lang=en&view=item#cooking-with-the-locals-in-marrakech#1'; $this->_urlCache['1b21d36a0b54da7bfed30bc9ab385790']='index.php?option=com_k2&Itemid=725&format=feed&lang=en&moduleID=765&view=itemlist#feed/Recent-Posts/feed#0'; $this->_urlCache['2fffedd0579549fbcbb93b82a473ca1a']='index.php?option=com_k2&Itemid=725&id=290&lang=en&view=item#morocco-best-time-to-visit.html#1'; $this->_urlCache['223be574151996c46d1fc84a319ee408']='index.php?option=com_k2&Itemid=725&lang=en&tag=morocco+holidays&task=tag&view=itemlist#tag/morocco-holidays#0'; $this->_urlCache['799619bf85256757c76123dd1331735b']='index.php?option=com_k2&Itemid=725&lang=en&tag=weather+in+morocco&task=tag&view=itemlist#tag/weather-in-morocco#0'; $this->_urlCache['28478d83349cf5e523e75f7e5e723d6e']='index.php?option=com_k2&Itemid=725&lang=en&tag=ramadan+in+morocco&task=tag&view=itemlist#tag/ramadan-in-morocco#0'; $this->_urlCache['cb11c2b1aa1871068f0bb0a1e953983a']='index.php?option=com_k2&Itemid=725&id=292&lang=en&view=item#private-morocco-tours-blog/boutique-hotel-of-the-month/azalai-desert-lodge-zagora.html#1'; $this->_urlCache['80946b65ee90c4667ba3c800652f8401']='index.php?option=com_k2&Itemid=725&lang=en&tag=sahara+desert&task=tag&view=itemlist#tag/sahara-desert#0'; $this->_urlCache['b46a918e22c6826f566073c4ffa4388a']='index.php?option=com_k2&Itemid=725&lang=en&tag=luxury+desert+camp&task=tag&view=itemlist#tag/luxury-desert-camp#0'; $this->_urlCache['838dfb36656957f9c333da103f18dbec']='index.php?option=com_k2&Itemid=725&lang=en&tag=zagora+boutique+hotel&task=tag&view=itemlist#tag/zagora-boutique-hotel#0'; $this->_urlCache['b569993b56698c1e36339912985a9c55']='index.php?option=com_k2&Itemid=725&lang=en&tag=erg+chigaga&task=tag&view=itemlist#tag/erg-chigaga#0'; $this->_urlCache['088ef81b0399dadf33825370614a0fea']='index.php?option=com_k2&Itemid=725&id=293&lang=en&view=item#private-morocco-tours-blog/mamounia-day-pass#1'; $this->_urlCache['5f3537cc6bce4c08ae5cc6509a72d062']='index.php?option=com_k2&Itemid=725&lang=en&tag=mamounia+day+pass&task=tag&view=itemlist#tag/mamounia-day-pass#0'; $this->_urlCache['27d1ae234b14c2f0a3f66ab5ac353ebe']='index.php?option=com_k2&Itemid=725&lang=en&tag=marrakech+spa&task=tag&view=itemlist#tag/marrakech-spa#0'; $this->_urlCache['c2b26072adc3e41ff0c9eac81a48fdba']='index.php?option=com_k2&Itemid=725&format=feed&lang=en&moduleID=766&view=itemlist#feed/Most-read-posts/feed#0'; $shURLCacheCreationDate=1607111657; $this->_urlCache['e80334ae8a8ec986161fd5842a2f33ba']='index.php?option=com_phocagallery&Itemid=838&catid=116&id=1978&lang=en&view=detail#riad-la-parenthese/detail/1978-riad-la-parenthese23#1'; $this->_urlCache['ad1d393172f2e923096f408a44df6358']='index.php?option=com_sppagebuilder&Itemid=784&id=17&lang=en&view=page#private-morocco-tours#0'; $this->_urlCache['b8a56e357af93536dff12206e121376a']='index.php?option=com_k2&Itemid=821&id=294&lang=en&layout=item&view=item#private-morocco-tours/fez-marrakech-erg-chigaga-essaouira-tour.html#1'; $this->_urlCache['1285f92ceb877e9ed0154495fcd90336']='index.php?option=com_k2&Itemid=763&id=267&lang=en&layout=item&view=item#private-morocco-tours/5-day-morocco-tour.html#1'; $this->_urlCache['e1b68f7b31ef3bf64f46aa061c856edf']='index.php?option=com_k2&Itemid=764&id=268&lang=en&layout=item&view=item#private-morocco-tours/Casablanca-Fez-Erg-Chebbi-Marrakech-tour.html#1'; $this->_urlCache['d611e46faf0844bdf23925df2faec350']='index.php?option=com_k2&Itemid=765&id=269&lang=en&layout=item&view=item#private-morocco-tours/Casablanca-Fez-Erg-Chebbi-Essaouira-tour.html#1'; $this->_urlCache['0e74604bd9e9b1df520b644c9380c1e8']='index.php?option=com_k2&Itemid=923&id=347&lang=en&layout=item&view=item#morocco-tour-9-days#1'; $this->_urlCache['9a7e64e2daef178e8ceef9fa97e40d29']='index.php?option=com_k2&Itemid=958&id=349&lang=en&layout=item&view=item#morocco-travel-blog/casablanca-tangier-chefchaouen-meknes-rabat#0'; $this->_urlCache['b1e362b87cab4f0f827a17fa68b9e1e3']='index.php?option=com_k2&Itemid=959&id=300&lang=en&layout=item&view=item#tours/marrakech-atlas-mountains-essaouira-tour#0'; $this->_urlCache['6910dee933fb969f404c225795ab677c']='index.php?option=com_users&Itemid=1014&lang=en&view=login#Log-in/#0'; $this->_urlCache['f94a19c32605add227b43d587f72f73e']='index.php?option=com_k2&Itemid=725&id=36&lang=en&layout=category&task=category&view=itemlist#private-morocco-tours-blog.html#1'; $this->_urlCache['1a3f3698560f5ebfd810faed0b0b339d']='index.php?option=com_phocagallery&Itemid=838&lang=en&view=categories#morocco-travel-experiences#1'; $this->_urlCache['f383b54e3ed715018e9bc2c910ae76ba']='index.php?option=com_k2&Itemid=956&id=358&lang=en&layout=item&view=item#reviews#1'; $this->_urlCache['86dbee9e9851d09471981785588d3abf']='index.php?option=com_k2&Itemid=614&id=284&lang=en&layout=item&view=item#suntrails/links#0'; $this->_urlCache['7cd5d55585f23062663fcf1947da248c']='index.php?option=com_k2&Itemid=615&id=283&lang=en&layout=item&view=item#suntrails/terms-and-conditions#0'; $this->_urlCache['7f36feef91b09e1dc8b4185a9b3b596d']='index.php?option=com_allvideoshare&Itemid=839&lang=en&orderby=default&slg=0&view=category#videos#0'; $this->_urlCache['a9743b4e5738a43476b71e4b8427395a']='index.php?option=com_xmap&Itemid=985&id=2&lang=en&view=html#other/site-map#0'; $shURLCacheCreationDate=1607111741; $this->_urlCache['eb7f5fd35634292eb7a6b5cc2bb81170']='index.php?option=com_k2&Itemid=725&format=feed&lang=en&tag=CASABLANCA&task=tag&view=itemlist#tag/CASABLANCA/feed/atom#0'; $this->_urlCache['ad1d393172f2e923096f408a44df6358']='index.php?option=com_sppagebuilder&Itemid=784&id=17&lang=en&view=page#private-morocco-tours#0'; $this->_urlCache['b8a56e357af93536dff12206e121376a']='index.php?option=com_k2&Itemid=821&id=294&lang=en&layout=item&view=item#private-morocco-tours/fez-marrakech-erg-chigaga-essaouira-tour.html#1'; $this->_urlCache['1285f92ceb877e9ed0154495fcd90336']='index.php?option=com_k2&Itemid=763&id=267&lang=en&layout=item&view=item#private-morocco-tours/5-day-morocco-tour.html#1'; $this->_urlCache['e1b68f7b31ef3bf64f46aa061c856edf']='index.php?option=com_k2&Itemid=764&id=268&lang=en&layout=item&view=item#private-morocco-tours/Casablanca-Fez-Erg-Chebbi-Marrakech-tour.html#1'; $this->_urlCache['d611e46faf0844bdf23925df2faec350']='index.php?option=com_k2&Itemid=765&id=269&lang=en&layout=item&view=item#private-morocco-tours/Casablanca-Fez-Erg-Chebbi-Essaouira-tour.html#1'; $this->_urlCache['0e74604bd9e9b1df520b644c9380c1e8']='index.php?option=com_k2&Itemid=923&id=347&lang=en&layout=item&view=item#morocco-tour-9-days#1'; $this->_urlCache['9a7e64e2daef178e8ceef9fa97e40d29']='index.php?option=com_k2&Itemid=958&id=349&lang=en&layout=item&view=item#morocco-travel-blog/casablanca-tangier-chefchaouen-meknes-rabat#0'; $this->_urlCache['b1e362b87cab4f0f827a17fa68b9e1e3']='index.php?option=com_k2&Itemid=959&id=300&lang=en&layout=item&view=item#tours/marrakech-atlas-mountains-essaouira-tour#0'; $this->_urlCache['6910dee933fb969f404c225795ab677c']='index.php?option=com_users&Itemid=1014&lang=en&view=login#Log-in/#0'; $this->_urlCache['f94a19c32605add227b43d587f72f73e']='index.php?option=com_k2&Itemid=725&id=36&lang=en&layout=category&task=category&view=itemlist#private-morocco-tours-blog.html#1'; $this->_urlCache['1a3f3698560f5ebfd810faed0b0b339d']='index.php?option=com_phocagallery&Itemid=838&lang=en&view=categories#morocco-travel-experiences#1'; $this->_urlCache['f383b54e3ed715018e9bc2c910ae76ba']='index.php?option=com_k2&Itemid=956&id=358&lang=en&layout=item&view=item#reviews#1'; $this->_urlCache['86dbee9e9851d09471981785588d3abf']='index.php?option=com_k2&Itemid=614&id=284&lang=en&layout=item&view=item#suntrails/links#0'; $this->_urlCache['7cd5d55585f23062663fcf1947da248c']='index.php?option=com_k2&Itemid=615&id=283&lang=en&layout=item&view=item#suntrails/terms-and-conditions#0'; $this->_urlCache['7f36feef91b09e1dc8b4185a9b3b596d']='index.php?option=com_allvideoshare&Itemid=839&lang=en&orderby=default&slg=0&view=category#videos#0'; $this->_urlCache['a9743b4e5738a43476b71e4b8427395a']='index.php?option=com_xmap&Itemid=985&id=2&lang=en&view=html#other/site-map#0'; $this->_urlCache['37ddc897094b3883c4d658ac2d888f5f']='index.php?option=com_k2&Itemid=725&lang=en&tag=CASABLANCA&task=tag&view=itemlist#tag/CASABLANCA#0'; $shURLCacheCreationDate=1607111762; $this->_urlCache['ad1d393172f2e923096f408a44df6358']='index.php?option=com_sppagebuilder&Itemid=784&id=17&lang=en&view=page#private-morocco-tours#0'; $this->_urlCache['b8a56e357af93536dff12206e121376a']='index.php?option=com_k2&Itemid=821&id=294&lang=en&layout=item&view=item#private-morocco-tours/fez-marrakech-erg-chigaga-essaouira-tour.html#1'; $this->_urlCache['1285f92ceb877e9ed0154495fcd90336']='index.php?option=com_k2&Itemid=763&id=267&lang=en&layout=item&view=item#private-morocco-tours/5-day-morocco-tour.html#1'; $this->_urlCache['e1b68f7b31ef3bf64f46aa061c856edf']='index.php?option=com_k2&Itemid=764&id=268&lang=en&layout=item&view=item#private-morocco-tours/Casablanca-Fez-Erg-Chebbi-Marrakech-tour.html#1'; $this->_urlCache['d611e46faf0844bdf23925df2faec350']='index.php?option=com_k2&Itemid=765&id=269&lang=en&layout=item&view=item#private-morocco-tours/Casablanca-Fez-Erg-Chebbi-Essaouira-tour.html#1'; $this->_urlCache['0e74604bd9e9b1df520b644c9380c1e8']='index.php?option=com_k2&Itemid=923&id=347&lang=en&layout=item&view=item#morocco-tour-9-days#1'; $this->_urlCache['9a7e64e2daef178e8ceef9fa97e40d29']='index.php?option=com_k2&Itemid=958&id=349&lang=en&layout=item&view=item#morocco-travel-blog/casablanca-tangier-chefchaouen-meknes-rabat#0'; $this->_urlCache['b1e362b87cab4f0f827a17fa68b9e1e3']='index.php?option=com_k2&Itemid=959&id=300&lang=en&layout=item&view=item#tours/marrakech-atlas-mountains-essaouira-tour#0'; $this->_urlCache['6910dee933fb969f404c225795ab677c']='index.php?option=com_users&Itemid=1014&lang=en&view=login#Log-in/#0'; $this->_urlCache['f94a19c32605add227b43d587f72f73e']='index.php?option=com_k2&Itemid=725&id=36&lang=en&layout=category&task=category&view=itemlist#private-morocco-tours-blog.html#1'; $this->_urlCache['1a3f3698560f5ebfd810faed0b0b339d']='index.php?option=com_phocagallery&Itemid=838&lang=en&view=categories#morocco-travel-experiences#1'; $this->_urlCache['f383b54e3ed715018e9bc2c910ae76ba']='index.php?option=com_k2&Itemid=956&id=358&lang=en&layout=item&view=item#reviews#1'; $this->_urlCache['86dbee9e9851d09471981785588d3abf']='index.php?option=com_k2&Itemid=614&id=284&lang=en&layout=item&view=item#suntrails/links#0'; $this->_urlCache['7cd5d55585f23062663fcf1947da248c']='index.php?option=com_k2&Itemid=615&id=283&lang=en&layout=item&view=item#suntrails/terms-and-conditions#0'; $this->_urlCache['7f36feef91b09e1dc8b4185a9b3b596d']='index.php?option=com_allvideoshare&Itemid=839&lang=en&orderby=default&slg=0&view=category#videos#0'; $this->_urlCache['a9743b4e5738a43476b71e4b8427395a']='index.php?option=com_xmap&Itemid=985&id=2&lang=en&view=html#other/site-map#0'; $shURLCacheCreationDate=1607112003; $this->_urlCache['075cfc116f1ccb1cf08c774abb17b915']='index.php?option=com_phocagallery&Itemid=838&catid=246&id=4833&lang=en&view=detail#246-villa-diyafa-rabat/detail/4833-suite-dining-corner#0'; $shURLCacheCreationDate=1607112009; $this->_urlCache['4a503607b8ce8a21848201fffbe6fa5f']='index.php?option=com_k2&Itemid=725&id=36&lang=en&task=category&view=itemlist#morocco-travel-blog#0'; $this->_urlCache['b9c47355c7a90a5f94ce9477364b2740']='index.php?option=com_k2&Itemid=725&id=296&lang=en&view=item#private-morocco-tours-blog/kasbah-tamadot-lunch-and-more.html#1'; $this->_urlCache['b1a3f1910d5f7d9a602745054f123c59']='index.php?option=com_k2&Itemid=725&lang=en&tag=lunch+at+kasbah+tamadot&task=tag&view=itemlist#tag/lunch-at-kasbah-tamadot#0'; $this->_urlCache['f5240ec5f0e3583f38c984a2b393732e']='index.php?option=com_k2&Itemid=725&lang=en&tag=atlas+mountains+day+trip&task=tag&view=itemlist#tag/atlas-mountains-day-trip#0'; $this->_urlCache['b98c1a5dfd0288529c73da59cc5e84d3']='index.php?option=com_k2&Itemid=725&id=664&lang=en&task=user&view=itemlist#blog/Cristian#0'; $this->_urlCache['bb03a5630fca3f3ae7ab1ddfaf0af1a7']='index.php?option=com_k2&Itemid=725&id=282&lang=en&view=item#day-morocco-tour-marrakech-to-fez.html#1'; $this->_urlCache['9fad59ee8099ab6199e0d6ef6dcf41cc']='index.php?option=com_k2&Itemid=725&id=319&lang=en&view=item#private-morocco-tours-blog/casablanca-more-than-a-movie#1'; $this->_urlCache['ae2a91044cc8b08f489d688fd000813f']='index.php?option=com_k2&Itemid=725&id=362&lang=en&view=item#cooking-with-the-locals-in-marrakech#1'; $this->_urlCache['587417d269f322318d801f0a0c26325f']='index.php?option=com_k2&Itemid=725&id=287&lang=en&view=item#morocco-travel-blog/a-bitter-love#0'; $this->_urlCache['ad1d393172f2e923096f408a44df6358']='index.php?option=com_sppagebuilder&Itemid=784&id=17&lang=en&view=page#private-morocco-tours#0'; $this->_urlCache['b8a56e357af93536dff12206e121376a']='index.php?option=com_k2&Itemid=821&id=294&lang=en&layout=item&view=item#private-morocco-tours/fez-marrakech-erg-chigaga-essaouira-tour.html#1'; $this->_urlCache['1285f92ceb877e9ed0154495fcd90336']='index.php?option=com_k2&Itemid=763&id=267&lang=en&layout=item&view=item#private-morocco-tours/5-day-morocco-tour.html#1'; $this->_urlCache['e1b68f7b31ef3bf64f46aa061c856edf']='index.php?option=com_k2&Itemid=764&id=268&lang=en&layout=item&view=item#private-morocco-tours/Casablanca-Fez-Erg-Chebbi-Marrakech-tour.html#1'; $this->_urlCache['d611e46faf0844bdf23925df2faec350']='index.php?option=com_k2&Itemid=765&id=269&lang=en&layout=item&view=item#private-morocco-tours/Casablanca-Fez-Erg-Chebbi-Essaouira-tour.html#1'; $this->_urlCache['0e74604bd9e9b1df520b644c9380c1e8']='index.php?option=com_k2&Itemid=923&id=347&lang=en&layout=item&view=item#morocco-tour-9-days#1'; $this->_urlCache['9a7e64e2daef178e8ceef9fa97e40d29']='index.php?option=com_k2&Itemid=958&id=349&lang=en&layout=item&view=item#morocco-travel-blog/casablanca-tangier-chefchaouen-meknes-rabat#0'; $this->_urlCache['b1e362b87cab4f0f827a17fa68b9e1e3']='index.php?option=com_k2&Itemid=959&id=300&lang=en&layout=item&view=item#tours/marrakech-atlas-mountains-essaouira-tour#0'; $this->_urlCache['6910dee933fb969f404c225795ab677c']='index.php?option=com_users&Itemid=1014&lang=en&view=login#Log-in/#0'; $this->_urlCache['f94a19c32605add227b43d587f72f73e']='index.php?option=com_k2&Itemid=725&id=36&lang=en&layout=category&task=category&view=itemlist#private-morocco-tours-blog.html#1'; $this->_urlCache['1a3f3698560f5ebfd810faed0b0b339d']='index.php?option=com_phocagallery&Itemid=838&lang=en&view=categories#morocco-travel-experiences#1'; $this->_urlCache['f383b54e3ed715018e9bc2c910ae76ba']='index.php?option=com_k2&Itemid=956&id=358&lang=en&layout=item&view=item#reviews#1'; $this->_urlCache['86dbee9e9851d09471981785588d3abf']='index.php?option=com_k2&Itemid=614&id=284&lang=en&layout=item&view=item#suntrails/links#0'; $this->_urlCache['7cd5d55585f23062663fcf1947da248c']='index.php?option=com_k2&Itemid=615&id=283&lang=en&layout=item&view=item#suntrails/terms-and-conditions#0'; $this->_urlCache['7f36feef91b09e1dc8b4185a9b3b596d']='index.php?option=com_allvideoshare&Itemid=839&lang=en&orderby=default&slg=0&view=category#videos#0'; $this->_urlCache['a9743b4e5738a43476b71e4b8427395a']='index.php?option=com_xmap&Itemid=985&id=2&lang=en&view=html#other/site-map#0'; $shURLCacheCreationDate=1607110894; $this->_urlCache['81cd64ead34713a67ea4d64d0dc30aee']='index.php?option=com_phocagallery&Itemid=838&catid=124&id=2089&lang=en&view=detail#erg-chigaga-luxury-camp/detail/2089-dpp-292242#1'; $shURLCacheCreationDate=1607110947; $this->_urlCache['f55e66a2c62e29f5cd8dc23edb2d2605']='index.php?option=com_k2&Itemid=725&format=feed&lang=en&tag=conde+nast+traveler&task=tag&view=itemlist#tag/conde-nast-traveler/feed/atom#0'; $this->_urlCache['ad1d393172f2e923096f408a44df6358']='index.php?option=com_sppagebuilder&Itemid=784&id=17&lang=en&view=page#private-morocco-tours#0'; $this->_urlCache['b8a56e357af93536dff12206e121376a']='index.php?option=com_k2&Itemid=821&id=294&lang=en&layout=item&view=item#private-morocco-tours/fez-marrakech-erg-chigaga-essaouira-tour.html#1'; $this->_urlCache['1285f92ceb877e9ed0154495fcd90336']='index.php?option=com_k2&Itemid=763&id=267&lang=en&layout=item&view=item#private-morocco-tours/5-day-morocco-tour.html#1'; $this->_urlCache['e1b68f7b31ef3bf64f46aa061c856edf']='index.php?option=com_k2&Itemid=764&id=268&lang=en&layout=item&view=item#private-morocco-tours/Casablanca-Fez-Erg-Chebbi-Marrakech-tour.html#1'; $this->_urlCache['d611e46faf0844bdf23925df2faec350']='index.php?option=com_k2&Itemid=765&id=269&lang=en&layout=item&view=item#private-morocco-tours/Casablanca-Fez-Erg-Chebbi-Essaouira-tour.html#1'; $this->_urlCache['0e74604bd9e9b1df520b644c9380c1e8']='index.php?option=com_k2&Itemid=923&id=347&lang=en&layout=item&view=item#morocco-tour-9-days#1'; $this->_urlCache['9a7e64e2daef178e8ceef9fa97e40d29']='index.php?option=com_k2&Itemid=958&id=349&lang=en&layout=item&view=item#morocco-travel-blog/casablanca-tangier-chefchaouen-meknes-rabat#0'; $this->_urlCache['b1e362b87cab4f0f827a17fa68b9e1e3']='index.php?option=com_k2&Itemid=959&id=300&lang=en&layout=item&view=item#tours/marrakech-atlas-mountains-essaouira-tour#0'; $this->_urlCache['6910dee933fb969f404c225795ab677c']='index.php?option=com_users&Itemid=1014&lang=en&view=login#Log-in/#0'; $this->_urlCache['f94a19c32605add227b43d587f72f73e']='index.php?option=com_k2&Itemid=725&id=36&lang=en&layout=category&task=category&view=itemlist#private-morocco-tours-blog.html#1'; $this->_urlCache['1a3f3698560f5ebfd810faed0b0b339d']='index.php?option=com_phocagallery&Itemid=838&lang=en&view=categories#morocco-travel-experiences#1'; $this->_urlCache['f383b54e3ed715018e9bc2c910ae76ba']='index.php?option=com_k2&Itemid=956&id=358&lang=en&layout=item&view=item#reviews#1'; $this->_urlCache['86dbee9e9851d09471981785588d3abf']='index.php?option=com_k2&Itemid=614&id=284&lang=en&layout=item&view=item#suntrails/links#0'; $this->_urlCache['7cd5d55585f23062663fcf1947da248c']='index.php?option=com_k2&Itemid=615&id=283&lang=en&layout=item&view=item#suntrails/terms-and-conditions#0'; $this->_urlCache['7f36feef91b09e1dc8b4185a9b3b596d']='index.php?option=com_allvideoshare&Itemid=839&lang=en&orderby=default&slg=0&view=category#videos#0'; $this->_urlCache['a9743b4e5738a43476b71e4b8427395a']='index.php?option=com_xmap&Itemid=985&id=2&lang=en&view=html#other/site-map#0'; $this->_urlCache['f1cb1a9fa183c28cd71dff3b453523cb']='index.php?option=com_k2&Itemid=725&lang=en&tag=conde+nast+traveler&task=tag&view=itemlist#tag/conde-nast-traveler#0'; $shURLCacheCreationDate=1607111023; $this->_urlCache['f89b0e21d4a8f19b629817a49467a101']='index.php?option=com_phocagallery&Itemid=838&catid=246&id=4832&lang=en&view=detail#246-villa-diyafa-rabat/detail/4832-suite-bedroom#0'; $shURLCacheCreationDate=1607111228; $this->_urlCache['8045f276a16d787c47328123fc2a0318']='index.php?option=com_k2&Itemid=725&id=330&lang=en&view=item#private-morocco-tours-blog/medieval-morocco-an-essential-exhibition#1'; $shURLCacheCreationDate=1607111342; $this->_urlCache['0c5f69344cde19f12c043f330c51c6df']='index.php?option=com_phocagallery&Itemid=838&catid=135&id=2956&lang=en&view=detail#135-villa-des-orangers/detail/2956-restaurant-iv#0'; $shURLCacheCreationDate=1607111350; $this->_urlCache['4a503607b8ce8a21848201fffbe6fa5f']='index.php?option=com_k2&Itemid=725&id=36&lang=en&task=category&view=itemlist#morocco-travel-blog#0'; $this->_urlCache['e14d13b039a442c9c053916ce8e44348']='index.php?option=com_k2&Itemid=725&id=299&lang=en&view=item#morocco-travel-blog/luxury-morocco-tour-5-things-to-do#0'; $this->_urlCache['b98d6c51636d1ae54495d1ab004824f8']='index.php?option=com_k2&Itemid=725&lang=en&tag=dar+ahlam&task=tag&view=itemlist#tag/dar-ahlam#0'; $this->_urlCache['730d9d603a3eea6223c3fd8d10027cbb']='index.php?option=com_k2&Itemid=725&lang=en&tag=azalai+desert+lodge&task=tag&view=itemlist#tag/azalai-desert-lodge#0'; $this->_urlCache['6fa9c22dc91f5c8aeb256d95341d1861']='index.php?option=com_k2&Itemid=725&lang=en&tag=erg+chigaga+luxury+camp&task=tag&view=itemlist#tag/erg-chigaga-luxury-camp#0'; $this->_urlCache['edc529c763881312caffa68c4597f660']='index.php?option=com_k2&Itemid=725&lang=en&tag=hot+air+balloon+flight&task=tag&view=itemlist#tag/hot-air-balloon-flight#0'; $this->_urlCache['651a47cdf50893e901723fb41be89ea4']='index.php?option=com_k2&Itemid=725&lang=en&tag=fes+music+festival&task=tag&view=itemlist#tag/fes-music-festival#0'; $this->_urlCache['369f3329fcfce6762e18c24f0ac0938e']='index.php?option=com_k2&Itemid=725&lang=en&tag=palais+selman&task=tag&view=itemlist#tag/palais-selman#0'; $this->_urlCache['27d1ae234b14c2f0a3f66ab5ac353ebe']='index.php?option=com_k2&Itemid=725&lang=en&tag=marrakech+spa&task=tag&view=itemlist#tag/marrakech-spa#0'; $this->_urlCache['f1cb1a9fa183c28cd71dff3b453523cb']='index.php?option=com_k2&Itemid=725&lang=en&tag=conde+nast+traveler&task=tag&view=itemlist#tag/conde-nast-traveler#0'; $this->_urlCache['c9bd2a746d1984e518c70a10afb34c95']='index.php?option=com_k2&Itemid=725&lang=en&tag=sufi+nights&task=tag&view=itemlist#tag/sufi-nights#0'; $this->_urlCache['c5283fbe43064c08d710f577f0128719']='index.php?option=com_k2&Itemid=725&lang=en&tag=camel+ride&task=tag&view=itemlist#tag/camel-ride#0'; $this->_urlCache['b98c1a5dfd0288529c73da59cc5e84d3']='index.php?option=com_k2&Itemid=725&id=664&lang=en&task=user&view=itemlist#blog/Cristian#0'; $this->_urlCache['2cf2da33ce209a17e1bb807ace4dd440']='index.php?option=com_k2&Itemid=725&id=373&lang=en&view=item#373-holding-the-fort#0'; $this->_urlCache['68c5a93ae806df6dc3122943659bc23f']='index.php?option=com_k2&Itemid=725&id=364&lang=en&view=item#honeymoon-in-morocco#1'; $this->_urlCache['ae2a91044cc8b08f489d688fd000813f']='index.php?option=com_k2&Itemid=725&id=362&lang=en&view=item#cooking-with-the-locals-in-marrakech#1'; $this->_urlCache['429bb4cb63b9b7489d34ce09d153aa19']='index.php?option=com_k2&Itemid=725&id=361&lang=en&view=item#slipper-making-marrakech#1'; $this->_urlCache['5565228d42a86703b26ef0ba107797ed']='index.php?option=com_k2&Itemid=725&id=360&lang=en&view=item#riad-laaroussa-fes/boutique-hotel-of-the-month#1'; $this->_urlCache['ea5d53be1043a9aa6001b335356260ef']='index.php?option=com_k2&Itemid=725&id=323&lang=en&view=item#private-morocco-tours-blog/morocco-luxury-desert-camp-experience#1'; $this->_urlCache['088ef81b0399dadf33825370614a0fea']='index.php?option=com_k2&Itemid=725&id=293&lang=en&view=item#private-morocco-tours-blog/mamounia-day-pass#1'; $this->_urlCache['c4f667a4918b7e23cca86b68ad098c28']='index.php?option=com_k2&Itemid=725&id=35&lang=en&task=category&view=itemlist#suntrails#0'; $this->_urlCache['ddbf7ad557471b1d4beab5bdb03a7851']='index.php?option=com_k2&Itemid=725&id=275&lang=en&view=item#suntrails/morocco-boutique-hotels#0'; $this->_urlCache['d02bea70332e47472a457ecf68249955']='index.php?option=com_k2&Itemid=724&id=31&lang=en&task=category&view=itemlist#private-tours-suntrails#0'; $this->_urlCache['8debb4f1f5bc46ca39fe6e1a1574e323']='index.php?option=com_k2&Itemid=724&id=271&lang=en&view=item#271-desert-and-roses#0'; $this->_urlCache['9fad59ee8099ab6199e0d6ef6dcf41cc']='index.php?option=com_k2&Itemid=725&id=319&lang=en&view=item#private-morocco-tours-blog/casablanca-more-than-a-movie#1'; $this->_urlCache['f61f2348ae10ffec7e79381a2ba420b9']='index.php?option=com_k2&Itemid=725&id=297&lang=en&view=item#private-morocco-tours-blog/moroccan-cooking-class.html#1'; $this->_urlCache['ad1d393172f2e923096f408a44df6358']='index.php?option=com_sppagebuilder&Itemid=784&id=17&lang=en&view=page#private-morocco-tours#0'; $this->_urlCache['b8a56e357af93536dff12206e121376a']='index.php?option=com_k2&Itemid=821&id=294&lang=en&layout=item&view=item#private-morocco-tours/fez-marrakech-erg-chigaga-essaouira-tour.html#1'; $this->_urlCache['1285f92ceb877e9ed0154495fcd90336']='index.php?option=com_k2&Itemid=763&id=267&lang=en&layout=item&view=item#private-morocco-tours/5-day-morocco-tour.html#1'; $this->_urlCache['e1b68f7b31ef3bf64f46aa061c856edf']='index.php?option=com_k2&Itemid=764&id=268&lang=en&layout=item&view=item#private-morocco-tours/Casablanca-Fez-Erg-Chebbi-Marrakech-tour.html#1'; $this->_urlCache['d611e46faf0844bdf23925df2faec350']='index.php?option=com_k2&Itemid=765&id=269&lang=en&layout=item&view=item#private-morocco-tours/Casablanca-Fez-Erg-Chebbi-Essaouira-tour.html#1'; $this->_urlCache['0e74604bd9e9b1df520b644c9380c1e8']='index.php?option=com_k2&Itemid=923&id=347&lang=en&layout=item&view=item#morocco-tour-9-days#1'; $this->_urlCache['9a7e64e2daef178e8ceef9fa97e40d29']='index.php?option=com_k2&Itemid=958&id=349&lang=en&layout=item&view=item#morocco-travel-blog/casablanca-tangier-chefchaouen-meknes-rabat#0'; $this->_urlCache['b1e362b87cab4f0f827a17fa68b9e1e3']='index.php?option=com_k2&Itemid=959&id=300&lang=en&layout=item&view=item#tours/marrakech-atlas-mountains-essaouira-tour#0'; $this->_urlCache['6910dee933fb969f404c225795ab677c']='index.php?option=com_users&Itemid=1014&lang=en&view=login#Log-in/#0'; $this->_urlCache['f94a19c32605add227b43d587f72f73e']='index.php?option=com_k2&Itemid=725&id=36&lang=en&layout=category&task=category&view=itemlist#private-morocco-tours-blog.html#1'; $this->_urlCache['1a3f3698560f5ebfd810faed0b0b339d']='index.php?option=com_phocagallery&Itemid=838&lang=en&view=categories#morocco-travel-experiences#1'; $this->_urlCache['f383b54e3ed715018e9bc2c910ae76ba']='index.php?option=com_k2&Itemid=956&id=358&lang=en&layout=item&view=item#reviews#1'; $this->_urlCache['86dbee9e9851d09471981785588d3abf']='index.php?option=com_k2&Itemid=614&id=284&lang=en&layout=item&view=item#suntrails/links#0'; $this->_urlCache['7cd5d55585f23062663fcf1947da248c']='index.php?option=com_k2&Itemid=615&id=283&lang=en&layout=item&view=item#suntrails/terms-and-conditions#0'; $this->_urlCache['7f36feef91b09e1dc8b4185a9b3b596d']='index.php?option=com_allvideoshare&Itemid=839&lang=en&orderby=default&slg=0&view=category#videos#0'; $this->_urlCache['a9743b4e5738a43476b71e4b8427395a']='index.php?option=com_xmap&Itemid=985&id=2&lang=en&view=html#other/site-map#0'; $shURLCacheCreationDate=1607111409; $this->_urlCache['904c256c24a1e88f4c165d0e8e3c8ed6']='index.php?option=com_phocagallery&Itemid=838&catid=254&id=4981&lang=en&view=detail#254-roulidane-waterfalls/detail/4981-ybbbu#0'; $shURLCacheCreationDate=1607111478; $this->_urlCache['6ab752e77fd479d3ba97d45adc81af30']='index.php?option=com_phocagallery&Itemid=838&catid=106&id=1701&lang=en&view=detail#les-deux-tours/detail/1701-salon-indien-2#1'; $shURLCacheCreationDate=1607111490; $this->_urlCache['98bb23419e64ddb10e6bfa0bde607736']='index.php?option=com_phocagallery&Itemid=838&catid=258&id=5224&lang=en&view=detail#258-plateau-taghazart-4000-metres/detail/5224-plateautafhazart2#0'; $shURLCacheCreationDate=1607111617; $this->_urlCache['4a503607b8ce8a21848201fffbe6fa5f']='index.php?option=com_k2&Itemid=725&id=36&lang=en&task=category&view=itemlist#morocco-travel-blog#0'; $this->_urlCache['b218c58da0dc35bbf5aa9b8757b2409d']='index.php?option=com_k2&Itemid=725&id=37&lang=en&task=category&view=itemlist#morocco-travel-blog/tour-of-the-season#0'; $this->_urlCache['5c282448c4f8fab06634c3f6d1fe9c21']='index.php?option=com_k2&Itemid=725&id=40&lang=en&task=category&view=itemlist#morocco-travel-blog/boutique-hotel-of-the-month#0'; $this->_urlCache['6ae96a53284c1d3e49d2c5baddd8bf80']='index.php?option=com_k2&Itemid=725&format=feed&id=36&lang=en&layout=category&limit=10&task=category&view=itemlist#morocco-travel-blog/feed/Page-1#0'; $this->_urlCache['ad1d393172f2e923096f408a44df6358']='index.php?option=com_sppagebuilder&Itemid=784&id=17&lang=en&view=page#private-morocco-tours#0'; $this->_urlCache['b8a56e357af93536dff12206e121376a']='index.php?option=com_k2&Itemid=821&id=294&lang=en&layout=item&view=item#private-morocco-tours/fez-marrakech-erg-chigaga-essaouira-tour.html#1'; $this->_urlCache['1285f92ceb877e9ed0154495fcd90336']='index.php?option=com_k2&Itemid=763&id=267&lang=en&layout=item&view=item#private-morocco-tours/5-day-morocco-tour.html#1'; $this->_urlCache['e1b68f7b31ef3bf64f46aa061c856edf']='index.php?option=com_k2&Itemid=764&id=268&lang=en&layout=item&view=item#private-morocco-tours/Casablanca-Fez-Erg-Chebbi-Marrakech-tour.html#1'; $this->_urlCache['d611e46faf0844bdf23925df2faec350']='index.php?option=com_k2&Itemid=765&id=269&lang=en&layout=item&view=item#private-morocco-tours/Casablanca-Fez-Erg-Chebbi-Essaouira-tour.html#1'; $this->_urlCache['0e74604bd9e9b1df520b644c9380c1e8']='index.php?option=com_k2&Itemid=923&id=347&lang=en&layout=item&view=item#morocco-tour-9-days#1'; $this->_urlCache['9a7e64e2daef178e8ceef9fa97e40d29']='index.php?option=com_k2&Itemid=958&id=349&lang=en&layout=item&view=item#morocco-travel-blog/casablanca-tangier-chefchaouen-meknes-rabat#0'; $this->_urlCache['b1e362b87cab4f0f827a17fa68b9e1e3']='index.php?option=com_k2&Itemid=959&id=300&lang=en&layout=item&view=item#tours/marrakech-atlas-mountains-essaouira-tour#0'; $this->_urlCache['6910dee933fb969f404c225795ab677c']='index.php?option=com_users&Itemid=1014&lang=en&view=login#Log-in/#0'; $this->_urlCache['f94a19c32605add227b43d587f72f73e']='index.php?option=com_k2&Itemid=725&id=36&lang=en&layout=category&task=category&view=itemlist#private-morocco-tours-blog.html#1'; $this->_urlCache['1a3f3698560f5ebfd810faed0b0b339d']='index.php?option=com_phocagallery&Itemid=838&lang=en&view=categories#morocco-travel-experiences#1'; $this->_urlCache['f383b54e3ed715018e9bc2c910ae76ba']='index.php?option=com_k2&Itemid=956&id=358&lang=en&layout=item&view=item#reviews#1'; $this->_urlCache['86dbee9e9851d09471981785588d3abf']='index.php?option=com_k2&Itemid=614&id=284&lang=en&layout=item&view=item#suntrails/links#0'; $this->_urlCache['7cd5d55585f23062663fcf1947da248c']='index.php?option=com_k2&Itemid=615&id=283&lang=en&layout=item&view=item#suntrails/terms-and-conditions#0'; $this->_urlCache['7f36feef91b09e1dc8b4185a9b3b596d']='index.php?option=com_allvideoshare&Itemid=839&lang=en&orderby=default&slg=0&view=category#videos#0'; $this->_urlCache['a9743b4e5738a43476b71e4b8427395a']='index.php?option=com_xmap&Itemid=985&id=2&lang=en&view=html#other/site-map#0'; $this->_urlCache['95dad6b046fc5aa02f1ebd5aa4a23cf3']='index.php?option=com_k2&Itemid=809&id=289&lang=en&layout=item&view=item#suntrails/message-sent#0'; $this->_urlCache['2cf2da33ce209a17e1bb807ace4dd440']='index.php?option=com_k2&Itemid=725&id=373&lang=en&view=item#373-holding-the-fort#0'; $this->_urlCache['b98c1a5dfd0288529c73da59cc5e84d3']='index.php?option=com_k2&Itemid=725&id=664&lang=en&task=user&view=itemlist#blog/Cristian#0'; $this->_urlCache['68c5a93ae806df6dc3122943659bc23f']='index.php?option=com_k2&Itemid=725&id=364&lang=en&view=item#honeymoon-in-morocco#1'; $this->_urlCache['ae2a91044cc8b08f489d688fd000813f']='index.php?option=com_k2&Itemid=725&id=362&lang=en&view=item#cooking-with-the-locals-in-marrakech#1'; $this->_urlCache['1b21d36a0b54da7bfed30bc9ab385790']='index.php?option=com_k2&Itemid=725&format=feed&lang=en&moduleID=765&view=itemlist#feed/Recent-Posts/feed#0'; $this->_urlCache['2fffedd0579549fbcbb93b82a473ca1a']='index.php?option=com_k2&Itemid=725&id=290&lang=en&view=item#morocco-best-time-to-visit.html#1'; $this->_urlCache['223be574151996c46d1fc84a319ee408']='index.php?option=com_k2&Itemid=725&lang=en&tag=morocco+holidays&task=tag&view=itemlist#tag/morocco-holidays#0'; $this->_urlCache['799619bf85256757c76123dd1331735b']='index.php?option=com_k2&Itemid=725&lang=en&tag=weather+in+morocco&task=tag&view=itemlist#tag/weather-in-morocco#0'; $this->_urlCache['28478d83349cf5e523e75f7e5e723d6e']='index.php?option=com_k2&Itemid=725&lang=en&tag=ramadan+in+morocco&task=tag&view=itemlist#tag/ramadan-in-morocco#0'; $this->_urlCache['cb11c2b1aa1871068f0bb0a1e953983a']='index.php?option=com_k2&Itemid=725&id=292&lang=en&view=item#private-morocco-tours-blog/boutique-hotel-of-the-month/azalai-desert-lodge-zagora.html#1'; $this->_urlCache['80946b65ee90c4667ba3c800652f8401']='index.php?option=com_k2&Itemid=725&lang=en&tag=sahara+desert&task=tag&view=itemlist#tag/sahara-desert#0'; $this->_urlCache['b46a918e22c6826f566073c4ffa4388a']='index.php?option=com_k2&Itemid=725&lang=en&tag=luxury+desert+camp&task=tag&view=itemlist#tag/luxury-desert-camp#0'; $this->_urlCache['838dfb36656957f9c333da103f18dbec']='index.php?option=com_k2&Itemid=725&lang=en&tag=zagora+boutique+hotel&task=tag&view=itemlist#tag/zagora-boutique-hotel#0'; $this->_urlCache['b569993b56698c1e36339912985a9c55']='index.php?option=com_k2&Itemid=725&lang=en&tag=erg+chigaga&task=tag&view=itemlist#tag/erg-chigaga#0'; $this->_urlCache['088ef81b0399dadf33825370614a0fea']='index.php?option=com_k2&Itemid=725&id=293&lang=en&view=item#private-morocco-tours-blog/mamounia-day-pass#1'; $this->_urlCache['5f3537cc6bce4c08ae5cc6509a72d062']='index.php?option=com_k2&Itemid=725&lang=en&tag=mamounia+day+pass&task=tag&view=itemlist#tag/mamounia-day-pass#0'; $this->_urlCache['27d1ae234b14c2f0a3f66ab5ac353ebe']='index.php?option=com_k2&Itemid=725&lang=en&tag=marrakech+spa&task=tag&view=itemlist#tag/marrakech-spa#0'; $this->_urlCache['c2b26072adc3e41ff0c9eac81a48fdba']='index.php?option=com_k2&Itemid=725&format=feed&lang=en&moduleID=766&view=itemlist#feed/Most-read-posts/feed#0'; $shURLCacheCreationDate=1607111657; $this->_urlCache['e80334ae8a8ec986161fd5842a2f33ba']='index.php?option=com_phocagallery&Itemid=838&catid=116&id=1978&lang=en&view=detail#riad-la-parenthese/detail/1978-riad-la-parenthese23#1'; $this->_urlCache['ad1d393172f2e923096f408a44df6358']='index.php?option=com_sppagebuilder&Itemid=784&id=17&lang=en&view=page#private-morocco-tours#0'; $this->_urlCache['b8a56e357af93536dff12206e121376a']='index.php?option=com_k2&Itemid=821&id=294&lang=en&layout=item&view=item#private-morocco-tours/fez-marrakech-erg-chigaga-essaouira-tour.html#1'; $this->_urlCache['1285f92ceb877e9ed0154495fcd90336']='index.php?option=com_k2&Itemid=763&id=267&lang=en&layout=item&view=item#private-morocco-tours/5-day-morocco-tour.html#1'; $this->_urlCache['e1b68f7b31ef3bf64f46aa061c856edf']='index.php?option=com_k2&Itemid=764&id=268&lang=en&layout=item&view=item#private-morocco-tours/Casablanca-Fez-Erg-Chebbi-Marrakech-tour.html#1'; $this->_urlCache['d611e46faf0844bdf23925df2faec350']='index.php?option=com_k2&Itemid=765&id=269&lang=en&layout=item&view=item#private-morocco-tours/Casablanca-Fez-Erg-Chebbi-Essaouira-tour.html#1'; $this->_urlCache['0e74604bd9e9b1df520b644c9380c1e8']='index.php?option=com_k2&Itemid=923&id=347&lang=en&layout=item&view=item#morocco-tour-9-days#1'; $this->_urlCache['9a7e64e2daef178e8ceef9fa97e40d29']='index.php?option=com_k2&Itemid=958&id=349&lang=en&layout=item&view=item#morocco-travel-blog/casablanca-tangier-chefchaouen-meknes-rabat#0'; $this->_urlCache['b1e362b87cab4f0f827a17fa68b9e1e3']='index.php?option=com_k2&Itemid=959&id=300&lang=en&layout=item&view=item#tours/marrakech-atlas-mountains-essaouira-tour#0'; $this->_urlCache['6910dee933fb969f404c225795ab677c']='index.php?option=com_users&Itemid=1014&lang=en&view=login#Log-in/#0'; $this->_urlCache['f94a19c32605add227b43d587f72f73e']='index.php?option=com_k2&Itemid=725&id=36&lang=en&layout=category&task=category&view=itemlist#private-morocco-tours-blog.html#1'; $this->_urlCache['1a3f3698560f5ebfd810faed0b0b339d']='index.php?option=com_phocagallery&Itemid=838&lang=en&view=categories#morocco-travel-experiences#1'; $this->_urlCache['f383b54e3ed715018e9bc2c910ae76ba']='index.php?option=com_k2&Itemid=956&id=358&lang=en&layout=item&view=item#reviews#1'; $this->_urlCache['86dbee9e9851d09471981785588d3abf']='index.php?option=com_k2&Itemid=614&id=284&lang=en&layout=item&view=item#suntrails/links#0'; $this->_urlCache['7cd5d55585f23062663fcf1947da248c']='index.php?option=com_k2&Itemid=615&id=283&lang=en&layout=item&view=item#suntrails/terms-and-conditions#0'; $this->_urlCache['7f36feef91b09e1dc8b4185a9b3b596d']='index.php?option=com_allvideoshare&Itemid=839&lang=en&orderby=default&slg=0&view=category#videos#0'; $this->_urlCache['a9743b4e5738a43476b71e4b8427395a']='index.php?option=com_xmap&Itemid=985&id=2&lang=en&view=html#other/site-map#0'; $shURLCacheCreationDate=1607111741; $this->_urlCache['eb7f5fd35634292eb7a6b5cc2bb81170']='index.php?option=com_k2&Itemid=725&format=feed&lang=en&tag=CASABLANCA&task=tag&view=itemlist#tag/CASABLANCA/feed/atom#0'; $this->_urlCache['ad1d393172f2e923096f408a44df6358']='index.php?option=com_sppagebuilder&Itemid=784&id=17&lang=en&view=page#private-morocco-tours#0'; $this->_urlCache['b8a56e357af93536dff12206e121376a']='index.php?option=com_k2&Itemid=821&id=294&lang=en&layout=item&view=item#private-morocco-tours/fez-marrakech-erg-chigaga-essaouira-tour.html#1'; $this->_urlCache['1285f92ceb877e9ed0154495fcd90336']='index.php?option=com_k2&Itemid=763&id=267&lang=en&layout=item&view=item#private-morocco-tours/5-day-morocco-tour.html#1'; $this->_urlCache['e1b68f7b31ef3bf64f46aa061c856edf']='index.php?option=com_k2&Itemid=764&id=268&lang=en&layout=item&view=item#private-morocco-tours/Casablanca-Fez-Erg-Chebbi-Marrakech-tour.html#1'; $this->_urlCache['d611e46faf0844bdf23925df2faec350']='index.php?option=com_k2&Itemid=765&id=269&lang=en&layout=item&view=item#private-morocco-tours/Casablanca-Fez-Erg-Chebbi-Essaouira-tour.html#1'; $this->_urlCache['0e74604bd9e9b1df520b644c9380c1e8']='index.php?option=com_k2&Itemid=923&id=347&lang=en&layout=item&view=item#morocco-tour-9-days#1'; $this->_urlCache['9a7e64e2daef178e8ceef9fa97e40d29']='index.php?option=com_k2&Itemid=958&id=349&lang=en&layout=item&view=item#morocco-travel-blog/casablanca-tangier-chefchaouen-meknes-rabat#0'; $this->_urlCache['b1e362b87cab4f0f827a17fa68b9e1e3']='index.php?option=com_k2&Itemid=959&id=300&lang=en&layout=item&view=item#tours/marrakech-atlas-mountains-essaouira-tour#0'; $this->_urlCache['6910dee933fb969f404c225795ab677c']='index.php?option=com_users&Itemid=1014&lang=en&view=login#Log-in/#0'; $this->_urlCache['f94a19c32605add227b43d587f72f73e']='index.php?option=com_k2&Itemid=725&id=36&lang=en&layout=category&task=category&view=itemlist#private-morocco-tours-blog.html#1'; $this->_urlCache['1a3f3698560f5ebfd810faed0b0b339d']='index.php?option=com_phocagallery&Itemid=838&lang=en&view=categories#morocco-travel-experiences#1'; $this->_urlCache['f383b54e3ed715018e9bc2c910ae76ba']='index.php?option=com_k2&Itemid=956&id=358&lang=en&layout=item&view=item#reviews#1'; $this->_urlCache['86dbee9e9851d09471981785588d3abf']='index.php?option=com_k2&Itemid=614&id=284&lang=en&layout=item&view=item#suntrails/links#0'; $this->_urlCache['7cd5d55585f23062663fcf1947da248c']='index.php?option=com_k2&Itemid=615&id=283&lang=en&layout=item&view=item#suntrails/terms-and-conditions#0'; $this->_urlCache['7f36feef91b09e1dc8b4185a9b3b596d']='index.php?option=com_allvideoshare&Itemid=839&lang=en&orderby=default&slg=0&view=category#videos#0'; $this->_urlCache['a9743b4e5738a43476b71e4b8427395a']='index.php?option=com_xmap&Itemid=985&id=2&lang=en&view=html#other/site-map#0'; $this->_urlCache['37ddc897094b3883c4d658ac2d888f5f']='index.php?option=com_k2&Itemid=725&lang=en&tag=CASABLANCA&task=tag&view=itemlist#tag/CASABLANCA#0'; $shURLCacheCreationDate=1607111762; $this->_urlCache['ad1d393172f2e923096f408a44df6358']='index.php?option=com_sppagebuilder&Itemid=784&id=17&lang=en&view=page#private-morocco-tours#0'; $this->_urlCache['b8a56e357af93536dff12206e121376a']='index.php?option=com_k2&Itemid=821&id=294&lang=en&layout=item&view=item#private-morocco-tours/fez-marrakech-erg-chigaga-essaouira-tour.html#1'; $this->_urlCache['1285f92ceb877e9ed0154495fcd90336']='index.php?option=com_k2&Itemid=763&id=267&lang=en&layout=item&view=item#private-morocco-tours/5-day-morocco-tour.html#1'; $this->_urlCache['e1b68f7b31ef3bf64f46aa061c856edf']='index.php?option=com_k2&Itemid=764&id=268&lang=en&layout=item&view=item#private-morocco-tours/Casablanca-Fez-Erg-Chebbi-Marrakech-tour.html#1'; $this->_urlCache['d611e46faf0844bdf23925df2faec350']='index.php?option=com_k2&Itemid=765&id=269&lang=en&layout=item&view=item#private-morocco-tours/Casablanca-Fez-Erg-Chebbi-Essaouira-tour.html#1'; $this->_urlCache['0e74604bd9e9b1df520b644c9380c1e8']='index.php?option=com_k2&Itemid=923&id=347&lang=en&layout=item&view=item#morocco-tour-9-days#1'; $this->_urlCache['9a7e64e2daef178e8ceef9fa97e40d29']='index.php?option=com_k2&Itemid=958&id=349&lang=en&layout=item&view=item#morocco-travel-blog/casablanca-tangier-chefchaouen-meknes-rabat#0'; $this->_urlCache['b1e362b87cab4f0f827a17fa68b9e1e3']='index.php?option=com_k2&Itemid=959&id=300&lang=en&layout=item&view=item#tours/marrakech-atlas-mountains-essaouira-tour#0'; $this->_urlCache['6910dee933fb969f404c225795ab677c']='index.php?option=com_users&Itemid=1014&lang=en&view=login#Log-in/#0'; $this->_urlCache['f94a19c32605add227b43d587f72f73e']='index.php?option=com_k2&Itemid=725&id=36&lang=en&layout=category&task=category&view=itemlist#private-morocco-tours-blog.html#1'; $this->_urlCache['1a3f3698560f5ebfd810faed0b0b339d']='index.php?option=com_phocagallery&Itemid=838&lang=en&view=categories#morocco-travel-experiences#1'; $this->_urlCache['f383b54e3ed715018e9bc2c910ae76ba']='index.php?option=com_k2&Itemid=956&id=358&lang=en&layout=item&view=item#reviews#1'; $this->_urlCache['86dbee9e9851d09471981785588d3abf']='index.php?option=com_k2&Itemid=614&id=284&lang=en&layout=item&view=item#suntrails/links#0'; $this->_urlCache['7cd5d55585f23062663fcf1947da248c']='index.php?option=com_k2&Itemid=615&id=283&lang=en&layout=item&view=item#suntrails/terms-and-conditions#0'; $this->_urlCache['7f36feef91b09e1dc8b4185a9b3b596d']='index.php?option=com_allvideoshare&Itemid=839&lang=en&orderby=default&slg=0&view=category#videos#0'; $this->_urlCache['a9743b4e5738a43476b71e4b8427395a']='index.php?option=com_xmap&Itemid=985&id=2&lang=en&view=html#other/site-map#0'; $shURLCacheCreationDate=1607112003; $this->_urlCache['075cfc116f1ccb1cf08c774abb17b915']='index.php?option=com_phocagallery&Itemid=838&catid=246&id=4833&lang=en&view=detail#246-villa-diyafa-rabat/detail/4833-suite-dining-corner#0'; $shURLCacheCreationDate=1607112009; $this->_urlCache['4a503607b8ce8a21848201fffbe6fa5f']='index.php?option=com_k2&Itemid=725&id=36&lang=en&task=category&view=itemlist#morocco-travel-blog#0'; $this->_urlCache['b9c47355c7a90a5f94ce9477364b2740']='index.php?option=com_k2&Itemid=725&id=296&lang=en&view=item#private-morocco-tours-blog/kasbah-tamadot-lunch-and-more.html#1'; $this->_urlCache['b1a3f1910d5f7d9a602745054f123c59']='index.php?option=com_k2&Itemid=725&lang=en&tag=lunch+at+kasbah+tamadot&task=tag&view=itemlist#tag/lunch-at-kasbah-tamadot#0'; $this->_urlCache['f5240ec5f0e3583f38c984a2b393732e']='index.php?option=com_k2&Itemid=725&lang=en&tag=atlas+mountains+day+trip&task=tag&view=itemlist#tag/atlas-mountains-day-trip#0'; $this->_urlCache['b98c1a5dfd0288529c73da59cc5e84d3']='index.php?option=com_k2&Itemid=725&id=664&lang=en&task=user&view=itemlist#blog/Cristian#0'; $this->_urlCache['bb03a5630fca3f3ae7ab1ddfaf0af1a7']='index.php?option=com_k2&Itemid=725&id=282&lang=en&view=item#day-morocco-tour-marrakech-to-fez.html#1'; $this->_urlCache['9fad59ee8099ab6199e0d6ef6dcf41cc']='index.php?option=com_k2&Itemid=725&id=319&lang=en&view=item#private-morocco-tours-blog/casablanca-more-than-a-movie#1'; $this->_urlCache['ae2a91044cc8b08f489d688fd000813f']='index.php?option=com_k2&Itemid=725&id=362&lang=en&view=item#cooking-with-the-locals-in-marrakech#1'; $this->_urlCache['587417d269f322318d801f0a0c26325f']='index.php?option=com_k2&Itemid=725&id=287&lang=en&view=item#morocco-travel-blog/a-bitter-love#0'; $this->_urlCache['ad1d393172f2e923096f408a44df6358']='index.php?option=com_sppagebuilder&Itemid=784&id=17&lang=en&view=page#private-morocco-tours#0'; $this->_urlCache['b8a56e357af93536dff12206e121376a']='index.php?option=com_k2&Itemid=821&id=294&lang=en&layout=item&view=item#private-morocco-tours/fez-marrakech-erg-chigaga-essaouira-tour.html#1'; $this->_urlCache['1285f92ceb877e9ed0154495fcd90336']='index.php?option=com_k2&Itemid=763&id=267&lang=en&layout=item&view=item#private-morocco-tours/5-day-morocco-tour.html#1'; $this->_urlCache['e1b68f7b31ef3bf64f46aa061c856edf']='index.php?option=com_k2&Itemid=764&id=268&lang=en&layout=item&view=item#private-morocco-tours/Casablanca-Fez-Erg-Chebbi-Marrakech-tour.html#1'; $this->_urlCache['d611e46faf0844bdf23925df2faec350']='index.php?option=com_k2&Itemid=765&id=269&lang=en&layout=item&view=item#private-morocco-tours/Casablanca-Fez-Erg-Chebbi-Essaouira-tour.html#1'; $this->_urlCache['0e74604bd9e9b1df520b644c9380c1e8']='index.php?option=com_k2&Itemid=923&id=347&lang=en&layout=item&view=item#morocco-tour-9-days#1'; $this->_urlCache['9a7e64e2daef178e8ceef9fa97e40d29']='index.php?option=com_k2&Itemid=958&id=349&lang=en&layout=item&view=item#morocco-travel-blog/casablanca-tangier-chefchaouen-meknes-rabat#0'; $this->_urlCache['b1e362b87cab4f0f827a17fa68b9e1e3']='index.php?option=com_k2&Itemid=959&id=300&lang=en&layout=item&view=item#tours/marrakech-atlas-mountains-essaouira-tour#0'; $this->_urlCache['6910dee933fb969f404c225795ab677c']='index.php?option=com_users&Itemid=1014&lang=en&view=login#Log-in/#0'; $this->_urlCache['f94a19c32605add227b43d587f72f73e']='index.php?option=com_k2&Itemid=725&id=36&lang=en&layout=category&task=category&view=itemlist#private-morocco-tours-blog.html#1'; $this->_urlCache['1a3f3698560f5ebfd810faed0b0b339d']='index.php?option=com_phocagallery&Itemid=838&lang=en&view=categories#morocco-travel-experiences#1'; $this->_urlCache['f383b54e3ed715018e9bc2c910ae76ba']='index.php?option=com_k2&Itemid=956&id=358&lang=en&layout=item&view=item#reviews#1'; $this->_urlCache['86dbee9e9851d09471981785588d3abf']='index.php?option=com_k2&Itemid=614&id=284&lang=en&layout=item&view=item#suntrails/links#0'; $this->_urlCache['7cd5d55585f23062663fcf1947da248c']='index.php?option=com_k2&Itemid=615&id=283&lang=en&layout=item&view=item#suntrails/terms-and-conditions#0'; $this->_urlCache['7f36feef91b09e1dc8b4185a9b3b596d']='index.php?option=com_allvideoshare&Itemid=839&lang=en&orderby=default&slg=0&view=category#videos#0'; $this->_urlCache['a9743b4e5738a43476b71e4b8427395a']='index.php?option=com_xmap&Itemid=985&id=2&lang=en&view=html#other/site-map#0'; $shURLCacheCreationDate=1607110894; $this->_urlCache['81cd64ead34713a67ea4d64d0dc30aee']='index.php?option=com_phocagallery&Itemid=838&catid=124&id=2089&lang=en&view=detail#erg-chigaga-luxury-camp/detail/2089-dpp-292242#1'; $shURLCacheCreationDate=1607110947; $this->_urlCache['f55e66a2c62e29f5cd8dc23edb2d2605']='index.php?option=com_k2&Itemid=725&format=feed&lang=en&tag=conde+nast+traveler&task=tag&view=itemlist#tag/conde-nast-traveler/feed/atom#0'; $this->_urlCache['ad1d393172f2e923096f408a44df6358']='index.php?option=com_sppagebuilder&Itemid=784&id=17&lang=en&view=page#private-morocco-tours#0'; $this->_urlCache['b8a56e357af93536dff12206e121376a']='index.php?option=com_k2&Itemid=821&id=294&lang=en&layout=item&view=item#private-morocco-tours/fez-marrakech-erg-chigaga-essaouira-tour.html#1'; $this->_urlCache['1285f92ceb877e9ed0154495fcd90336']='index.php?option=com_k2&Itemid=763&id=267&lang=en&layout=item&view=item#private-morocco-tours/5-day-morocco-tour.html#1'; $this->_urlCache['e1b68f7b31ef3bf64f46aa061c856edf']='index.php?option=com_k2&Itemid=764&id=268&lang=en&layout=item&view=item#private-morocco-tours/Casablanca-Fez-Erg-Chebbi-Marrakech-tour.html#1'; $this->_urlCache['d611e46faf0844bdf23925df2faec350']='index.php?option=com_k2&Itemid=765&id=269&lang=en&layout=item&view=item#private-morocco-tours/Casablanca-Fez-Erg-Chebbi-Essaouira-tour.html#1'; $this->_urlCache['0e74604bd9e9b1df520b644c9380c1e8']='index.php?option=com_k2&Itemid=923&id=347&lang=en&layout=item&view=item#morocco-tour-9-days#1'; $this->_urlCache['9a7e64e2daef178e8ceef9fa97e40d29']='index.php?option=com_k2&Itemid=958&id=349&lang=en&layout=item&view=item#morocco-travel-blog/casablanca-tangier-chefchaouen-meknes-rabat#0'; $this->_urlCache['b1e362b87cab4f0f827a17fa68b9e1e3']='index.php?option=com_k2&Itemid=959&id=300&lang=en&layout=item&view=item#tours/marrakech-atlas-mountains-essaouira-tour#0'; $this->_urlCache['6910dee933fb969f404c225795ab677c']='index.php?option=com_users&Itemid=1014&lang=en&view=login#Log-in/#0'; $this->_urlCache['f94a19c32605add227b43d587f72f73e']='index.php?option=com_k2&Itemid=725&id=36&lang=en&layout=category&task=category&view=itemlist#private-morocco-tours-blog.html#1'; $this->_urlCache['1a3f3698560f5ebfd810faed0b0b339d']='index.php?option=com_phocagallery&Itemid=838&lang=en&view=categories#morocco-travel-experiences#1'; $this->_urlCache['f383b54e3ed715018e9bc2c910ae76ba']='index.php?option=com_k2&Itemid=956&id=358&lang=en&layout=item&view=item#reviews#1'; $this->_urlCache['86dbee9e9851d09471981785588d3abf']='index.php?option=com_k2&Itemid=614&id=284&lang=en&layout=item&view=item#suntrails/links#0'; $this->_urlCache['7cd5d55585f23062663fcf1947da248c']='index.php?option=com_k2&Itemid=615&id=283&lang=en&layout=item&view=item#suntrails/terms-and-conditions#0'; $this->_urlCache['7f36feef91b09e1dc8b4185a9b3b596d']='index.php?option=com_allvideoshare&Itemid=839&lang=en&orderby=default&slg=0&view=category#videos#0'; $this->_urlCache['a9743b4e5738a43476b71e4b8427395a']='index.php?option=com_xmap&Itemid=985&id=2&lang=en&view=html#other/site-map#0'; $this->_urlCache['f1cb1a9fa183c28cd71dff3b453523cb']='index.php?option=com_k2&Itemid=725&lang=en&tag=conde+nast+traveler&task=tag&view=itemlist#tag/conde-nast-traveler#0'; $shURLCacheCreationDate=1607111023; $this->_urlCache['f89b0e21d4a8f19b629817a49467a101']='index.php?option=com_phocagallery&Itemid=838&catid=246&id=4832&lang=en&view=detail#246-villa-diyafa-rabat/detail/4832-suite-bedroom#0'; $shURLCacheCreationDate=1607111228; $this->_urlCache['8045f276a16d787c47328123fc2a0318']='index.php?option=com_k2&Itemid=725&id=330&lang=en&view=item#private-morocco-tours-blog/medieval-morocco-an-essential-exhibition#1'; $shURLCacheCreationDate=1607111342; $this->_urlCache['0c5f69344cde19f12c043f330c51c6df']='index.php?option=com_phocagallery&Itemid=838&catid=135&id=2956&lang=en&view=detail#135-villa-des-orangers/detail/2956-restaurant-iv#0'; $shURLCacheCreationDate=1607111350; $this->_urlCache['4a503607b8ce8a21848201fffbe6fa5f']='index.php?option=com_k2&Itemid=725&id=36&lang=en&task=category&view=itemlist#morocco-travel-blog#0'; $this->_urlCache['e14d13b039a442c9c053916ce8e44348']='index.php?option=com_k2&Itemid=725&id=299&lang=en&view=item#morocco-travel-blog/luxury-morocco-tour-5-things-to-do#0'; $this->_urlCache['b98d6c51636d1ae54495d1ab004824f8']='index.php?option=com_k2&Itemid=725&lang=en&tag=dar+ahlam&task=tag&view=itemlist#tag/dar-ahlam#0'; $this->_urlCache['730d9d603a3eea6223c3fd8d10027cbb']='index.php?option=com_k2&Itemid=725&lang=en&tag=azalai+desert+lodge&task=tag&view=itemlist#tag/azalai-desert-lodge#0'; $this->_urlCache['6fa9c22dc91f5c8aeb256d95341d1861']='index.php?option=com_k2&Itemid=725&lang=en&tag=erg+chigaga+luxury+camp&task=tag&view=itemlist#tag/erg-chigaga-luxury-camp#0'; $this->_urlCache['edc529c763881312caffa68c4597f660']='index.php?option=com_k2&Itemid=725&lang=en&tag=hot+air+balloon+flight&task=tag&view=itemlist#tag/hot-air-balloon-flight#0'; $this->_urlCache['651a47cdf50893e901723fb41be89ea4']='index.php?option=com_k2&Itemid=725&lang=en&tag=fes+music+festival&task=tag&view=itemlist#tag/fes-music-festival#0'; $this->_urlCache['369f3329fcfce6762e18c24f0ac0938e']='index.php?option=com_k2&Itemid=725&lang=en&tag=palais+selman&task=tag&view=itemlist#tag/palais-selman#0'; $this->_urlCache['27d1ae234b14c2f0a3f66ab5ac353ebe']='index.php?option=com_k2&Itemid=725&lang=en&tag=marrakech+spa&task=tag&view=itemlist#tag/marrakech-spa#0'; $this->_urlCache['f1cb1a9fa183c28cd71dff3b453523cb']='index.php?option=com_k2&Itemid=725&lang=en&tag=conde+nast+traveler&task=tag&view=itemlist#tag/conde-nast-traveler#0'; $this->_urlCache['c9bd2a746d1984e518c70a10afb34c95']='index.php?option=com_k2&Itemid=725&lang=en&tag=sufi+nights&task=tag&view=itemlist#tag/sufi-nights#0'; $this->_urlCache['c5283fbe43064c08d710f577f0128719']='index.php?option=com_k2&Itemid=725&lang=en&tag=camel+ride&task=tag&view=itemlist#tag/camel-ride#0'; $this->_urlCache['b98c1a5dfd0288529c73da59cc5e84d3']='index.php?option=com_k2&Itemid=725&id=664&lang=en&task=user&view=itemlist#blog/Cristian#0'; $this->_urlCache['2cf2da33ce209a17e1bb807ace4dd440']='index.php?option=com_k2&Itemid=725&id=373&lang=en&view=item#373-holding-the-fort#0'; $this->_urlCache['68c5a93ae806df6dc3122943659bc23f']='index.php?option=com_k2&Itemid=725&id=364&lang=en&view=item#honeymoon-in-morocco#1'; $this->_urlCache['ae2a91044cc8b08f489d688fd000813f']='index.php?option=com_k2&Itemid=725&id=362&lang=en&view=item#cooking-with-the-locals-in-marrakech#1'; $this->_urlCache['429bb4cb63b9b7489d34ce09d153aa19']='index.php?option=com_k2&Itemid=725&id=361&lang=en&view=item#slipper-making-marrakech#1'; $this->_urlCache['5565228d42a86703b26ef0ba107797ed']='index.php?option=com_k2&Itemid=725&id=360&lang=en&view=item#riad-laaroussa-fes/boutique-hotel-of-the-month#1'; $this->_urlCache['ea5d53be1043a9aa6001b335356260ef']='index.php?option=com_k2&Itemid=725&id=323&lang=en&view=item#private-morocco-tours-blog/morocco-luxury-desert-camp-experience#1'; $this->_urlCache['088ef81b0399dadf33825370614a0fea']='index.php?option=com_k2&Itemid=725&id=293&lang=en&view=item#private-morocco-tours-blog/mamounia-day-pass#1'; $this->_urlCache['c4f667a4918b7e23cca86b68ad098c28']='index.php?option=com_k2&Itemid=725&id=35&lang=en&task=category&view=itemlist#suntrails#0'; $this->_urlCache['ddbf7ad557471b1d4beab5bdb03a7851']='index.php?option=com_k2&Itemid=725&id=275&lang=en&view=item#suntrails/morocco-boutique-hotels#0'; $this->_urlCache['d02bea70332e47472a457ecf68249955']='index.php?option=com_k2&Itemid=724&id=31&lang=en&task=category&view=itemlist#private-tours-suntrails#0'; $this->_urlCache['8debb4f1f5bc46ca39fe6e1a1574e323']='index.php?option=com_k2&Itemid=724&id=271&lang=en&view=item#271-desert-and-roses#0'; $this->_urlCache['9fad59ee8099ab6199e0d6ef6dcf41cc']='index.php?option=com_k2&Itemid=725&id=319&lang=en&view=item#private-morocco-tours-blog/casablanca-more-than-a-movie#1'; $this->_urlCache['f61f2348ae10ffec7e79381a2ba420b9']='index.php?option=com_k2&Itemid=725&id=297&lang=en&view=item#private-morocco-tours-blog/moroccan-cooking-class.html#1'; $this->_urlCache['ad1d393172f2e923096f408a44df6358']='index.php?option=com_sppagebuilder&Itemid=784&id=17&lang=en&view=page#private-morocco-tours#0'; $this->_urlCache['b8a56e357af93536dff12206e121376a']='index.php?option=com_k2&Itemid=821&id=294&lang=en&layout=item&view=item#private-morocco-tours/fez-marrakech-erg-chigaga-essaouira-tour.html#1'; $this->_urlCache['1285f92ceb877e9ed0154495fcd90336']='index.php?option=com_k2&Itemid=763&id=267&lang=en&layout=item&view=item#private-morocco-tours/5-day-morocco-tour.html#1'; $this->_urlCache['e1b68f7b31ef3bf64f46aa061c856edf']='index.php?option=com_k2&Itemid=764&id=268&lang=en&layout=item&view=item#private-morocco-tours/Casablanca-Fez-Erg-Chebbi-Marrakech-tour.html#1'; $this->_urlCache['d611e46faf0844bdf23925df2faec350']='index.php?option=com_k2&Itemid=765&id=269&lang=en&layout=item&view=item#private-morocco-tours/Casablanca-Fez-Erg-Chebbi-Essaouira-tour.html#1'; $this->_urlCache['0e74604bd9e9b1df520b644c9380c1e8']='index.php?option=com_k2&Itemid=923&id=347&lang=en&layout=item&view=item#morocco-tour-9-days#1'; $this->_urlCache['9a7e64e2daef178e8ceef9fa97e40d29']='index.php?option=com_k2&Itemid=958&id=349&lang=en&layout=item&view=item#morocco-travel-blog/casablanca-tangier-chefchaouen-meknes-rabat#0'; $this->_urlCache['b1e362b87cab4f0f827a17fa68b9e1e3']='index.php?option=com_k2&Itemid=959&id=300&lang=en&layout=item&view=item#tours/marrakech-atlas-mountains-essaouira-tour#0'; $this->_urlCache['6910dee933fb969f404c225795ab677c']='index.php?option=com_users&Itemid=1014&lang=en&view=login#Log-in/#0'; $this->_urlCache['f94a19c32605add227b43d587f72f73e']='index.php?option=com_k2&Itemid=725&id=36&lang=en&layout=category&task=category&view=itemlist#private-morocco-tours-blog.html#1'; $this->_urlCache['1a3f3698560f5ebfd810faed0b0b339d']='index.php?option=com_phocagallery&Itemid=838&lang=en&view=categories#morocco-travel-experiences#1'; $this->_urlCache['f383b54e3ed715018e9bc2c910ae76ba']='index.php?option=com_k2&Itemid=956&id=358&lang=en&layout=item&view=item#reviews#1'; $this->_urlCache['86dbee9e9851d09471981785588d3abf']='index.php?option=com_k2&Itemid=614&id=284&lang=en&layout=item&view=item#suntrails/links#0'; $this->_urlCache['7cd5d55585f23062663fcf1947da248c']='index.php?option=com_k2&Itemid=615&id=283&lang=en&layout=item&view=item#suntrails/terms-and-conditions#0'; $this->_urlCache['7f36feef91b09e1dc8b4185a9b3b596d']='index.php?option=com_allvideoshare&Itemid=839&lang=en&orderby=default&slg=0&view=category#videos#0'; $this->_urlCache['a9743b4e5738a43476b71e4b8427395a']='index.php?option=com_xmap&Itemid=985&id=2&lang=en&view=html#other/site-map#0'; $shURLCacheCreationDate=1607111409; $this->_urlCache['904c256c24a1e88f4c165d0e8e3c8ed6']='index.php?option=com_phocagallery&Itemid=838&catid=254&id=4981&lang=en&view=detail#254-roulidane-waterfalls/detail/4981-ybbbu#0'; $shURLCacheCreationDate=1607111478; $this->_urlCache['6ab752e77fd479d3ba97d45adc81af30']='index.php?option=com_phocagallery&Itemid=838&catid=106&id=1701&lang=en&view=detail#les-deux-tours/detail/1701-salon-indien-2#1'; $shURLCacheCreationDate=1607111490; $this->_urlCache['98bb23419e64ddb10e6bfa0bde607736']='index.php?option=com_phocagallery&Itemid=838&catid=258&id=5224&lang=en&view=detail#258-plateau-taghazart-4000-metres/detail/5224-plateautafhazart2#0'; $shURLCacheCreationDate=1607111617; $this->_urlCache['4a503607b8ce8a21848201fffbe6fa5f']='index.php?option=com_k2&Itemid=725&id=36&lang=en&task=category&view=itemlist#morocco-travel-blog#0'; $this->_urlCache['b218c58da0dc35bbf5aa9b8757b2409d']='index.php?option=com_k2&Itemid=725&id=37&lang=en&task=category&view=itemlist#morocco-travel-blog/tour-of-the-season#0'; $this->_urlCache['5c282448c4f8fab06634c3f6d1fe9c21']='index.php?option=com_k2&Itemid=725&id=40&lang=en&task=category&view=itemlist#morocco-travel-blog/boutique-hotel-of-the-month#0'; $this->_urlCache['6ae96a53284c1d3e49d2c5baddd8bf80']='index.php?option=com_k2&Itemid=725&format=feed&id=36&lang=en&layout=category&limit=10&task=category&view=itemlist#morocco-travel-blog/feed/Page-1#0'; $this->_urlCache['ad1d393172f2e923096f408a44df6358']='index.php?option=com_sppagebuilder&Itemid=784&id=17&lang=en&view=page#private-morocco-tours#0'; $this->_urlCache['b8a56e357af93536dff12206e121376a']='index.php?option=com_k2&Itemid=821&id=294&lang=en&layout=item&view=item#private-morocco-tours/fez-marrakech-erg-chigaga-essaouira-tour.html#1'; $this->_urlCache['1285f92ceb877e9ed0154495fcd90336']='index.php?option=com_k2&Itemid=763&id=267&lang=en&layout=item&view=item#private-morocco-tours/5-day-morocco-tour.html#1'; $this->_urlCache['e1b68f7b31ef3bf64f46aa061c856edf']='index.php?option=com_k2&Itemid=764&id=268&lang=en&layout=item&view=item#private-morocco-tours/Casablanca-Fez-Erg-Chebbi-Marrakech-tour.html#1'; $this->_urlCache['d611e46faf0844bdf23925df2faec350']='index.php?option=com_k2&Itemid=765&id=269&lang=en&layout=item&view=item#private-morocco-tours/Casablanca-Fez-Erg-Chebbi-Essaouira-tour.html#1'; $this->_urlCache['0e74604bd9e9b1df520b644c9380c1e8']='index.php?option=com_k2&Itemid=923&id=347&lang=en&layout=item&view=item#morocco-tour-9-days#1'; $this->_urlCache['9a7e64e2daef178e8ceef9fa97e40d29']='index.php?option=com_k2&Itemid=958&id=349&lang=en&layout=item&view=item#morocco-travel-blog/casablanca-tangier-chefchaouen-meknes-rabat#0'; $this->_urlCache['b1e362b87cab4f0f827a17fa68b9e1e3']='index.php?option=com_k2&Itemid=959&id=300&lang=en&layout=item&view=item#tours/marrakech-atlas-mountains-essaouira-tour#0'; $this->_urlCache['6910dee933fb969f404c225795ab677c']='index.php?option=com_users&Itemid=1014&lang=en&view=login#Log-in/#0'; $this->_urlCache['f94a19c32605add227b43d587f72f73e']='index.php?option=com_k2&Itemid=725&id=36&lang=en&layout=category&task=category&view=itemlist#private-morocco-tours-blog.html#1'; $this->_urlCache['1a3f3698560f5ebfd810faed0b0b339d']='index.php?option=com_phocagallery&Itemid=838&lang=en&view=categories#morocco-travel-experiences#1'; $this->_urlCache['f383b54e3ed715018e9bc2c910ae76ba']='index.php?option=com_k2&Itemid=956&id=358&lang=en&layout=item&view=item#reviews#1'; $this->_urlCache['86dbee9e9851d09471981785588d3abf']='index.php?option=com_k2&Itemid=614&id=284&lang=en&layout=item&view=item#suntrails/links#0'; $this->_urlCache['7cd5d55585f23062663fcf1947da248c']='index.php?option=com_k2&Itemid=615&id=283&lang=en&layout=item&view=item#suntrails/terms-and-conditions#0'; $this->_urlCache['7f36feef91b09e1dc8b4185a9b3b596d']='index.php?option=com_allvideoshare&Itemid=839&lang=en&orderby=default&slg=0&view=category#videos#0'; $this->_urlCache['a9743b4e5738a43476b71e4b8427395a']='index.php?option=com_xmap&Itemid=985&id=2&lang=en&view=html#other/site-map#0'; $this->_urlCache['95dad6b046fc5aa02f1ebd5aa4a23cf3']='index.php?option=com_k2&Itemid=809&id=289&lang=en&layout=item&view=item#suntrails/message-sent#0'; $this->_urlCache['2cf2da33ce209a17e1bb807ace4dd440']='index.php?option=com_k2&Itemid=725&id=373&lang=en&view=item#373-holding-the-fort#0'; $this->_urlCache['b98c1a5dfd0288529c73da59cc5e84d3']='index.php?option=com_k2&Itemid=725&id=664&lang=en&task=user&view=itemlist#blog/Cristian#0'; $this->_urlCache['68c5a93ae806df6dc3122943659bc23f']='index.php?option=com_k2&Itemid=725&id=364&lang=en&view=item#honeymoon-in-morocco#1'; $this->_urlCache['ae2a91044cc8b08f489d688fd000813f']='index.php?option=com_k2&Itemid=725&id=362&lang=en&view=item#cooking-with-the-locals-in-marrakech#1'; $this->_urlCache['1b21d36a0b54da7bfed30bc9ab385790']='index.php?option=com_k2&Itemid=725&format=feed&lang=en&moduleID=765&view=itemlist#feed/Recent-Posts/feed#0'; $this->_urlCache['2fffedd0579549fbcbb93b82a473ca1a']='index.php?option=com_k2&Itemid=725&id=290&lang=en&view=item#morocco-best-time-to-visit.html#1'; $this->_urlCache['223be574151996c46d1fc84a319ee408']='index.php?option=com_k2&Itemid=725&lang=en&tag=morocco+holidays&task=tag&view=itemlist#tag/morocco-holidays#0'; $this->_urlCache['799619bf85256757c76123dd1331735b']='index.php?option=com_k2&Itemid=725&lang=en&tag=weather+in+morocco&task=tag&view=itemlist#tag/weather-in-morocco#0'; $this->_urlCache['28478d83349cf5e523e75f7e5e723d6e']='index.php?option=com_k2&Itemid=725&lang=en&tag=ramadan+in+morocco&task=tag&view=itemlist#tag/ramadan-in-morocco#0'; $this->_urlCache['cb11c2b1aa1871068f0bb0a1e953983a']='index.php?option=com_k2&Itemid=725&id=292&lang=en&view=item#private-morocco-tours-blog/boutique-hotel-of-the-month/azalai-desert-lodge-zagora.html#1'; $this->_urlCache['80946b65ee90c4667ba3c800652f8401']='index.php?option=com_k2&Itemid=725&lang=en&tag=sahara+desert&task=tag&view=itemlist#tag/sahara-desert#0'; $this->_urlCache['b46a918e22c6826f566073c4ffa4388a']='index.php?option=com_k2&Itemid=725&lang=en&tag=luxury+desert+camp&task=tag&view=itemlist#tag/luxury-desert-camp#0'; $this->_urlCache['838dfb36656957f9c333da103f18dbec']='index.php?option=com_k2&Itemid=725&lang=en&tag=zagora+boutique+hotel&task=tag&view=itemlist#tag/zagora-boutique-hotel#0'; $this->_urlCache['b569993b56698c1e36339912985a9c55']='index.php?option=com_k2&Itemid=725&lang=en&tag=erg+chigaga&task=tag&view=itemlist#tag/erg-chigaga#0'; $this->_urlCache['088ef81b0399dadf33825370614a0fea']='index.php?option=com_k2&Itemid=725&id=293&lang=en&view=item#private-morocco-tours-blog/mamounia-day-pass#1'; $this->_urlCache['5f3537cc6bce4c08ae5cc6509a72d062']='index.php?option=com_k2&Itemid=725&lang=en&tag=mamounia+day+pass&task=tag&view=itemlist#tag/mamounia-day-pass#0'; $this->_urlCache['27d1ae234b14c2f0a3f66ab5ac353ebe']='index.php?option=com_k2&Itemid=725&lang=en&tag=marrakech+spa&task=tag&view=itemlist#tag/marrakech-spa#0'; $this->_urlCache['c2b26072adc3e41ff0c9eac81a48fdba']='index.php?option=com_k2&Itemid=725&format=feed&lang=en&moduleID=766&view=itemlist#feed/Most-read-posts/feed#0'; $shURLCacheCreationDate=1607111657; $this->_urlCache['e80334ae8a8ec986161fd5842a2f33ba']='index.php?option=com_phocagallery&Itemid=838&catid=116&id=1978&lang=en&view=detail#riad-la-parenthese/detail/1978-riad-la-parenthese23#1'; $this->_urlCache['ad1d393172f2e923096f408a44df6358']='index.php?option=com_sppagebuilder&Itemid=784&id=17&lang=en&view=page#private-morocco-tours#0'; $this->_urlCache['b8a56e357af93536dff12206e121376a']='index.php?option=com_k2&Itemid=821&id=294&lang=en&layout=item&view=item#private-morocco-tours/fez-marrakech-erg-chigaga-essaouira-tour.html#1'; $this->_urlCache['1285f92ceb877e9ed0154495fcd90336']='index.php?option=com_k2&Itemid=763&id=267&lang=en&layout=item&view=item#private-morocco-tours/5-day-morocco-tour.html#1'; $this->_urlCache['e1b68f7b31ef3bf64f46aa061c856edf']='index.php?option=com_k2&Itemid=764&id=268&lang=en&layout=item&view=item#private-morocco-tours/Casablanca-Fez-Erg-Chebbi-Marrakech-tour.html#1'; $this->_urlCache['d611e46faf0844bdf23925df2faec350']='index.php?option=com_k2&Itemid=765&id=269&lang=en&layout=item&view=item#private-morocco-tours/Casablanca-Fez-Erg-Chebbi-Essaouira-tour.html#1'; $this->_urlCache['0e74604bd9e9b1df520b644c9380c1e8']='index.php?option=com_k2&Itemid=923&id=347&lang=en&layout=item&view=item#morocco-tour-9-days#1'; $this->_urlCache['9a7e64e2daef178e8ceef9fa97e40d29']='index.php?option=com_k2&Itemid=958&id=349&lang=en&layout=item&view=item#morocco-travel-blog/casablanca-tangier-chefchaouen-meknes-rabat#0'; $this->_urlCache['b1e362b87cab4f0f827a17fa68b9e1e3']='index.php?option=com_k2&Itemid=959&id=300&lang=en&layout=item&view=item#tours/marrakech-atlas-mountains-essaouira-tour#0'; $this->_urlCache['6910dee933fb969f404c225795ab677c']='index.php?option=com_users&Itemid=1014&lang=en&view=login#Log-in/#0'; $this->_urlCache['f94a19c32605add227b43d587f72f73e']='index.php?option=com_k2&Itemid=725&id=36&lang=en&layout=category&task=category&view=itemlist#private-morocco-tours-blog.html#1'; $this->_urlCache['1a3f3698560f5ebfd810faed0b0b339d']='index.php?option=com_phocagallery&Itemid=838&lang=en&view=categories#morocco-travel-experiences#1'; $this->_urlCache['f383b54e3ed715018e9bc2c910ae76ba']='index.php?option=com_k2&Itemid=956&id=358&lang=en&layout=item&view=item#reviews#1'; $this->_urlCache['86dbee9e9851d09471981785588d3abf']='index.php?option=com_k2&Itemid=614&id=284&lang=en&layout=item&view=item#suntrails/links#0'; $this->_urlCache['7cd5d55585f23062663fcf1947da248c']='index.php?option=com_k2&Itemid=615&id=283&lang=en&layout=item&view=item#suntrails/terms-and-conditions#0'; $this->_urlCache['7f36feef91b09e1dc8b4185a9b3b596d']='index.php?option=com_allvideoshare&Itemid=839&lang=en&orderby=default&slg=0&view=category#videos#0'; $this->_urlCache['a9743b4e5738a43476b71e4b8427395a']='index.php?option=com_xmap&Itemid=985&id=2&lang=en&view=html#other/site-map#0'; $shURLCacheCreationDate=1607111741; $this->_urlCache['eb7f5fd35634292eb7a6b5cc2bb81170']='index.php?option=com_k2&Itemid=725&format=feed&lang=en&tag=CASABLANCA&task=tag&view=itemlist#tag/CASABLANCA/feed/atom#0'; $this->_urlCache['ad1d393172f2e923096f408a44df6358']='index.php?option=com_sppagebuilder&Itemid=784&id=17&lang=en&view=page#private-morocco-tours#0'; $this->_urlCache['b8a56e357af93536dff12206e121376a']='index.php?option=com_k2&Itemid=821&id=294&lang=en&layout=item&view=item#private-morocco-tours/fez-marrakech-erg-chigaga-essaouira-tour.html#1'; $this->_urlCache['1285f92ceb877e9ed0154495fcd90336']='index.php?option=com_k2&Itemid=763&id=267&lang=en&layout=item&view=item#private-morocco-tours/5-day-morocco-tour.html#1'; $this->_urlCache['e1b68f7b31ef3bf64f46aa061c856edf']='index.php?option=com_k2&Itemid=764&id=268&lang=en&layout=item&view=item#private-morocco-tours/Casablanca-Fez-Erg-Chebbi-Marrakech-tour.html#1'; $this->_urlCache['d611e46faf0844bdf23925df2faec350']='index.php?option=com_k2&Itemid=765&id=269&lang=en&layout=item&view=item#private-morocco-tours/Casablanca-Fez-Erg-Chebbi-Essaouira-tour.html#1'; $this->_urlCache['0e74604bd9e9b1df520b644c9380c1e8']='index.php?option=com_k2&Itemid=923&id=347&lang=en&layout=item&view=item#morocco-tour-9-days#1'; $this->_urlCache['9a7e64e2daef178e8ceef9fa97e40d29']='index.php?option=com_k2&Itemid=958&id=349&lang=en&layout=item&view=item#morocco-travel-blog/casablanca-tangier-chefchaouen-meknes-rabat#0'; $this->_urlCache['b1e362b87cab4f0f827a17fa68b9e1e3']='index.php?option=com_k2&Itemid=959&id=300&lang=en&layout=item&view=item#tours/marrakech-atlas-mountains-essaouira-tour#0'; $this->_urlCache['6910dee933fb969f404c225795ab677c']='index.php?option=com_users&Itemid=1014&lang=en&view=login#Log-in/#0'; $this->_urlCache['f94a19c32605add227b43d587f72f73e']='index.php?option=com_k2&Itemid=725&id=36&lang=en&layout=category&task=category&view=itemlist#private-morocco-tours-blog.html#1'; $this->_urlCache['1a3f3698560f5ebfd810faed0b0b339d']='index.php?option=com_phocagallery&Itemid=838&lang=en&view=categories#morocco-travel-experiences#1'; $this->_urlCache['f383b54e3ed715018e9bc2c910ae76ba']='index.php?option=com_k2&Itemid=956&id=358&lang=en&layout=item&view=item#reviews#1'; $this->_urlCache['86dbee9e9851d09471981785588d3abf']='index.php?option=com_k2&Itemid=614&id=284&lang=en&layout=item&view=item#suntrails/links#0'; $this->_urlCache['7cd5d55585f23062663fcf1947da248c']='index.php?option=com_k2&Itemid=615&id=283&lang=en&layout=item&view=item#suntrails/terms-and-conditions#0'; $this->_urlCache['7f36feef91b09e1dc8b4185a9b3b596d']='index.php?option=com_allvideoshare&Itemid=839&lang=en&orderby=default&slg=0&view=category#videos#0'; $this->_urlCache['a9743b4e5738a43476b71e4b8427395a']='index.php?option=com_xmap&Itemid=985&id=2&lang=en&view=html#other/site-map#0'; $this->_urlCache['37ddc897094b3883c4d658ac2d888f5f']='index.php?option=com_k2&Itemid=725&lang=en&tag=CASABLANCA&task=tag&view=itemlist#tag/CASABLANCA#0'; $shURLCacheCreationDate=1607111762; $this->_urlCache['ad1d393172f2e923096f408a44df6358']='index.php?option=com_sppagebuilder&Itemid=784&id=17&lang=en&view=page#private-morocco-tours#0'; $this->_urlCache['b8a56e357af93536dff12206e121376a']='index.php?option=com_k2&Itemid=821&id=294&lang=en&layout=item&view=item#private-morocco-tours/fez-marrakech-erg-chigaga-essaouira-tour.html#1'; $this->_urlCache['1285f92ceb877e9ed0154495fcd90336']='index.php?option=com_k2&Itemid=763&id=267&lang=en&layout=item&view=item#private-morocco-tours/5-day-morocco-tour.html#1'; $this->_urlCache['e1b68f7b31ef3bf64f46aa061c856edf']='index.php?option=com_k2&Itemid=764&id=268&lang=en&layout=item&view=item#private-morocco-tours/Casablanca-Fez-Erg-Chebbi-Marrakech-tour.html#1'; $this->_urlCache['d611e46faf0844bdf23925df2faec350']='index.php?option=com_k2&Itemid=765&id=269&lang=en&layout=item&view=item#private-morocco-tours/Casablanca-Fez-Erg-Chebbi-Essaouira-tour.html#1'; $this->_urlCache['0e74604bd9e9b1df520b644c9380c1e8']='index.php?option=com_k2&Itemid=923&id=347&lang=en&layout=item&view=item#morocco-tour-9-days#1'; $this->_urlCache['9a7e64e2daef178e8ceef9fa97e40d29']='index.php?option=com_k2&Itemid=958&id=349&lang=en&layout=item&view=item#morocco-travel-blog/casablanca-tangier-chefchaouen-meknes-rabat#0'; $this->_urlCache['b1e362b87cab4f0f827a17fa68b9e1e3']='index.php?option=com_k2&Itemid=959&id=300&lang=en&layout=item&view=item#tours/marrakech-atlas-mountains-essaouira-tour#0'; $this->_urlCache['6910dee933fb969f404c225795ab677c']='index.php?option=com_users&Itemid=1014&lang=en&view=login#Log-in/#0'; $this->_urlCache['f94a19c32605add227b43d587f72f73e']='index.php?option=com_k2&Itemid=725&id=36&lang=en&layout=category&task=category&view=itemlist#private-morocco-tours-blog.html#1'; $this->_urlCache['1a3f3698560f5ebfd810faed0b0b339d']='index.php?option=com_phocagallery&Itemid=838&lang=en&view=categories#morocco-travel-experiences#1'; $this->_urlCache['f383b54e3ed715018e9bc2c910ae76ba']='index.php?option=com_k2&Itemid=956&id=358&lang=en&layout=item&view=item#reviews#1'; $this->_urlCache['86dbee9e9851d09471981785588d3abf']='index.php?option=com_k2&Itemid=614&id=284&lang=en&layout=item&view=item#suntrails/links#0'; $this->_urlCache['7cd5d55585f23062663fcf1947da248c']='index.php?option=com_k2&Itemid=615&id=283&lang=en&layout=item&view=item#suntrails/terms-and-conditions#0'; $this->_urlCache['7f36feef91b09e1dc8b4185a9b3b596d']='index.php?option=com_allvideoshare&Itemid=839&lang=en&orderby=default&slg=0&view=category#videos#0'; $this->_urlCache['a9743b4e5738a43476b71e4b8427395a']='index.php?option=com_xmap&Itemid=985&id=2&lang=en&view=html#other/site-map#0'; $shURLCacheCreationDate=1607112003; $this->_urlCache['075cfc116f1ccb1cf08c774abb17b915']='index.php?option=com_phocagallery&Itemid=838&catid=246&id=4833&lang=en&view=detail#246-villa-diyafa-rabat/detail/4833-suite-dining-corner#0'; $shURLCacheCreationDate=1607112009; $this->_urlCache['4a503607b8ce8a21848201fffbe6fa5f']='index.php?option=com_k2&Itemid=725&id=36&lang=en&task=category&view=itemlist#morocco-travel-blog#0'; $this->_urlCache['b9c47355c7a90a5f94ce9477364b2740']='index.php?option=com_k2&Itemid=725&id=296&lang=en&view=item#private-morocco-tours-blog/kasbah-tamadot-lunch-and-more.html#1'; $this->_urlCache['b1a3f1910d5f7d9a602745054f123c59']='index.php?option=com_k2&Itemid=725&lang=en&tag=lunch+at+kasbah+tamadot&task=tag&view=itemlist#tag/lunch-at-kasbah-tamadot#0'; $this->_urlCache['f5240ec5f0e3583f38c984a2b393732e']='index.php?option=com_k2&Itemid=725&lang=en&tag=atlas+mountains+day+trip&task=tag&view=itemlist#tag/atlas-mountains-day-trip#0'; $this->_urlCache['b98c1a5dfd0288529c73da59cc5e84d3']='index.php?option=com_k2&Itemid=725&id=664&lang=en&task=user&view=itemlist#blog/Cristian#0'; $this->_urlCache['bb03a5630fca3f3ae7ab1ddfaf0af1a7']='index.php?option=com_k2&Itemid=725&id=282&lang=en&view=item#day-morocco-tour-marrakech-to-fez.html#1'; $this->_urlCache['9fad59ee8099ab6199e0d6ef6dcf41cc']='index.php?option=com_k2&Itemid=725&id=319&lang=en&view=item#private-morocco-tours-blog/casablanca-more-than-a-movie#1'; $this->_urlCache['ae2a91044cc8b08f489d688fd000813f']='index.php?option=com_k2&Itemid=725&id=362&lang=en&view=item#cooking-with-the-locals-in-marrakech#1'; $this->_urlCache['587417d269f322318d801f0a0c26325f']='index.php?option=com_k2&Itemid=725&id=287&lang=en&view=item#morocco-travel-blog/a-bitter-love#0'; $this->_urlCache['ad1d393172f2e923096f408a44df6358']='index.php?option=com_sppagebuilder&Itemid=784&id=17&lang=en&view=page#private-morocco-tours#0'; $this->_urlCache['b8a56e357af93536dff12206e121376a']='index.php?option=com_k2&Itemid=821&id=294&lang=en&layout=item&view=item#private-morocco-tours/fez-marrakech-erg-chigaga-essaouira-tour.html#1'; $this->_urlCache['1285f92ceb877e9ed0154495fcd90336']='index.php?option=com_k2&Itemid=763&id=267&lang=en&layout=item&view=item#private-morocco-tours/5-day-morocco-tour.html#1'; $this->_urlCache['e1b68f7b31ef3bf64f46aa061c856edf']='index.php?option=com_k2&Itemid=764&id=268&lang=en&layout=item&view=item#private-morocco-tours/Casablanca-Fez-Erg-Chebbi-Marrakech-tour.html#1'; $this->_urlCache['d611e46faf0844bdf23925df2faec350']='index.php?option=com_k2&Itemid=765&id=269&lang=en&layout=item&view=item#private-morocco-tours/Casablanca-Fez-Erg-Chebbi-Essaouira-tour.html#1'; $this->_urlCache['0e74604bd9e9b1df520b644c9380c1e8']='index.php?option=com_k2&Itemid=923&id=347&lang=en&layout=item&view=item#morocco-tour-9-days#1'; $this->_urlCache['9a7e64e2daef178e8ceef9fa97e40d29']='index.php?option=com_k2&Itemid=958&id=349&lang=en&layout=item&view=item#morocco-travel-blog/casablanca-tangier-chefchaouen-meknes-rabat#0'; $this->_urlCache['b1e362b87cab4f0f827a17fa68b9e1e3']='index.php?option=com_k2&Itemid=959&id=300&lang=en&layout=item&view=item#tours/marrakech-atlas-mountains-essaouira-tour#0'; $this->_urlCache['6910dee933fb969f404c225795ab677c']='index.php?option=com_users&Itemid=1014&lang=en&view=login#Log-in/#0'; $this->_urlCache['f94a19c32605add227b43d587f72f73e']='index.php?option=com_k2&Itemid=725&id=36&lang=en&layout=category&task=category&view=itemlist#private-morocco-tours-blog.html#1'; $this->_urlCache['1a3f3698560f5ebfd810faed0b0b339d']='index.php?option=com_phocagallery&Itemid=838&lang=en&view=categories#morocco-travel-experiences#1'; $this->_urlCache['f383b54e3ed715018e9bc2c910ae76ba']='index.php?option=com_k2&Itemid=956&id=358&lang=en&layout=item&view=item#reviews#1'; $this->_urlCache['86dbee9e9851d09471981785588d3abf']='index.php?option=com_k2&Itemid=614&id=284&lang=en&layout=item&view=item#suntrails/links#0'; $this->_urlCache['7cd5d55585f23062663fcf1947da248c']='index.php?option=com_k2&Itemid=615&id=283&lang=en&layout=item&view=item#suntrails/terms-and-conditions#0'; $this->_urlCache['7f36feef91b09e1dc8b4185a9b3b596d']='index.php?option=com_allvideoshare&Itemid=839&lang=en&orderby=default&slg=0&view=category#videos#0'; $this->_urlCache['a9743b4e5738a43476b71e4b8427395a']='index.php?option=com_xmap&Itemid=985&id=2&lang=en&view=html#other/site-map#0'; $shURLCacheCreationDate=1607110894; $this->_urlCache['81cd64ead34713a67ea4d64d0dc30aee']='index.php?option=com_phocagallery&Itemid=838&catid=124&id=2089&lang=en&view=detail#erg-chigaga-luxury-camp/detail/2089-dpp-292242#1'; $shURLCacheCreationDate=1607110947; $this->_urlCache['f55e66a2c62e29f5cd8dc23edb2d2605']='index.php?option=com_k2&Itemid=725&format=feed&lang=en&tag=conde+nast+traveler&task=tag&view=itemlist#tag/conde-nast-traveler/feed/atom#0'; $this->_urlCache['ad1d393172f2e923096f408a44df6358']='index.php?option=com_sppagebuilder&Itemid=784&id=17&lang=en&view=page#private-morocco-tours#0'; $this->_urlCache['b8a56e357af93536dff12206e121376a']='index.php?option=com_k2&Itemid=821&id=294&lang=en&layout=item&view=item#private-morocco-tours/fez-marrakech-erg-chigaga-essaouira-tour.html#1'; $this->_urlCache['1285f92ceb877e9ed0154495fcd90336']='index.php?option=com_k2&Itemid=763&id=267&lang=en&layout=item&view=item#private-morocco-tours/5-day-morocco-tour.html#1'; $this->_urlCache['e1b68f7b31ef3bf64f46aa061c856edf']='index.php?option=com_k2&Itemid=764&id=268&lang=en&layout=item&view=item#private-morocco-tours/Casablanca-Fez-Erg-Chebbi-Marrakech-tour.html#1'; $this->_urlCache['d611e46faf0844bdf23925df2faec350']='index.php?option=com_k2&Itemid=765&id=269&lang=en&layout=item&view=item#private-morocco-tours/Casablanca-Fez-Erg-Chebbi-Essaouira-tour.html#1'; $this->_urlCache['0e74604bd9e9b1df520b644c9380c1e8']='index.php?option=com_k2&Itemid=923&id=347&lang=en&layout=item&view=item#morocco-tour-9-days#1'; $this->_urlCache['9a7e64e2daef178e8ceef9fa97e40d29']='index.php?option=com_k2&Itemid=958&id=349&lang=en&layout=item&view=item#morocco-travel-blog/casablanca-tangier-chefchaouen-meknes-rabat#0'; $this->_urlCache['b1e362b87cab4f0f827a17fa68b9e1e3']='index.php?option=com_k2&Itemid=959&id=300&lang=en&layout=item&view=item#tours/marrakech-atlas-mountains-essaouira-tour#0'; $this->_urlCache['6910dee933fb969f404c225795ab677c']='index.php?option=com_users&Itemid=1014&lang=en&view=login#Log-in/#0'; $this->_urlCache['f94a19c32605add227b43d587f72f73e']='index.php?option=com_k2&Itemid=725&id=36&lang=en&layout=category&task=category&view=itemlist#private-morocco-tours-blog.html#1'; $this->_urlCache['1a3f3698560f5ebfd810faed0b0b339d']='index.php?option=com_phocagallery&Itemid=838&lang=en&view=categories#morocco-travel-experiences#1'; $this->_urlCache['f383b54e3ed715018e9bc2c910ae76ba']='index.php?option=com_k2&Itemid=956&id=358&lang=en&layout=item&view=item#reviews#1'; $this->_urlCache['86dbee9e9851d09471981785588d3abf']='index.php?option=com_k2&Itemid=614&id=284&lang=en&layout=item&view=item#suntrails/links#0'; $this->_urlCache['7cd5d55585f23062663fcf1947da248c']='index.php?option=com_k2&Itemid=615&id=283&lang=en&layout=item&view=item#suntrails/terms-and-conditions#0'; $this->_urlCache['7f36feef91b09e1dc8b4185a9b3b596d']='index.php?option=com_allvideoshare&Itemid=839&lang=en&orderby=default&slg=0&view=category#videos#0'; $this->_urlCache['a9743b4e5738a43476b71e4b8427395a']='index.php?option=com_xmap&Itemid=985&id=2&lang=en&view=html#other/site-map#0'; $this->_urlCache['f1cb1a9fa183c28cd71dff3b453523cb']='index.php?option=com_k2&Itemid=725&lang=en&tag=conde+nast+traveler&task=tag&view=itemlist#tag/conde-nast-traveler#0'; $shURLCacheCreationDate=1607111023; $this->_urlCache['f89b0e21d4a8f19b629817a49467a101']='index.php?option=com_phocagallery&Itemid=838&catid=246&id=4832&lang=en&view=detail#246-villa-diyafa-rabat/detail/4832-suite-bedroom#0'; $shURLCacheCreationDate=1607111228; $this->_urlCache['8045f276a16d787c47328123fc2a0318']='index.php?option=com_k2&Itemid=725&id=330&lang=en&view=item#private-morocco-tours-blog/medieval-morocco-an-essential-exhibition#1'; $shURLCacheCreationDate=1607111342; $this->_urlCache['0c5f69344cde19f12c043f330c51c6df']='index.php?option=com_phocagallery&Itemid=838&catid=135&id=2956&lang=en&view=detail#135-villa-des-orangers/detail/2956-restaurant-iv#0'; $shURLCacheCreationDate=1607111350; $this->_urlCache['4a503607b8ce8a21848201fffbe6fa5f']='index.php?option=com_k2&Itemid=725&id=36&lang=en&task=category&view=itemlist#morocco-travel-blog#0'; $this->_urlCache['e14d13b039a442c9c053916ce8e44348']='index.php?option=com_k2&Itemid=725&id=299&lang=en&view=item#morocco-travel-blog/luxury-morocco-tour-5-things-to-do#0'; $this->_urlCache['b98d6c51636d1ae54495d1ab004824f8']='index.php?option=com_k2&Itemid=725&lang=en&tag=dar+ahlam&task=tag&view=itemlist#tag/dar-ahlam#0'; $this->_urlCache['730d9d603a3eea6223c3fd8d10027cbb']='index.php?option=com_k2&Itemid=725&lang=en&tag=azalai+desert+lodge&task=tag&view=itemlist#tag/azalai-desert-lodge#0'; $this->_urlCache['6fa9c22dc91f5c8aeb256d95341d1861']='index.php?option=com_k2&Itemid=725&lang=en&tag=erg+chigaga+luxury+camp&task=tag&view=itemlist#tag/erg-chigaga-luxury-camp#0'; $this->_urlCache['edc529c763881312caffa68c4597f660']='index.php?option=com_k2&Itemid=725&lang=en&tag=hot+air+balloon+flight&task=tag&view=itemlist#tag/hot-air-balloon-flight#0'; $this->_urlCache['651a47cdf50893e901723fb41be89ea4']='index.php?option=com_k2&Itemid=725&lang=en&tag=fes+music+festival&task=tag&view=itemlist#tag/fes-music-festival#0'; $this->_urlCache['369f3329fcfce6762e18c24f0ac0938e']='index.php?option=com_k2&Itemid=725&lang=en&tag=palais+selman&task=tag&view=itemlist#tag/palais-selman#0'; $this->_urlCache['27d1ae234b14c2f0a3f66ab5ac353ebe']='index.php?option=com_k2&Itemid=725&lang=en&tag=marrakech+spa&task=tag&view=itemlist#tag/marrakech-spa#0'; $this->_urlCache['f1cb1a9fa183c28cd71dff3b453523cb']='index.php?option=com_k2&Itemid=725&lang=en&tag=conde+nast+traveler&task=tag&view=itemlist#tag/conde-nast-traveler#0'; $this->_urlCache['c9bd2a746d1984e518c70a10afb34c95']='index.php?option=com_k2&Itemid=725&lang=en&tag=sufi+nights&task=tag&view=itemlist#tag/sufi-nights#0'; $this->_urlCache['c5283fbe43064c08d710f577f0128719']='index.php?option=com_k2&Itemid=725&lang=en&tag=camel+ride&task=tag&view=itemlist#tag/camel-ride#0'; $this->_urlCache['b98c1a5dfd0288529c73da59cc5e84d3']='index.php?option=com_k2&Itemid=725&id=664&lang=en&task=user&view=itemlist#blog/Cristian#0'; $this->_urlCache['2cf2da33ce209a17e1bb807ace4dd440']='index.php?option=com_k2&Itemid=725&id=373&lang=en&view=item#373-holding-the-fort#0'; $this->_urlCache['68c5a93ae806df6dc3122943659bc23f']='index.php?option=com_k2&Itemid=725&id=364&lang=en&view=item#honeymoon-in-morocco#1'; $this->_urlCache['ae2a91044cc8b08f489d688fd000813f']='index.php?option=com_k2&Itemid=725&id=362&lang=en&view=item#cooking-with-the-locals-in-marrakech#1'; $this->_urlCache['429bb4cb63b9b7489d34ce09d153aa19']='index.php?option=com_k2&Itemid=725&id=361&lang=en&view=item#slipper-making-marrakech#1'; $this->_urlCache['5565228d42a86703b26ef0ba107797ed']='index.php?option=com_k2&Itemid=725&id=360&lang=en&view=item#riad-laaroussa-fes/boutique-hotel-of-the-month#1'; $this->_urlCache['ea5d53be1043a9aa6001b335356260ef']='index.php?option=com_k2&Itemid=725&id=323&lang=en&view=item#private-morocco-tours-blog/morocco-luxury-desert-camp-experience#1'; $this->_urlCache['088ef81b0399dadf33825370614a0fea']='index.php?option=com_k2&Itemid=725&id=293&lang=en&view=item#private-morocco-tours-blog/mamounia-day-pass#1'; $this->_urlCache['c4f667a4918b7e23cca86b68ad098c28']='index.php?option=com_k2&Itemid=725&id=35&lang=en&task=category&view=itemlist#suntrails#0'; $this->_urlCache['ddbf7ad557471b1d4beab5bdb03a7851']='index.php?option=com_k2&Itemid=725&id=275&lang=en&view=item#suntrails/morocco-boutique-hotels#0'; $this->_urlCache['d02bea70332e47472a457ecf68249955']='index.php?option=com_k2&Itemid=724&id=31&lang=en&task=category&view=itemlist#private-tours-suntrails#0'; $this->_urlCache['8debb4f1f5bc46ca39fe6e1a1574e323']='index.php?option=com_k2&Itemid=724&id=271&lang=en&view=item#271-desert-and-roses#0'; $this->_urlCache['9fad59ee8099ab6199e0d6ef6dcf41cc']='index.php?option=com_k2&Itemid=725&id=319&lang=en&view=item#private-morocco-tours-blog/casablanca-more-than-a-movie#1'; $this->_urlCache['f61f2348ae10ffec7e79381a2ba420b9']='index.php?option=com_k2&Itemid=725&id=297&lang=en&view=item#private-morocco-tours-blog/moroccan-cooking-class.html#1'; $this->_urlCache['ad1d393172f2e923096f408a44df6358']='index.php?option=com_sppagebuilder&Itemid=784&id=17&lang=en&view=page#private-morocco-tours#0'; $this->_urlCache['b8a56e357af93536dff12206e121376a']='index.php?option=com_k2&Itemid=821&id=294&lang=en&layout=item&view=item#private-morocco-tours/fez-marrakech-erg-chigaga-essaouira-tour.html#1'; $this->_urlCache['1285f92ceb877e9ed0154495fcd90336']='index.php?option=com_k2&Itemid=763&id=267&lang=en&layout=item&view=item#private-morocco-tours/5-day-morocco-tour.html#1'; $this->_urlCache['e1b68f7b31ef3bf64f46aa061c856edf']='index.php?option=com_k2&Itemid=764&id=268&lang=en&layout=item&view=item#private-morocco-tours/Casablanca-Fez-Erg-Chebbi-Marrakech-tour.html#1'; $this->_urlCache['d611e46faf0844bdf23925df2faec350']='index.php?option=com_k2&Itemid=765&id=269&lang=en&layout=item&view=item#private-morocco-tours/Casablanca-Fez-Erg-Chebbi-Essaouira-tour.html#1'; $this->_urlCache['0e74604bd9e9b1df520b644c9380c1e8']='index.php?option=com_k2&Itemid=923&id=347&lang=en&layout=item&view=item#morocco-tour-9-days#1'; $this->_urlCache['9a7e64e2daef178e8ceef9fa97e40d29']='index.php?option=com_k2&Itemid=958&id=349&lang=en&layout=item&view=item#morocco-travel-blog/casablanca-tangier-chefchaouen-meknes-rabat#0'; $this->_urlCache['b1e362b87cab4f0f827a17fa68b9e1e3']='index.php?option=com_k2&Itemid=959&id=300&lang=en&layout=item&view=item#tours/marrakech-atlas-mountains-essaouira-tour#0'; $this->_urlCache['6910dee933fb969f404c225795ab677c']='index.php?option=com_users&Itemid=1014&lang=en&view=login#Log-in/#0'; $this->_urlCache['f94a19c32605add227b43d587f72f73e']='index.php?option=com_k2&Itemid=725&id=36&lang=en&layout=category&task=category&view=itemlist#private-morocco-tours-blog.html#1'; $this->_urlCache['1a3f3698560f5ebfd810faed0b0b339d']='index.php?option=com_phocagallery&Itemid=838&lang=en&view=categories#morocco-travel-experiences#1'; $this->_urlCache['f383b54e3ed715018e9bc2c910ae76ba']='index.php?option=com_k2&Itemid=956&id=358&lang=en&layout=item&view=item#reviews#1'; $this->_urlCache['86dbee9e9851d09471981785588d3abf']='index.php?option=com_k2&Itemid=614&id=284&lang=en&layout=item&view=item#suntrails/links#0'; $this->_urlCache['7cd5d55585f23062663fcf1947da248c']='index.php?option=com_k2&Itemid=615&id=283&lang=en&layout=item&view=item#suntrails/terms-and-conditions#0'; $this->_urlCache['7f36feef91b09e1dc8b4185a9b3b596d']='index.php?option=com_allvideoshare&Itemid=839&lang=en&orderby=default&slg=0&view=category#videos#0'; $this->_urlCache['a9743b4e5738a43476b71e4b8427395a']='index.php?option=com_xmap&Itemid=985&id=2&lang=en&view=html#other/site-map#0'; $shURLCacheCreationDate=1607111409; $this->_urlCache['904c256c24a1e88f4c165d0e8e3c8ed6']='index.php?option=com_phocagallery&Itemid=838&catid=254&id=4981&lang=en&view=detail#254-roulidane-waterfalls/detail/4981-ybbbu#0'; $shURLCacheCreationDate=1607111478; $this->_urlCache['6ab752e77fd479d3ba97d45adc81af30']='index.php?option=com_phocagallery&Itemid=838&catid=106&id=1701&lang=en&view=detail#les-deux-tours/detail/1701-salon-indien-2#1'; $shURLCacheCreationDate=1607111490; $this->_urlCache['98bb23419e64ddb10e6bfa0bde607736']='index.php?option=com_phocagallery&Itemid=838&catid=258&id=5224&lang=en&view=detail#258-plateau-taghazart-4000-metres/detail/5224-plateautafhazart2#0'; $shURLCacheCreationDate=1607111617; $this->_urlCache['4a503607b8ce8a21848201fffbe6fa5f']='index.php?option=com_k2&Itemid=725&id=36&lang=en&task=category&view=itemlist#morocco-travel-blog#0'; $this->_urlCache['b218c58da0dc35bbf5aa9b8757b2409d']='index.php?option=com_k2&Itemid=725&id=37&lang=en&task=category&view=itemlist#morocco-travel-blog/tour-of-the-season#0'; $this->_urlCache['5c282448c4f8fab06634c3f6d1fe9c21']='index.php?option=com_k2&Itemid=725&id=40&lang=en&task=category&view=itemlist#morocco-travel-blog/boutique-hotel-of-the-month#0'; $this->_urlCache['6ae96a53284c1d3e49d2c5baddd8bf80']='index.php?option=com_k2&Itemid=725&format=feed&id=36&lang=en&layout=category&limit=10&task=category&view=itemlist#morocco-travel-blog/feed/Page-1#0'; $this->_urlCache['ad1d393172f2e923096f408a44df6358']='index.php?option=com_sppagebuilder&Itemid=784&id=17&lang=en&view=page#private-morocco-tours#0'; $this->_urlCache['b8a56e357af93536dff12206e121376a']='index.php?option=com_k2&Itemid=821&id=294&lang=en&layout=item&view=item#private-morocco-tours/fez-marrakech-erg-chigaga-essaouira-tour.html#1'; $this->_urlCache['1285f92ceb877e9ed0154495fcd90336']='index.php?option=com_k2&Itemid=763&id=267&lang=en&layout=item&view=item#private-morocco-tours/5-day-morocco-tour.html#1'; $this->_urlCache['e1b68f7b31ef3bf64f46aa061c856edf']='index.php?option=com_k2&Itemid=764&id=268&lang=en&layout=item&view=item#private-morocco-tours/Casablanca-Fez-Erg-Chebbi-Marrakech-tour.html#1'; $this->_urlCache['d611e46faf0844bdf23925df2faec350']='index.php?option=com_k2&Itemid=765&id=269&lang=en&layout=item&view=item#private-morocco-tours/Casablanca-Fez-Erg-Chebbi-Essaouira-tour.html#1'; $this->_urlCache['0e74604bd9e9b1df520b644c9380c1e8']='index.php?option=com_k2&Itemid=923&id=347&lang=en&layout=item&view=item#morocco-tour-9-days#1'; $this->_urlCache['9a7e64e2daef178e8ceef9fa97e40d29']='index.php?option=com_k2&Itemid=958&id=349&lang=en&layout=item&view=item#morocco-travel-blog/casablanca-tangier-chefchaouen-meknes-rabat#0'; $this->_urlCache['b1e362b87cab4f0f827a17fa68b9e1e3']='index.php?option=com_k2&Itemid=959&id=300&lang=en&layout=item&view=item#tours/marrakech-atlas-mountains-essaouira-tour#0'; $this->_urlCache['6910dee933fb969f404c225795ab677c']='index.php?option=com_users&Itemid=1014&lang=en&view=login#Log-in/#0'; $this->_urlCache['f94a19c32605add227b43d587f72f73e']='index.php?option=com_k2&Itemid=725&id=36&lang=en&layout=category&task=category&view=itemlist#private-morocco-tours-blog.html#1'; $this->_urlCache['1a3f3698560f5ebfd810faed0b0b339d']='index.php?option=com_phocagallery&Itemid=838&lang=en&view=categories#morocco-travel-experiences#1'; $this->_urlCache['f383b54e3ed715018e9bc2c910ae76ba']='index.php?option=com_k2&Itemid=956&id=358&lang=en&layout=item&view=item#reviews#1'; $this->_urlCache['86dbee9e9851d09471981785588d3abf']='index.php?option=com_k2&Itemid=614&id=284&lang=en&layout=item&view=item#suntrails/links#0'; $this->_urlCache['7cd5d55585f23062663fcf1947da248c']='index.php?option=com_k2&Itemid=615&id=283&lang=en&layout=item&view=item#suntrails/terms-and-conditions#0'; $this->_urlCache['7f36feef91b09e1dc8b4185a9b3b596d']='index.php?option=com_allvideoshare&Itemid=839&lang=en&orderby=default&slg=0&view=category#videos#0'; $this->_urlCache['a9743b4e5738a43476b71e4b8427395a']='index.php?option=com_xmap&Itemid=985&id=2&lang=en&view=html#other/site-map#0'; $this->_urlCache['95dad6b046fc5aa02f1ebd5aa4a23cf3']='index.php?option=com_k2&Itemid=809&id=289&lang=en&layout=item&view=item#suntrails/message-sent#0'; $this->_urlCache['2cf2da33ce209a17e1bb807ace4dd440']='index.php?option=com_k2&Itemid=725&id=373&lang=en&view=item#373-holding-the-fort#0'; $this->_urlCache['b98c1a5dfd0288529c73da59cc5e84d3']='index.php?option=com_k2&Itemid=725&id=664&lang=en&task=user&view=itemlist#blog/Cristian#0'; $this->_urlCache['68c5a93ae806df6dc3122943659bc23f']='index.php?option=com_k2&Itemid=725&id=364&lang=en&view=item#honeymoon-in-morocco#1'; $this->_urlCache['ae2a91044cc8b08f489d688fd000813f']='index.php?option=com_k2&Itemid=725&id=362&lang=en&view=item#cooking-with-the-locals-in-marrakech#1'; $this->_urlCache['1b21d36a0b54da7bfed30bc9ab385790']='index.php?option=com_k2&Itemid=725&format=feed&lang=en&moduleID=765&view=itemlist#feed/Recent-Posts/feed#0'; $this->_urlCache['2fffedd0579549fbcbb93b82a473ca1a']='index.php?option=com_k2&Itemid=725&id=290&lang=en&view=item#morocco-best-time-to-visit.html#1'; $this->_urlCache['223be574151996c46d1fc84a319ee408']='index.php?option=com_k2&Itemid=725&lang=en&tag=morocco+holidays&task=tag&view=itemlist#tag/morocco-holidays#0'; $this->_urlCache['799619bf85256757c76123dd1331735b']='index.php?option=com_k2&Itemid=725&lang=en&tag=weather+in+morocco&task=tag&view=itemlist#tag/weather-in-morocco#0'; $this->_urlCache['28478d83349cf5e523e75f7e5e723d6e']='index.php?option=com_k2&Itemid=725&lang=en&tag=ramadan+in+morocco&task=tag&view=itemlist#tag/ramadan-in-morocco#0'; $this->_urlCache['cb11c2b1aa1871068f0bb0a1e953983a']='index.php?option=com_k2&Itemid=725&id=292&lang=en&view=item#private-morocco-tours-blog/boutique-hotel-of-the-month/azalai-desert-lodge-zagora.html#1'; $this->_urlCache['80946b65ee90c4667ba3c800652f8401']='index.php?option=com_k2&Itemid=725&lang=en&tag=sahara+desert&task=tag&view=itemlist#tag/sahara-desert#0'; $this->_urlCache['b46a918e22c6826f566073c4ffa4388a']='index.php?option=com_k2&Itemid=725&lang=en&tag=luxury+desert+camp&task=tag&view=itemlist#tag/luxury-desert-camp#0'; $this->_urlCache['838dfb36656957f9c333da103f18dbec']='index.php?option=com_k2&Itemid=725&lang=en&tag=zagora+boutique+hotel&task=tag&view=itemlist#tag/zagora-boutique-hotel#0'; $this->_urlCache['b569993b56698c1e36339912985a9c55']='index.php?option=com_k2&Itemid=725&lang=en&tag=erg+chigaga&task=tag&view=itemlist#tag/erg-chigaga#0'; $this->_urlCache['088ef81b0399dadf33825370614a0fea']='index.php?option=com_k2&Itemid=725&id=293&lang=en&view=item#private-morocco-tours-blog/mamounia-day-pass#1'; $this->_urlCache['5f3537cc6bce4c08ae5cc6509a72d062']='index.php?option=com_k2&Itemid=725&lang=en&tag=mamounia+day+pass&task=tag&view=itemlist#tag/mamounia-day-pass#0'; $this->_urlCache['27d1ae234b14c2f0a3f66ab5ac353ebe']='index.php?option=com_k2&Itemid=725&lang=en&tag=marrakech+spa&task=tag&view=itemlist#tag/marrakech-spa#0'; $this->_urlCache['c2b26072adc3e41ff0c9eac81a48fdba']='index.php?option=com_k2&Itemid=725&format=feed&lang=en&moduleID=766&view=itemlist#feed/Most-read-posts/feed#0'; $shURLCacheCreationDate=1607111657; $this->_urlCache['e80334ae8a8ec986161fd5842a2f33ba']='index.php?option=com_phocagallery&Itemid=838&catid=116&id=1978&lang=en&view=detail#riad-la-parenthese/detail/1978-riad-la-parenthese23#1'; $this->_urlCache['ad1d393172f2e923096f408a44df6358']='index.php?option=com_sppagebuilder&Itemid=784&id=17&lang=en&view=page#private-morocco-tours#0'; $this->_urlCache['b8a56e357af93536dff12206e121376a']='index.php?option=com_k2&Itemid=821&id=294&lang=en&layout=item&view=item#private-morocco-tours/fez-marrakech-erg-chigaga-essaouira-tour.html#1'; $this->_urlCache['1285f92ceb877e9ed0154495fcd90336']='index.php?option=com_k2&Itemid=763&id=267&lang=en&layout=item&view=item#private-morocco-tours/5-day-morocco-tour.html#1'; $this->_urlCache['e1b68f7b31ef3bf64f46aa061c856edf']='index.php?option=com_k2&Itemid=764&id=268&lang=en&layout=item&view=item#private-morocco-tours/Casablanca-Fez-Erg-Chebbi-Marrakech-tour.html#1'; $this->_urlCache['d611e46faf0844bdf23925df2faec350']='index.php?option=com_k2&Itemid=765&id=269&lang=en&layout=item&view=item#private-morocco-tours/Casablanca-Fez-Erg-Chebbi-Essaouira-tour.html#1'; $this->_urlCache['0e74604bd9e9b1df520b644c9380c1e8']='index.php?option=com_k2&Itemid=923&id=347&lang=en&layout=item&view=item#morocco-tour-9-days#1'; $this->_urlCache['9a7e64e2daef178e8ceef9fa97e40d29']='index.php?option=com_k2&Itemid=958&id=349&lang=en&layout=item&view=item#morocco-travel-blog/casablanca-tangier-chefchaouen-meknes-rabat#0'; $this->_urlCache['b1e362b87cab4f0f827a17fa68b9e1e3']='index.php?option=com_k2&Itemid=959&id=300&lang=en&layout=item&view=item#tours/marrakech-atlas-mountains-essaouira-tour#0'; $this->_urlCache['6910dee933fb969f404c225795ab677c']='index.php?option=com_users&Itemid=1014&lang=en&view=login#Log-in/#0'; $this->_urlCache['f94a19c32605add227b43d587f72f73e']='index.php?option=com_k2&Itemid=725&id=36&lang=en&layout=category&task=category&view=itemlist#private-morocco-tours-blog.html#1'; $this->_urlCache['1a3f3698560f5ebfd810faed0b0b339d']='index.php?option=com_phocagallery&Itemid=838&lang=en&view=categories#morocco-travel-experiences#1'; $this->_urlCache['f383b54e3ed715018e9bc2c910ae76ba']='index.php?option=com_k2&Itemid=956&id=358&lang=en&layout=item&view=item#reviews#1'; $this->_urlCache['86dbee9e9851d09471981785588d3abf']='index.php?option=com_k2&Itemid=614&id=284&lang=en&layout=item&view=item#suntrails/links#0'; $this->_urlCache['7cd5d55585f23062663fcf1947da248c']='index.php?option=com_k2&Itemid=615&id=283&lang=en&layout=item&view=item#suntrails/terms-and-conditions#0'; $this->_urlCache['7f36feef91b09e1dc8b4185a9b3b596d']='index.php?option=com_allvideoshare&Itemid=839&lang=en&orderby=default&slg=0&view=category#videos#0'; $this->_urlCache['a9743b4e5738a43476b71e4b8427395a']='index.php?option=com_xmap&Itemid=985&id=2&lang=en&view=html#other/site-map#0'; $shURLCacheCreationDate=1607111741; $this->_urlCache['eb7f5fd35634292eb7a6b5cc2bb81170']='index.php?option=com_k2&Itemid=725&format=feed&lang=en&tag=CASABLANCA&task=tag&view=itemlist#tag/CASABLANCA/feed/atom#0'; $this->_urlCache['ad1d393172f2e923096f408a44df6358']='index.php?option=com_sppagebuilder&Itemid=784&id=17&lang=en&view=page#private-morocco-tours#0'; $this->_urlCache['b8a56e357af93536dff12206e121376a']='index.php?option=com_k2&Itemid=821&id=294&lang=en&layout=item&view=item#private-morocco-tours/fez-marrakech-erg-chigaga-essaouira-tour.html#1'; $this->_urlCache['1285f92ceb877e9ed0154495fcd90336']='index.php?option=com_k2&Itemid=763&id=267&lang=en&layout=item&view=item#private-morocco-tours/5-day-morocco-tour.html#1'; $this->_urlCache['e1b68f7b31ef3bf64f46aa061c856edf']='index.php?option=com_k2&Itemid=764&id=268&lang=en&layout=item&view=item#private-morocco-tours/Casablanca-Fez-Erg-Chebbi-Marrakech-tour.html#1'; $this->_urlCache['d611e46faf0844bdf23925df2faec350']='index.php?option=com_k2&Itemid=765&id=269&lang=en&layout=item&view=item#private-morocco-tours/Casablanca-Fez-Erg-Chebbi-Essaouira-tour.html#1'; $this->_urlCache['0e74604bd9e9b1df520b644c9380c1e8']='index.php?option=com_k2&Itemid=923&id=347&lang=en&layout=item&view=item#morocco-tour-9-days#1'; $this->_urlCache['9a7e64e2daef178e8ceef9fa97e40d29']='index.php?option=com_k2&Itemid=958&id=349&lang=en&layout=item&view=item#morocco-travel-blog/casablanca-tangier-chefchaouen-meknes-rabat#0'; $this->_urlCache['b1e362b87cab4f0f827a17fa68b9e1e3']='index.php?option=com_k2&Itemid=959&id=300&lang=en&layout=item&view=item#tours/marrakech-atlas-mountains-essaouira-tour#0'; $this->_urlCache['6910dee933fb969f404c225795ab677c']='index.php?option=com_users&Itemid=1014&lang=en&view=login#Log-in/#0'; $this->_urlCache['f94a19c32605add227b43d587f72f73e']='index.php?option=com_k2&Itemid=725&id=36&lang=en&layout=category&task=category&view=itemlist#private-morocco-tours-blog.html#1'; $this->_urlCache['1a3f3698560f5ebfd810faed0b0b339d']='index.php?option=com_phocagallery&Itemid=838&lang=en&view=categories#morocco-travel-experiences#1'; $this->_urlCache['f383b54e3ed715018e9bc2c910ae76ba']='index.php?option=com_k2&Itemid=956&id=358&lang=en&layout=item&view=item#reviews#1'; $this->_urlCache['86dbee9e9851d09471981785588d3abf']='index.php?option=com_k2&Itemid=614&id=284&lang=en&layout=item&view=item#suntrails/links#0'; $this->_urlCache['7cd5d55585f23062663fcf1947da248c']='index.php?option=com_k2&Itemid=615&id=283&lang=en&layout=item&view=item#suntrails/terms-and-conditions#0'; $this->_urlCache['7f36feef91b09e1dc8b4185a9b3b596d']='index.php?option=com_allvideoshare&Itemid=839&lang=en&orderby=default&slg=0&view=category#videos#0'; $this->_urlCache['a9743b4e5738a43476b71e4b8427395a']='index.php?option=com_xmap&Itemid=985&id=2&lang=en&view=html#other/site-map#0'; $this->_urlCache['37ddc897094b3883c4d658ac2d888f5f']='index.php?option=com_k2&Itemid=725&lang=en&tag=CASABLANCA&task=tag&view=itemlist#tag/CASABLANCA#0'; $shURLCacheCreationDate=1607111762; $this->_urlCache['ad1d393172f2e923096f408a44df6358']='index.php?option=com_sppagebuilder&Itemid=784&id=17&lang=en&view=page#private-morocco-tours#0'; $this->_urlCache['b8a56e357af93536dff12206e121376a']='index.php?option=com_k2&Itemid=821&id=294&lang=en&layout=item&view=item#private-morocco-tours/fez-marrakech-erg-chigaga-essaouira-tour.html#1'; $this->_urlCache['1285f92ceb877e9ed0154495fcd90336']='index.php?option=com_k2&Itemid=763&id=267&lang=en&layout=item&view=item#private-morocco-tours/5-day-morocco-tour.html#1'; $this->_urlCache['e1b68f7b31ef3bf64f46aa061c856edf']='index.php?option=com_k2&Itemid=764&id=268&lang=en&layout=item&view=item#private-morocco-tours/Casablanca-Fez-Erg-Chebbi-Marrakech-tour.html#1'; $this->_urlCache['d611e46faf0844bdf23925df2faec350']='index.php?option=com_k2&Itemid=765&id=269&lang=en&layout=item&view=item#private-morocco-tours/Casablanca-Fez-Erg-Chebbi-Essaouira-tour.html#1'; $this->_urlCache['0e74604bd9e9b1df520b644c9380c1e8']='index.php?option=com_k2&Itemid=923&id=347&lang=en&layout=item&view=item#morocco-tour-9-days#1'; $this->_urlCache['9a7e64e2daef178e8ceef9fa97e40d29']='index.php?option=com_k2&Itemid=958&id=349&lang=en&layout=item&view=item#morocco-travel-blog/casablanca-tangier-chefchaouen-meknes-rabat#0'; $this->_urlCache['b1e362b87cab4f0f827a17fa68b9e1e3']='index.php?option=com_k2&Itemid=959&id=300&lang=en&layout=item&view=item#tours/marrakech-atlas-mountains-essaouira-tour#0'; $this->_urlCache['6910dee933fb969f404c225795ab677c']='index.php?option=com_users&Itemid=1014&lang=en&view=login#Log-in/#0'; $this->_urlCache['f94a19c32605add227b43d587f72f73e']='index.php?option=com_k2&Itemid=725&id=36&lang=en&layout=category&task=category&view=itemlist#private-morocco-tours-blog.html#1'; $this->_urlCache['1a3f3698560f5ebfd810faed0b0b339d']='index.php?option=com_phocagallery&Itemid=838&lang=en&view=categories#morocco-travel-experiences#1'; $this->_urlCache['f383b54e3ed715018e9bc2c910ae76ba']='index.php?option=com_k2&Itemid=956&id=358&lang=en&layout=item&view=item#reviews#1'; $this->_urlCache['86dbee9e9851d09471981785588d3abf']='index.php?option=com_k2&Itemid=614&id=284&lang=en&layout=item&view=item#suntrails/links#0'; $this->_urlCache['7cd5d55585f23062663fcf1947da248c']='index.php?option=com_k2&Itemid=615&id=283&lang=en&layout=item&view=item#suntrails/terms-and-conditions#0'; $this->_urlCache['7f36feef91b09e1dc8b4185a9b3b596d']='index.php?option=com_allvideoshare&Itemid=839&lang=en&orderby=default&slg=0&view=category#videos#0'; $this->_urlCache['a9743b4e5738a43476b71e4b8427395a']='index.php?option=com_xmap&Itemid=985&id=2&lang=en&view=html#other/site-map#0'; $shURLCacheCreationDate=1607112003; $this->_urlCache['075cfc116f1ccb1cf08c774abb17b915']='index.php?option=com_phocagallery&Itemid=838&catid=246&id=4833&lang=en&view=detail#246-villa-diyafa-rabat/detail/4833-suite-dining-corner#0'; $shURLCacheCreationDate=1607112009;
Displaying items by tag: morocco holidays
Tuesday, 29 October 2013 00:00

What is the best time of year to visit Morocco ?
A question that often comes up when someone contacts us about booking a tour of Morocco. Is October the best time to visit ? Is Christmas busy ? What are the temperatures in March ? What about Ramadan ? When visiting Paris or Barcelona, one doesn't mind the weather. Not much anyway. In general though, weather influences what one does or does not on a holiday. Even more so in Morocco. Having lived in Morocco since 2006 I believe the country is best visited all year round. Sunshine 300 days a year ? More like 350. In July and August everyone tries to flee Marrakech and find the coolness up in the Atlas Mountains or the Atlantic coast, just nort of Agadir, in Essaouira or the dreamy village of Oualidia. When temperatures in Marrakech go way past 40 Celsius, in Imlil they hardly reach 30.
Now of course, Morocco has different climate zones and the difference in temperature in some areas is quite important between summer and winter. It is also known to be an incredibly diverse country when it comes to landscapes. From green lush areas where forests and lakes have earned Ifrane the nick name ' Switzerland of Morocco' to the Sahara with its oceans of dunes, from wild Atlantic beaches to lush palm groves , from wine producing regions around the cities of Meknes and Rabat to the resort towns of the Mediterranean and Atlas Mountains with their spectacular gorges and over 4000 meters high peaks. In Chefchaouen, a picturesque village in the north, you will spot palm trees and pine trees growing next to each other.
Some travel agents think that October or perhaps March is best to visit Marrakech or Fez. One can read on a travel agent's website: ' October/November and February are wonderful times to visit ( Marrakech) ' or 'The best time to pack your bags ( and visit Fez) is September–November, and March–July. During these months, you can make the most of the festival calendar and the balmy weather.'
The reality is somewhat different. Morocco is incredibly diverse in landscapes, altitudes and latitudes. While it may be snowing in Ifrane or Imlil, you are almost guaranteed sun bathing in Laayoune or Dakhla, by the Atlantic. It takes living inside the country for years to acquire this knowledge. If you want to just tick some boxes in your travel notebook and scrape Morocco off that list, you can hire the services of any tour operator or travel agent. For someone that can customize a once- in- a- lifetime experience and choose the best places to visit and things to do based on the time of year you wish to visit, go for a local specialist. It may be that you'll even need your agent to customize your holidays after you arrived in Morocco. On a few occations, we had to reverse the order of a private tour when snow had blocked the Tizi n Tichka pass, while keeping the same start and end dates and encompassing the same local experiences. Rates for a 4 day private tour start at 545 euros per person when 2 adults sharing. Our private tours range from 3 days to 3 weeks long and are entirely customizable.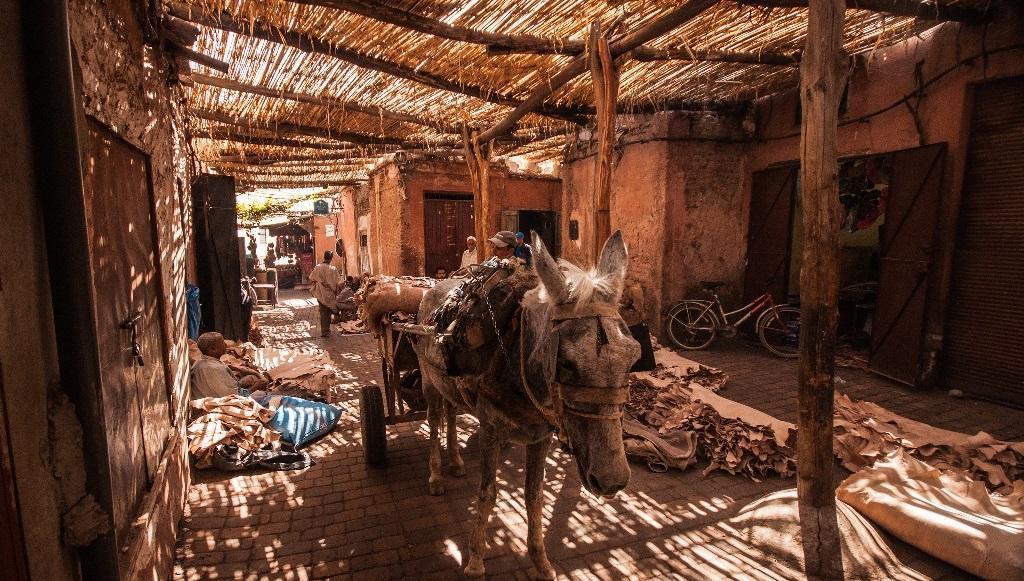 Of course, one could argue that temperatures are ideal to visit Morocco in March and October. There are, though, a few downsides with this. It is the peak of the tourist season with most other tourists on all inclusive holidays being taken around by charter buses. This means cues to enter monuments, rubbing shoulders with everyone else visiting smaller venues and the night in the Sahara desert camp you'd so long anticipated resembling more an attraction park than the zen- like, intimate experience you were hoping for. Peak season time means also peak season rates. Most Riads/ hotels consider these months high season (given the volume of tourists) and raise their rates accordingly.
So instead, why not visit before Christmas ? Or just after NYE ? You get low rates on hotels and other services. Perhaps not quite the temperatures to swim in a pool, but at 20 plus Celsius day- time and constant sunshine, you are far from the rainy and cold winter affecting most of Europe and US. The rain season in Morocco, if such a thing exists, falls late February or March. During a week or so, you may get occasional rain showers. For those interested in the best photography shots, the winter months are ideal - the light is at its best then when air is depleted of any dust.
With so many things to do and see, in Fes, it isn't the weather that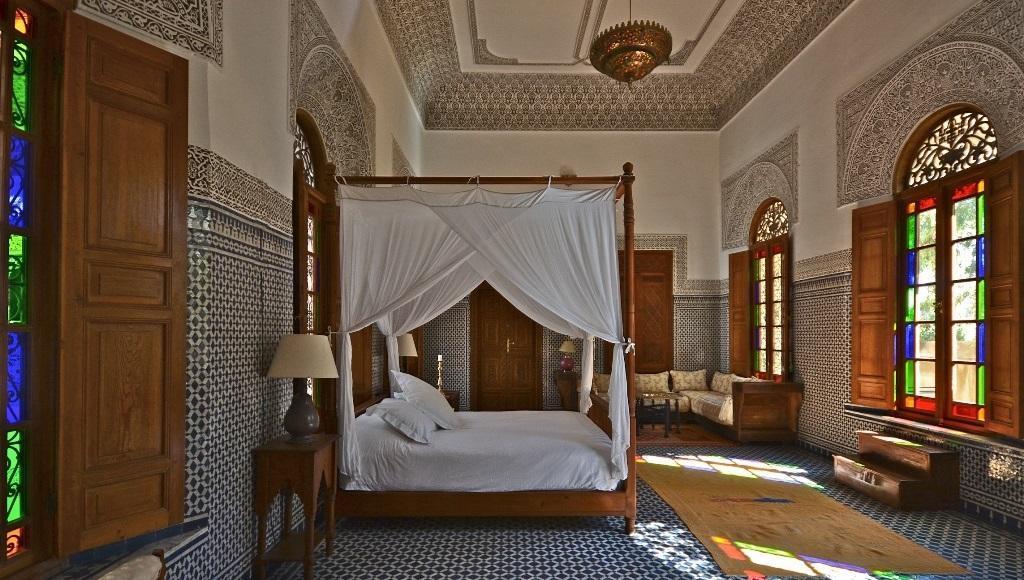 decides when visitors come. As Vanessa Bonnin, former manager of Dar Roumana guest house, once said: "The best time to visit Morocco is in June to coincide with the incredibly inspiring Fes Festival of Sacred Music. It showcases an eclectic mix of world music and always has fabulous head-liners too. During the festival the medina is even more alive and buzzing than usual, with the added energy of happy music lovers visiting from all over the world. It shows this magical city at its best!".
In July and August one should consider staying away from the desert and inland cities like Marrakech, Fez or Ouarzazate. But even in Fez and Marrakech, with careful preparation from a knowledgeable local travel agent, one can still enjoy the beauties of these two cities. The best way to do it is to choose to stay just outside the city and come into the city early in the morning to sightsee. You can then return to your guesthouse in the afternoon to relax and enjoy the lush gardens and pool. After all, it is only a 10- 15 minutes drive and if you are on a private Morocco tour, you will have your driver and 4x4 available 24 hours a day.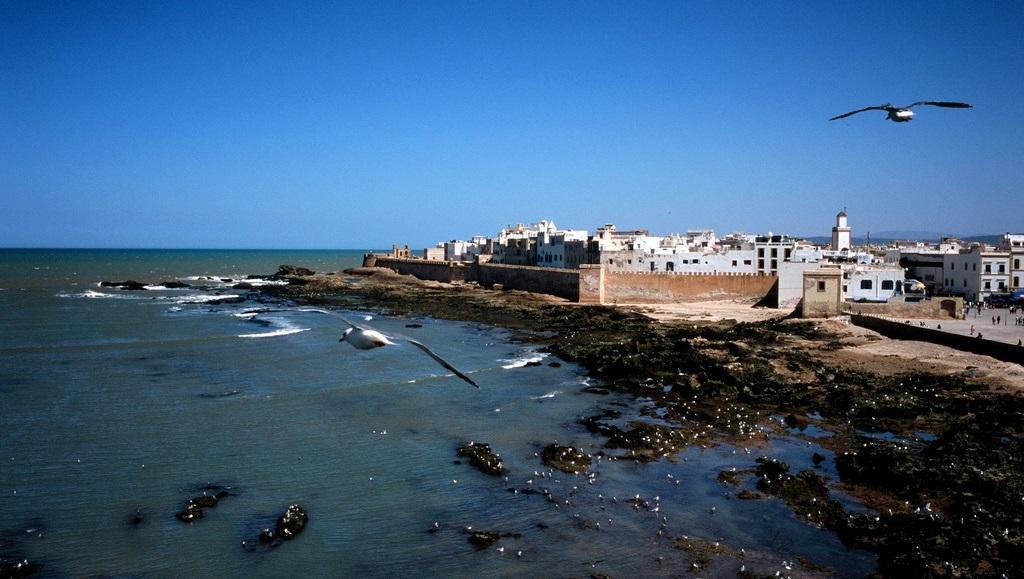 You may also choose to spend the night in the Medina and travel to the coast to either Essaouira, Oualidia or Agadir (each within less than 3 hours drive from Marrakech and considerably cooler during the summer). Max Lawrence, of Lawrence of Morocco agrees: "Marrakech is wonderful all year round but if the summer heat is too much for you then you should head to the ideally temperate Atlantic coast in July and August. Oualidia, Essaouira and Agadir all provide 28 C whilst in Marrakech it can be 45 C." Some parts of Morocco like Agadir and Dakhla benefit from all year round mild temperatures. Further north, Essaouira yields more charm and character than a resort as Agadir, but the cold current makes it too cold to swim even in summer.
When it comes to Christmas and NYE, Marrakech is on the top of the list to foreign visitors' preferences. Marrakech is definitely worth visiting, but if you expect to find the same festive ambiance as in Europe, you are in for a disappointment. Mostly because Morocco's population being largely Muslim, they do not celebrate winter holidays as Westerners do.

Maria Joao, a travel adviser who has made Morocco her second home, says: 'For me the best time to visit Morocco is the whole year. At any time of year there are spectacular places to discover or revisit. Morocco is a very diverse country in terms of landscape and climate, has imperial cities, desert, mountains, snow, Atlantic and Mediterranean beaches.''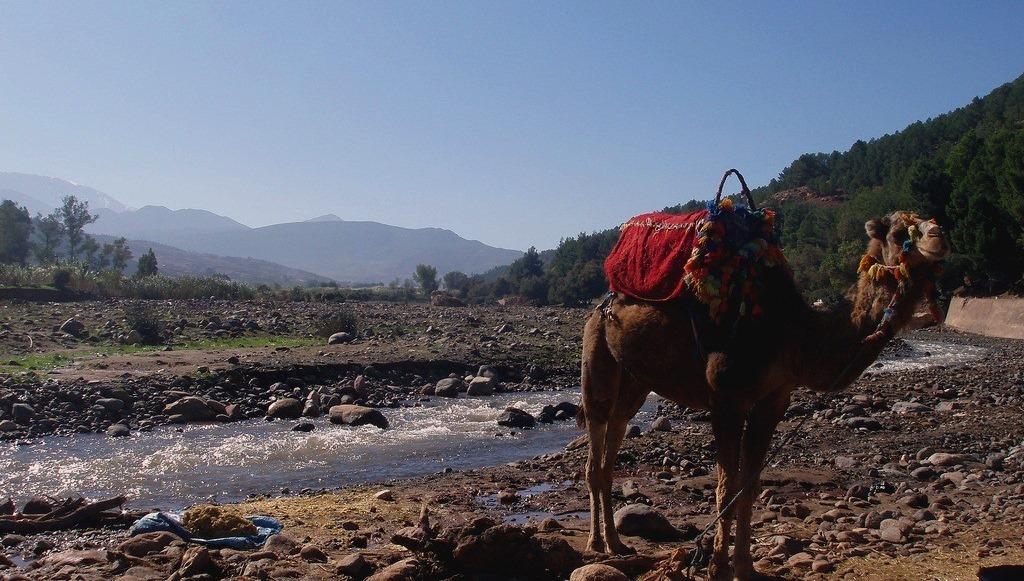 Max agrees: 'Morocco is a country which offers perfect travel conditions all year round as one is able to move geographically to different areas for different periods. The Atlas mountains are wonderful all year but if you are thinking of trekking then avoid the winter months of December, January and February as there can be too much water flowing in many of the rivers to allow walkers to easily pass. During these months, trekking in the desert is ideal.
The only place you should avoid in July or August is the desert. Temperatures can soar over 45 degrees Celsius and there is no tent provided with A/C. Not yet anyway. Max says: 'Southern Morocco and the desert is ideal from September to June (10 months of the year) and should not be missed.' If you really have to do the Sahara in July or August, think of booking a room in an air conditioned kasbah by the dunes , where early next morning, you can take a short camel ride into the dunes to witness a sunrise as you've never seen before. But spending a full day in the dunes is not an option, unless you are training for Marathon de Sables.
© Sun Trails 2018. All rights reserved. No part of this article may be reproduced, distributed, or transmitted in any form, including photocopying, recording, or other electronic or mechanical methods, without the prior written permission of the publisher.